Principal Shawna Trujillo would like a word.
Several words, actually. Just ask the Facebook commenter who in the spring snorted at Roosevelt High School lowering its graduation requirements. Shawna sent him her cellphone number and told him to give her a call.
Or ask the school board, from the repeated times she sat with its members to explain, bluntly, that the current way of doing things was not working for the Casper school she leads.
She wants to tell this to the Facebook troll, the board, you, anyone who will listen: Give us a shot.
That's one of Shawna's mantras, expressed less frequently in words and more frequently in her showing up every day. She's been in education for 25 years and at Roosevelt for 10, since the time when the school was housed in an old building in north Casper. Before she came here, she worked at a monastic school in San Francisco. She's got short brown hair swept to the right and an attitude that's less silk covering steel and more silk entwined with chain mail, equal parts hard-nosed disciplinarian of the largest alternative school in Wyoming and bouncy educator cooing over a student's baby.
It was at the monastic school that she picked up her other mantra. It's inscribed on a rock in her cluttered office in Roosevelt's current digs on the west side, where her windows face the rolling Casper foothills and the mountain behind them. The rock reads: "Always we begin again."
It's like the Buddhist practice of sand mandala, in which monks create beautiful and ornate illustrations out of colored sand and then sweep them away.
That's not quite the meaning for Shawna. She's interested in moving past what came before and building a rock solid foundation, permanently, setting up these complicated kids for lives that are easier than the ones that brought them here. That's the mission at Roosevelt High School, especially in its newest form.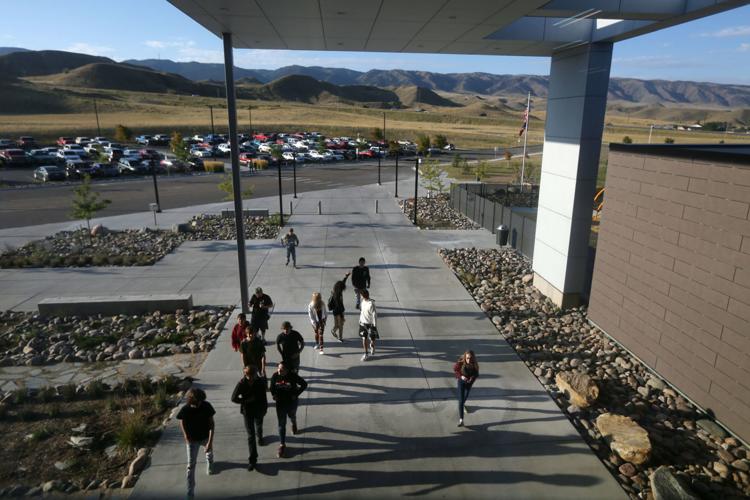 Tuesday morning, the first day of school, chaotic scrambling, teenage apathy and social anxiety are palpable, like all that energy is walking around the polished hallway floors. Shawna's in the office, nestled right at the front of the school. This building is just 3 years old, open spaces and gleaming classrooms. Even that distinct school smell — cleaning supplies mixed with cafeteria food — feels somehow fresher.
Her office is a mess. Papers litter her desk. A pair of dark-framed glasses — which she won't wear all day — lay discarded. Three bowls of candy sit stacked haphazardly atop a filing cabinet by the door. Old track shoes hang from another cabinet. Shawna ran track when she was younger. She was tasked with breaking in shoes for the better runners, a lesson both in pushing through something you don't like and in doing something for another, even begrudgingly.
Images of bulldogs — the school's mascot — cover the room: A rainbow bulldog painting, a bulldog calendar, a bulldog statue frozen mid-play, rolling on its back with its paws cocked upward.
On the sill of her window, which also faces the Roosevelt parking lot, is a pair of binoculars. She leaves them there so the kids know she's watching. Once, she caught a student "sucking face" with a boy in the parking lot. She texted the kid's guardian, who texted the girl, who gestured teenagerly at Shawna's window.
That kid — Sara Cardenas — arrived two years ago, with her little daughter Kloye in tow. Sara came to Roosevelt behind on credits, essentially homeless, with a baby. Sara needed a shot. This spring, Sara graduated. A painting from Kloye hangs on Shawna's filing cabinet.
By 11 a.m. Tuesday, Shawna has traversed the school from end to end, wearing down her untied black sneakers. She'd told a kid to cover up a gang-related T-shirt, welcomed new and old students, dealt with countless scheduling issues and been lightly chewed out by the cafeteria staff.
She sits down and asks the reporter and the photographer in front of her what they'd seen during the morning. Was it what they expected of an alternative high school, Casper's Home For Troubled Teens? Was she wearing a bulletproof vest? Was there gangster rap playing in the background? Did she carry a bat?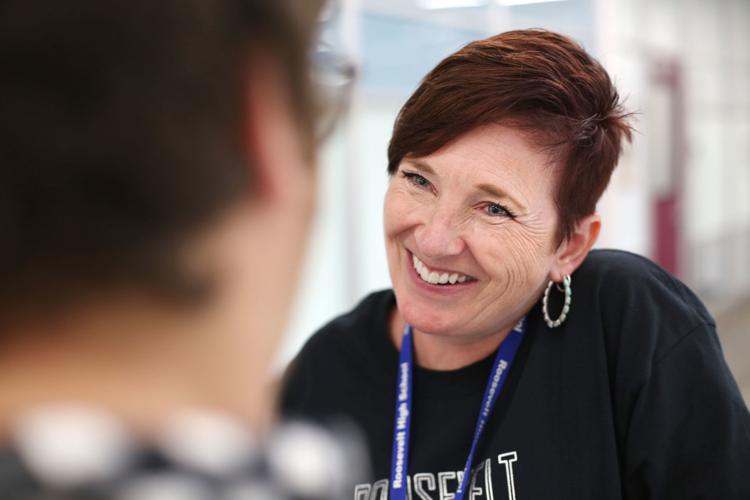 "Did you see anything naughty?" she asks. She's not speaking to the journalists, not really. She's speaking to those who will read and reach for a label. "Did you see anything naughty or scary out there?
"It's just kids that are like, 'Just give me a shot. I'm going to mess up, and I'm going to be a jerk-face sometimes, but just give me a shot.'"
***
So yes, Shawna cares about perception.
She's right to, especially this year. Roosevelt is already used to the side-eye glances, both by the community and by others within the district. The graduation rate here typically tracks at least 30 points below that of Kelly Walsh and Natrona County High — Casper's two major high schools. When the school board was considering new strategic goals it hoped to hit by 2024, it paused on graduation rates. Roosevelt, board members mused, had repeatedly dragged down the district average. They broke out the school from the broader graduation goal, giving Roosevelt its own target — 65 percent within five years.
The population here makes it easy to stereotype. Students with children, students washed out of the other high schools, students with criminal records, homeless students. The kids that Shawna says become invisible at Kelly Walsh and NC.
Having those kids as your student body will give you a bad reputation, will prompt people to speak about Roosevelt in a certain tone. Shawna knows that. She just thinks it's bull. These are kids, she says, who are square pegs that the system halfheartedly tries to push into round holes.
"It's not that they're naughty. They're no more naughty than anybody at Kelly or NC. Look at them," she points out of her office to kids milling around in the lunch line and says, as if confronting a Facebook comment, "they're all appropriately dressed."
"They're just kids. Complicated kids."
Her concern about how Roosevelt is perceived has only increased in recent months. In the spring, she formally pitched the school board on a radical change for the school. She wanted to pull it from open enrollment, meaning students could only enroll if they were referred there, interviewed and met multiple criteria. The school would become more narrowly tailored to fit the kids who would disappear in and then out of the other schools, whether because of drugs, transient parents, teen pregnancy, medical issues or a combination of the above.
She also proposed lowering the graduation requirements at Roosevelt. Previously, all high schools in Natrona County required students complete 26 and a half credits to graduate. Shawna wanted to lower that to 20 for Roosevelt kids, eliminating six and a half elective requirements. On top of that, she wanted to require her students to complete a grad plan, which would lay out and track their progress to a diploma.
You have free articles remaining.
That grad plan is broad. It includes requiring students explore what they want as a career. They make resumes, cover letters, a professional email account. Shawna's eyes light up as she talks about the plan, and she becomes saleswoman-educator. Taco John's may be a job for a high schooler, but that's not what Shawna wants for her kids when they leave.
The board approved the change with broad support. But the community wasn't as uniformly behind it. Roosevelt, the trolls crowed, was just lowering the standards for the burnouts.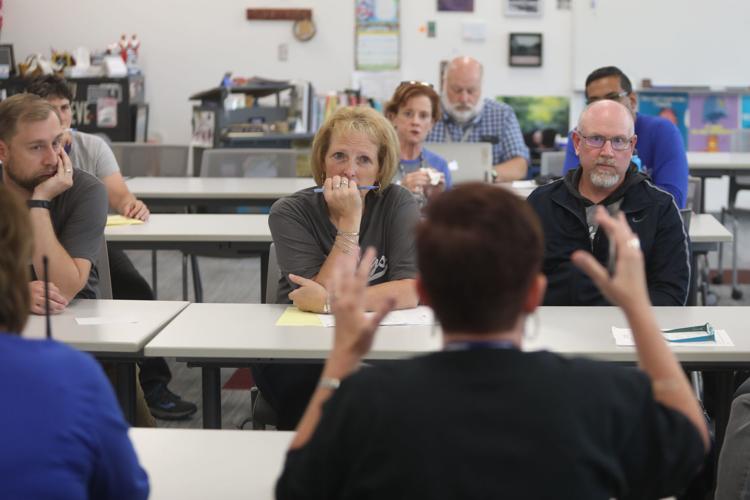 The idea so frustrates Shawna that sometimes she struggles to form the words to dispute it, like a logjam of counterarguments are jockeying in her brain. Roosevelt still requires seven more credits to graduate than the state minimum. Roosevelt kids will still take all the same core courses. Twenty credits is the minimum, not the maximum (Shawna repeats that at least a dozen times Tuesday, to students and staff and reporters and herself).
But at the core, she sees a fundamental misunderstanding. These trolls, like the Facebook guy she gave her number to, something she was told not to do again — they don't get that these kids are not taking a half-day of classes and then going home to play Xbox.
Before noon Tuesday, Shawna was pulled aside by a student who said she wouldn't be able to take a full schedule. Her mom had up and left for Texas, leaving this 17-year-old alone.
"I said, you gotta do this to graduate," Shawna recounts. "She's like, 'My mom took off, she left for Texas with her boyfriend, I'm on my own, I gotta figure out how to do this.'"
That is a complication. That is an obstacle. What's more, it's not one of the child's making, as those facing Roosevelt's students frequently aren't.
Does she ever lose faith in humanity, whether because of the parents who leave their kids in these positions or because of the trolls who abandon empathy for anonymous snark?
She pauses to mull the question over, manipulating a paper clip in her fingers.
"I can be disappointed in humanity," she says. "I want these kids to be better. I don't want them to repeat that. I don't want them to repeat that. Make a better choice for yourself. This is what I want the community to know: This group of people is really special, and this is not an easy way out."
No, she says, for these kids, it's the only way out. Another girl walks into Shawna's office early Tuesday, just before school started, a toddler propped up on her hip. The teen needed two classes to graduate under Roosevelt's new criteria. She was no burnout: She was angling for college scholarships. But life happens, and high school isn't easy if you've got a toddler on your hip.
This is the balance Roosevelt seeks to offer: One moment the teen was asking about the part of the school day when she could do homework, and the next she was in deep discussion about what kind of milk her daughter could have in the school's nursery.
Mother-student, teenager-adult, statistic-inspiration, stumbler-conqueror: the story of Roosevelt.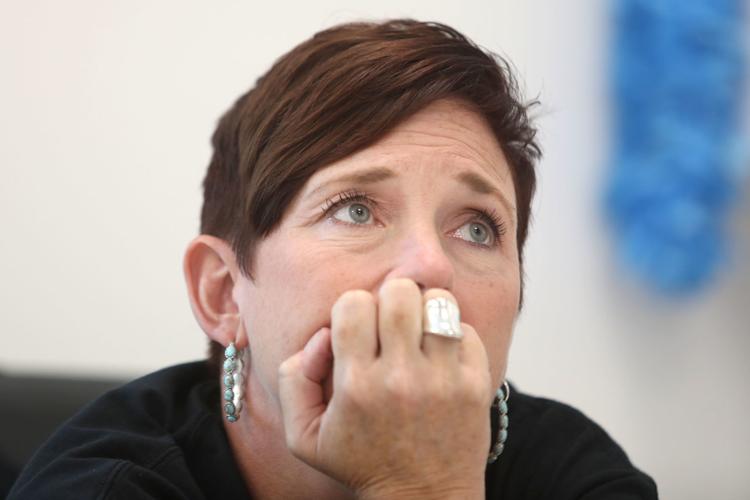 Shawna's heard the talk that transferring here is a cop-out, that students like this young mother are looking for an easy diploma under the new guidelines. It's wormed its way into her mind, and she returns to it all day, usually unprompted, worrying over it until she's polished her response smooth. She'll walk out of a classroom and snort.
"Cop-out?" she says. "This isn't a cop-out. These guys bust their asses."
***
At the heart of this are the kids, of course. On that first day last week, there were all sorts walking through Roosevelt. Faces that had never felt a razor's touch to faces covered in acne. "Rick and Morty" T-shirts, Tupac T-shirts, Marilyn Monroe wearing a bandanna (that one got Shawna's attention), coffee thermoses and energy drinks.
There were kids who looked like they'd rather be anywhere else but school and kids who looked like they'd been picked up by a hurricane and deposited back to earth again, hair astray, backpacks hanging off, jackets in a perpetual state of slipping. High-pitched voices sitting next to full beards, rainbow hair and rainbow sweatshirts and tattoos. Scenes and voices and faces and boyfriend-girlfriend hand-holding visible at any high school in America.
That's Shawna's point: just kids, with complications. That qualifier, those complications, that is the key at Roosevelt. Examples: The boy who tells Shawna he needed to leave school early for work. Needed to. The girl celebrating that she was manager of the fast-food joint she worked at. Shawna smiles and congratulated her. But later, she sighs: That won't pay the bills forever.
Here is perhaps the biggest difference between the mission at Roosevelt and Natrona County's other high schools. Shawna — and her staff — spoke constantly about work, about careers, about a job fresh off of graduation. They didn't discount college — part of the graduation requirement is applying for federal financial aid — but the reality that these students need a secure footing once they leave is apparent.
"I think the stakes are higher (here)," Shawna says.
"You gotta be able to read, you gotta be able to communicate. You gotta be a problem solver," she continues. "I don't know where that's tested. Really? The application is more what can you do with it. I want you to do something with it."
The relationships here, she says, are critical. The school has 240 students. KW and NC are the largest high schools in the state, with about 3,500 kids between them. These kids, and the struggles they experience when they walk out the door, may slip through the cracks at those behemoths. That's what Roosevelt hopes to offer. A guarantee against invisibility.
"Every kid just needs one person," Shawna says. "There better be someone, and if every kid doesn't have one, then we're doing something wrong. We" — she paused and pointed at her chest with the tips of her fingers — "are doing something wrong, the adults. It's not the kids' jobs to fall in love with us. We are going to be the lead on that. And, you know, I talk about short-term memory. Kids have bad days. Always we begin again."
And at the end of it all, through the graduation plans and the selection process and years of high school and whatever else these kids have to battle through, earned at the end is the diploma. A piece of paper that unlocks jobs, longer lives, securer futures.
The same is true for the thousands of high schoolers trying to navigate Kelly Walsh, Natrona County and Midwest. Roosevelt's kids are no different. They're still kids. Just kids with complications.