CHEYENNE — Guided by a group of federal officials, a collection of Western educators, lawmakers and law enforcement officers gathered last Tuesday to discuss solutions to the wave of school shootings that continue to rock America and leave its youth dead in school buildings.
Across three meetings and five hours, the discussions touched on much of what has been discussed across the nation since a teenager in Parkland, Florida, killed 17 high school students and staff in February. The officials talked about gun control, arming staff, mental health services, engaging students and parents, and collaborations between schools and police.
What effect those discussions have is up to the officials who facilitated them. Cheyenne was the third of four listening session stops for President Donald Trump's Federal Commission on School Safety. Though the committee is made up of four cabinet members — including Attorney General Jeff Sessions and Education Secretary Betsy DeVos — none was present Tuesday; instead, four senior officials, led by Deputy Education Secretary Mick Zais, oversaw the proceedings.
Some of the discussion wasn't hypothetical: There's a method for students to report threats, via the nearly 2-year-old Safe2Tell smartphone app. The tool allows students to anonymously report a variety of safety threats and concerns.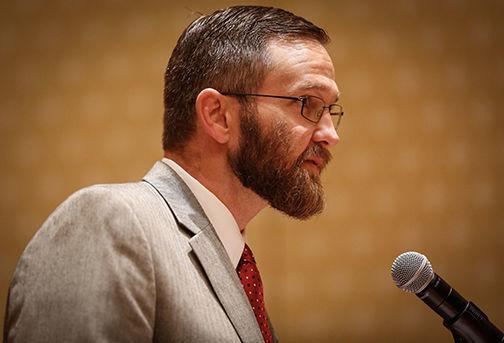 More controversially, there are already two school districts, in Cody and Evanston, that have elected to arm staff, and other districts — including Natrona County — have had early discussions. In 2017, the Wyoming Legislature passed a bill giving each of the state's 48 districts the opportunity to arm willing staff.
That decentralized approach to school safety was praised by Zais at the day's outset. Wyoming Schools Superintendent Jillian Balow agreed.
"From my chair, it's up to our districts, it's up to our school boards and superintendents and law enforcement," she said during the day's first meeting, a round table that included her counterpart in Montana, an Idaho lawmaker, a South Dakota sheriff, a Colorado school architect and other Western officials.
Familiar themes
There were two such round tables, with different batches of officials discussing their approaches to school safety. Familiar themes emerged: more school resource officers, more funding, more counselors, more social workers and local control.
Balow praised "citizen sentinels" — apparently meaning armed school staff — as a solution for rural districts. Del McOmie, who oversees the state's school buildings, noted the $66 million price tag to properly fortify Wyoming's schools. Christine Harms, of Colorado's School Safety Resource Center, said her state's "biggest challenge" is suicide.
"In 2016, we lost 77 students between 10 and 19 to suicide," she said. Wyoming has experienced similar struggles with suicide; the Equality State routinely has one of the highest rates in the nation.
Several officials — from Wyoming and elsewhere — praised Safe2Tell. Boyd Brown, the newly appointed superintendent of Laramie County School District No. 1, said the district now has 10 school resource officers, a target Natrona County hopes to hit in the next three years.
The sheriff in Laramie County, Danny Glick, said his agency's sole SRO travels to "six or seven" schools, which affects the officer's response time to those rural schools. A fellow sheriff from South Dakota echoed a similar concern and praised the concept of "citizen sentinels."
Student views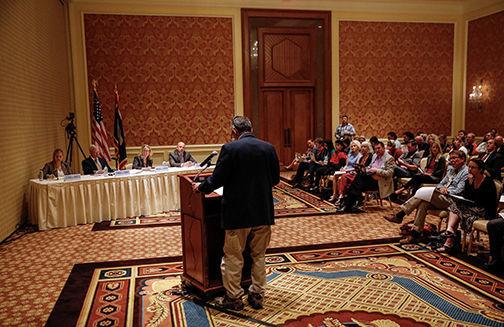 Notably, there were no students on either of the round tables. Their chance to speak for their own safety came during the public comment period that followed, a session that lasted just over 90 minutes, whose participants — educators, parents, activists, a gubernatorial candidate and four students — overwhelmingly called for more mental health help for students.
"My generation has grown up in the wake of the Columbine massacre," said Vera Berger, a high school student from Albuquerque. "We watched the tragedy at Sandy Hook Elementary School unfold, and we were horrified. Ultimately, we were hopeful because we knew that the tragedy would bring change. Since Sandy Hook in 2012, however, there have been 250 school shootings, and little political action."
She spoke against arming staff and asked the commission to consider guns "a primary threat to school safety," even if they're in the hands of staff or law enforcement. She and the three Colorado students and recent graduates who took the lectern after her all spoke against more security in schools, noting the disproportionate effect that security has on students of color.
Instead, the four young adults spoke for better mental health support for students. More counselors, they said, would help students who were struggling.
"This is what a safe school really looks like," said Jasmine Gonzalez of Denver.
Armed staff
There was, however, at least one supporter of arming staff. Bill Tallen, a Cody resident and executive at a security firm, spoke strongly in favor of arming staff. He said that school shootings occur when systems have failed.
"When all other measures have failed, we must be prepared to defend innocent lives," he told the federal officials.
He was immediately followed by Brian Cox, the principal at Cheyenne's Johnson Junior High School. He disagreed and compared asking teachers to take down a threat to asking your plumber to cut your hair.
"More weapons in schools truly increases the access to weapons for both pros and cons," he said. "I would just mention that the time, energy and money to focus on this would be spent better on mental health issues and increasing amount of social workers and psychologists."
After public comment concluded, the commission's representatives thanked those who attended and said they were grateful that there were differing viewpoints. The commission will sift through all of the testimony now.
In the meantime, more than 90,000 students across Wyoming will return to school in the coming weeks.