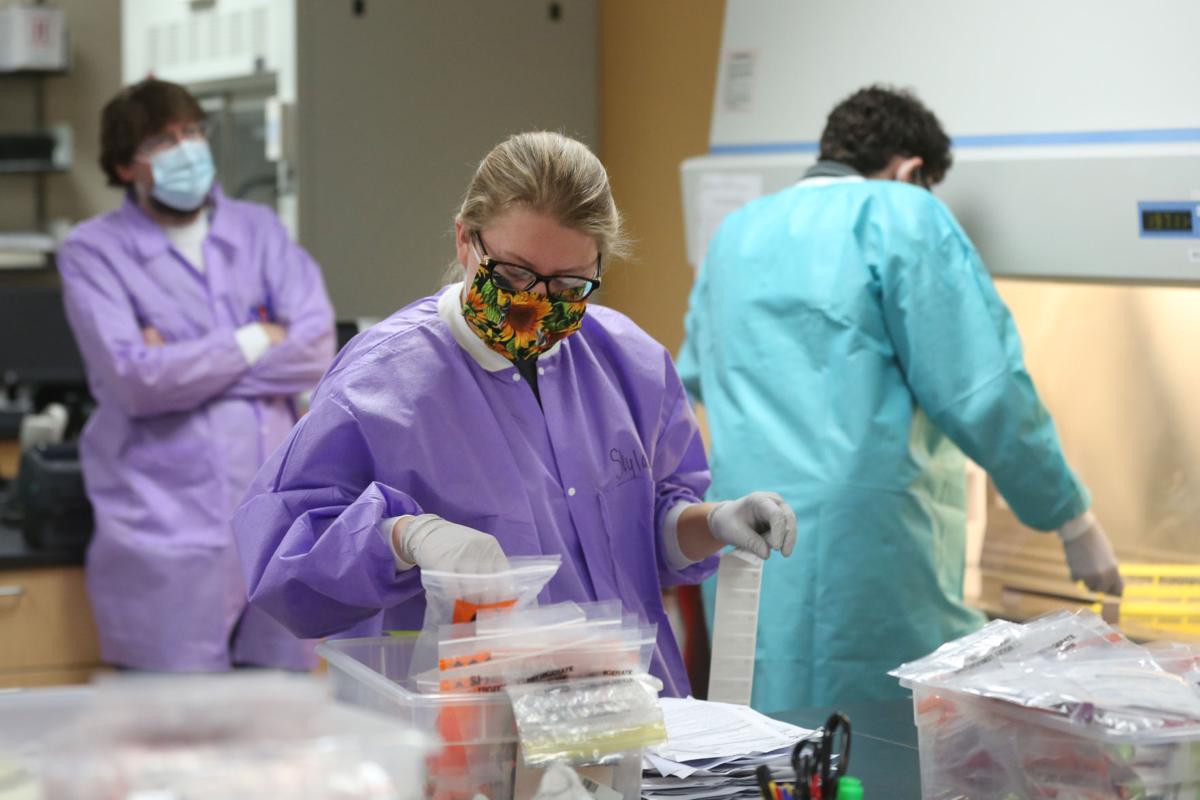 The number of COVID-19 cases connected to the University of Wyoming continues to rise, with eight new cases Friday and 34 in the past four days, the school announced.
The new cases reported over the past two days include 12 students with symptoms of COVID-19 and eight who were asymptomatic, the school said late Friday afternoon. Another 12 students were being monitored for symptoms while awaiting test results.
There are now 47 active cases — all students, with 10 living on campus and 37 living away from the school — associated with the university, which began virtual classes last month. The school was set to begin phasing students back to in-class learning Sept. 7, but paused the effort after seven students tested positive on Wednesday.
On Thursday, the university tied some of the cases to a pair of off-campus parties. But some of the newest cases don't appear connected to those gatherings, said UW epidemiologist Brant Schumaker.
"That raises concerns about possible community spread, which would make it more difficult for us to come out of the pause and resume our fall return plan," he said.
The university has conducted more than 12,000 tests as it moves toward reopening classes to students. So far, testing has found 113 cases of COVID-19 among students and staff.
UW President Ed Seidel, in a Friday message to the UW community, said the resumption of the phased return will likely depend on whether students and employees follow guidelines over Labor Day weekend.
"Everything we have done has one goal, and that is to be able to safely provide an in-person campus experience for the UW community," Seidel wrote. "For us to have a chance to come out of our pause next week, we simply cannot do things this weekend that would increase the potential for a further outbreak among our students, employees and the Laramie community."
The university is one of many Wyoming educational institutions that are working to limit the virus' spread as fall classes resume.
On Friday, the first case of COVID-19 was reported within the Natrona County School District community. A student at Journey Elementary tested positive for the virus. However, that student has not been at school yet this academic year.
The case was reported on Thursday. No additional details about the case were posted on the Natrona County School District's website.
There were no additional cases added to the district's total on Friday.
Students in Natrona County returned to school Wednesday for the first time since schools shut down in March when the virus emerged here.
Though it's difficult to gauge just how many K-12 students have thus far tested positive since the academic year started across the district, several anecdotal reports have emerged. A Torrington High School student tested positive during the first week of school. The Cody Enterprise reported Thursday that a student within that district had tested positive within the first four day of classes returning.
Laramie County Community College also reported its first cases Friday. In a press release, the school said two students had tested positive and both were living on campus.
"LCCC resumed its fall semester on Monday, Aug. 24, with a limited number of in-person classes and low-density housing in its residence halls," the school wrote. "On Thursday, Sept. 3, school officials were notified through self-reporting and local health officials that two students living in the residence hall had tested positive for COVID-19."
Concerned about COVID-19?
Sign up now to get the most recent coronavirus headlines and other important local and national news sent to your email inbox daily.