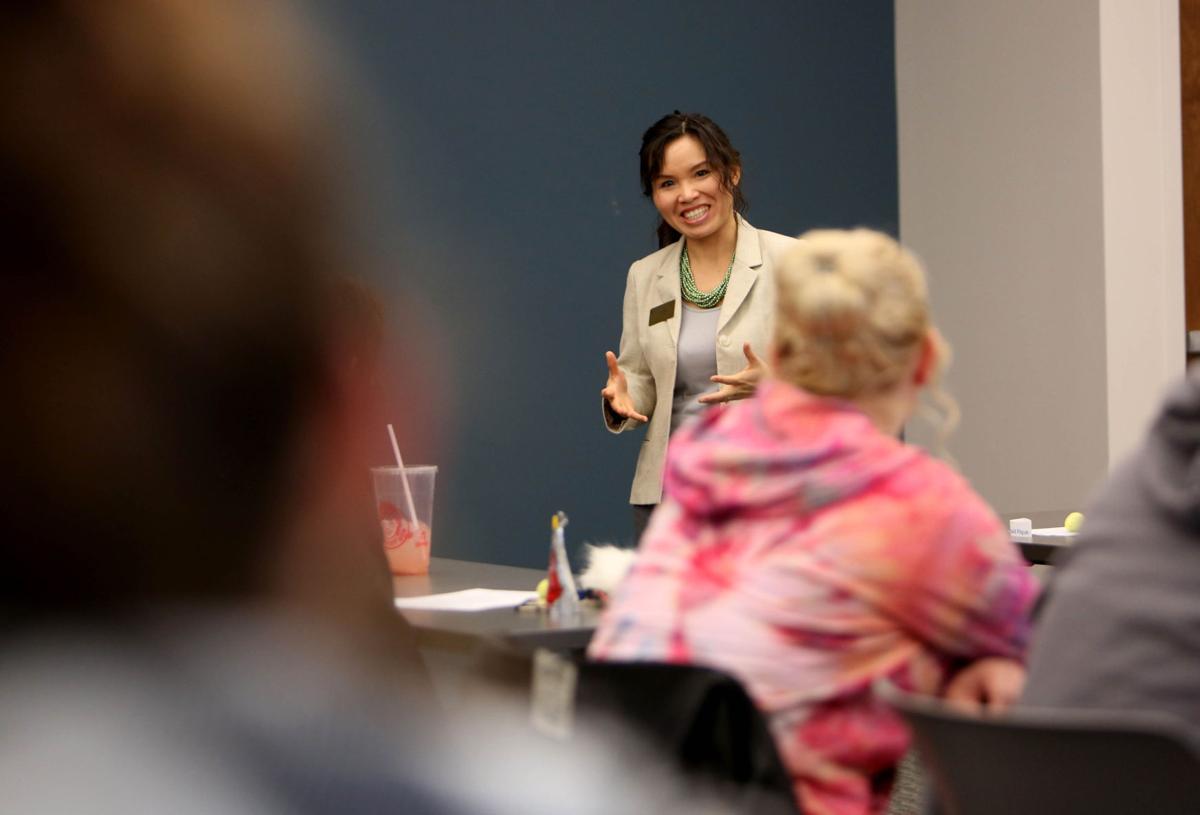 The University of Wyoming knew the state Legislature might not grant about $387,000 this session for a new master's program in counseling at the school's Casper satellite campus.
Community interest and involvement was strong, and the need was visible. But Wyoming learned months before the Legislature's February budget session that revenue from the energy industry in the next few years would take a nose dive.
Ultimately the program was funded, and it represents what some say is the growing commitment to expand UW's presence at its only satellite school.
"I think it is part of an ongoing desire to place more resources at UW Casper," said Susan Frye, dean of UW's Outreach School. "We know that there are over 200 people that have signed up and are interested in this, and we have testimonials from future employers that want to hire these people."
Occasional rumors suggest UW's presence in Casper is waning, especially when there are budget cuts. But such talk is unfounded, said Scott Seville, dean of the outreach school and a professor at the college.
"There has long been a higher education need in Casper, and a desire to see more opportunities to help build the community, build the economy," he said. "At various times there were efforts to build a four-year school in Casper."
UW's branch campus was a compromise for lawmakers, and it continues to be, Seville said.
"It was probably a smart thing to do," he said. "You look at the states around us that have multiple four-year graduate-degree-granting institutions, and when economies decline, you see real catfights, and really nobody comes out a winner."
The satellite campus has been in place now for about 40 years, he added.
"We're in this for the long term," he said, referencing the new UW-Casper building on the Casper College campus. "This was a major financial investment on the part of the state and the college."
The building, which opened in 2013, is on a 50-year lease.
"We share it with Casper College, and it seems to me that building really stands for the deep connection that exists, and the wonderful educational relationships that exist, between Casper College and [UW-Casper]," Frye said. "We have a substantial number of staff there, as well as faculty members."
The master's program is further evidence of that commitment, she said.
The degree will prepare students for positions such as counseling in public schools and substance abuse counseling. Wyoming has the fourth-highest suicide rate in the country, and experts say there's a need for more counselors.
It was a grassroots movement from the Casper community to create the program, Seville said.
The amendment funding the program was sponsored by local Republican legislator Rep. Bunky Loucks. And the push for the program originally was a collaborative effort with the Casper Area Economic Development Alliance Higher Education Committee and UW-Casper, after identifying the student demand for the degree, as well as future demand from the marketplace.
Most of the 200 people interested in attending the program are based in Natrona County.
There will also be an estimated 40 new jobs per year in Wyoming mental health counseling, according to the college's news release.
UW's Outreach School is moving closer to the kind of community collaboration revealed by the development of the counseling master's program, said Frye.
"What we are hearing in different communities is a real desire for other degrees," she said. "They are envious of the University of Wyoming at Casper. All of the community colleges tell us that we would love to have UW faculty members. If you think of it, that is a very logical progression."
Though some see the dangers budget cuts pose for higher education, others see opportunity, said Frye.
There may be even more expansion in Casper in the next few years, she said.
With incoming UW President Laurie Nichols, the school will continue to look at its statewide options, including in Casper, despite the tighter budget.
"She has cut before when she was at South Dakota State, and she knows the importance of cutting wisely, and I think we are in good hands as we go forward," Frye said.
The master's program is key to a different way of facing tighter budgets for colleges, Seville said. The kind of efficiency measures that save money are not always dire news.
Facing cuts can result in building programs people are looking for rather than cutting them, he said.
"One way the university can meet the financial situation is tuition money," he said. "One way to get those students, and potentially given the economy, there may be more people out there looking to go back to school, is to provide them with access."
People who are too far from Laramie see something like the master's program or the distance education learning opportunities, and feel that is something that they can do, Seville said.
Casper's central location in Wyoming is one of the things the school's branch campus is trying to market, Frye said.
"The University of Wyoming is completely dedicated to the ongoing excellence at [UW-Casper]," she added.
Follow education reporter Heather Richards on Twitter @hroxaner.
Be the first to know
Get local news delivered to your inbox!