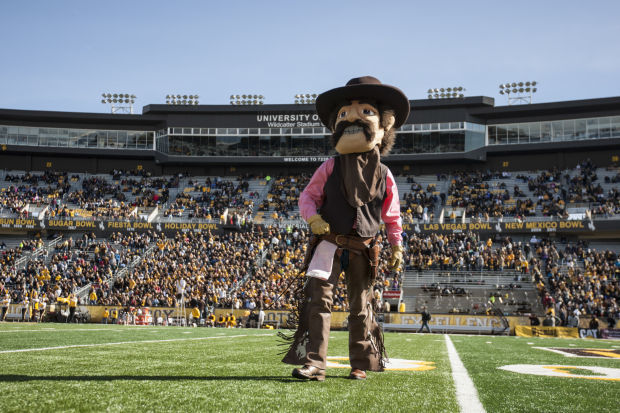 Faculty groups are criticizing a new University of Wyoming marketing campaign built around the image of a cowboy, saying its proposed slogan is sexist and promotes a white, heterosexual stereotype.
The slogan — "The World Needs More Cowboys" — is the product of a Boulder, Colorado-based marketing firm, Victor and Spoils, to which the university has already paid $500,000. The line initially gained the attention of faculty in the spring, when it was mentioned in a Faculty Senate meeting. It immediately drew criticism, faculty members said.
"I had lots of different reactions," said Angela Jaime, the director of the American Indian Studies department. "I was really disappointed in the university for endorsing such a negative slogan."
"I was kind of like, 'Woah, has anyone else heard of this?'" said Christine Boggs, an instructor and the co-chair of the Committee on Women and People of Color at UW. The group sent a letter to university leaders to voice its "grave concerns" about the slogan and requesting that UW "shelve" it in favor of a more diverse tagline.
"Well the concern for me is the 'boy' part, right?" said Christine Porter, a UW professor and vocal opponent of the slogan. "Since the 1950s at least in other parts of the country, it is no longer acceptable ... to use the generic masculine and pretend that includes the feminine."
She added that the word "cowboy" brings to mind an image of a straight white man and past conflicts with Native Americans.
"As the director of American Indian Studies, it becomes incredibly problematic to try to imagine using any of this promotional material when I'm recruiting Native students," Jaime said. "The term 'cowboy' evokes the play time — the racist play time — of cowboys and Indians, right?"
Slogan defended
Chad Baldwin, UW's associate vice president for communications and marketing, defended the slogan. He said the university's campaign would "recast" the concept of a cowboy and that if the school couldn't use its own mascot in marketing materials, then it should just get rid of it altogether.
"The people of Wyoming aren't going to stand for that," he said last week. "In my opinion there are people who are critical of it who haven't explored what we're trying to do. A foundational element of the campaign is that we're recasting the concept of the cowboy so that it represents everyone associated with it."
He said the university was trying to take the traditional view of a cowboy — a straight white man — and tip it on its head, removing a potential obstacle and turning it into a selling point.
Some faculty were skeptical that could be done.
"I find his comments to be ignorant and dismissive and quite ludicrous because you can't just redefine cowboy," Jaime said. "It's like, you know, the guy wearing the tight Wrangler jeans, boots and a cowboy hat. How's he going to redefine that? You can't redefine that. It would take decades of redefining."
"I would say that the University of Wyoming is not going to be capable of redefining the term 'cowboy,'" Boggs said. "There's how many movies that have depicted exactly a straight white rough guy as a cowboy? We're not going to redefine that with a marketing campaign."
Emily Monago, the university's chief diversity officer, said she did not think the slogan by itself was inclusive. But, she said, the university would pair the tagline with "inclusive images" — like women of color. She later added that her office has been "clear" with UW's marketing department "about this office's concerns about inclusion and that of the campus community."
Baldwin said nothing that came out of his office would include the slogan alone.
After faculty became aware of the slogan and began criticizing it, Monago organized a meeting with Baldwin, the university's recently formed diversity council, the marketing firm and various groups across campus. But it seemed to have little effect on the faculty, instructors who were there said.
"If you have to explain a slogan," Boggs said, "it's a problem. ... The groups that were represented as well as (the College of Arts and Sciences) were very much concerned with the slogan as not being what we'd want the world to see."
Porter said she sent out a brief survey to faculty, staff, students and others, which drew more than 200 respondents. Nearly all — 97 percent — said they first thought of a white male when they pictured a cowboy.
In the comment section of the survey provided to the Star-Tribune by Porter, there were some who defended the slogan.
"This is a tricky venture, but I like it," one commenter said, though they cautioned that if it were done poorly, it would be a "cringe-fest."
"This campaign is a chance to embrace the mascot that we have had since the University's inception and define and celebrate it," another wrote.
Another told faculty to "calm down" and reminded them that the university's mascot was a cowboy.
Critical response
But the survey's comments were dominated by people who criticized the campaign as sexist, racist, counterproductive and "radically misguided."
"This slogan is a bad idea, on its face exclusive and backward-thinking," wrote one. "Please do better than this UW."
"What a f—-ing stupid idea," another said.
Others lamented that it would hinder UW's efforts to recruit a diverse student body, especially in a state with a significant Native American population.
"It would be an awful slogan, very limited in its scope and certainly not likely to attract a diverse group of new students or faculty," one commenter said.
Baldwin and Kyle Moore, the university's associate vice provost for enrollment, both disputed that suggestion. Baldwin said UW is researching how the slogan plays with prospective students and that early results are promising.
Before a group of high school-aged teenagers watched a promotional video, 25 percent of them said they would "definitely or probably consider UW." Thirty-six percent of minority respondents said the same.
After the video, those numbers climbed to 48 percent for all respondents and 53 percent for minorities. Overall, according to the numbers Baldwin provided, "56 percent of ethnic respondents said viewing the video changed their perception of what it means to be a cowboy."
Moore said he had "no hesitation" about the campaign. He echoed Baldwin, saying that the slogan gave UW the chance to "shape and develop what a cowboy is."
"It's not what you are that makes you a cowboy," he said, when asked if he thought the slogan would appeal to Native Americans. "It's who you are."
But faculty said the problem with the campaign is that it appears to be targeted at the stereotypical idea of a cowboy at the exclusion of all who don't fit that mold.
"I just wonder how that'll sound," Donal O'Toole, the Faculty Senate chairman, said. "It's a fairly sexist slogan."
"As a woman, it becomes incredibly problematic because I don't see myself in that image," Jaime, the American Indian Studies director, said. "It's not reflected. How do I recruit young women and how do I recruit young women using this material, but at the same time, feeling like I've just been dismissed with my understanding and feeling about it?"
Porter said she plans to protest a "branding camp" that will be held next week to educate staff on the slogan. Jaime said she'll attend because "you can't complain ... about things that you don't participate in."
Both called on the university to reconsider their campaign.
"Come up with a different slogan that doesn't evoke some sort of a white guy in a cowboy hat and tight Wrangler jeans and cowboy boots," Jaime said. "Rather than trying to quote-unquote redefine a word. There are lots of words we can already use that are really positive."
Follow education reporter Seth Klamann on Twitter @SethKlamann