There are two long rows of students, black caps and black gowns, white sashes for boys and blue for girls. On stage are stacked blue folders, with important-looking people sitting behind them. Roosevelt High's graduating class is 40-some students, each a triumph. Some soon-to-be graduates hold their babies. Two others wait in wheelchairs for their turn to cross the stage.
Here is Sara Cardenas, sitting near the end of the second row of students. She is 17, short even in heels, with a circular face that ends in a pointed chin. She rolls her eyes frequently, less out of angst and more out of earned impatience. She is a former Natrona County High student who took her baby to school one day and a week later was in an entirely new world.
Here is a student. Sara is a senior, graduating on Thursday, the day before she turns 18. She is not far removed from the days when showing up to school once a week was an aspiration. Now she's taking Casper College classes and has a career in mind. Her family and friends fill five rows of the Casper Events Center.
Here is a mother. Sara's nearly 3-year-old daughter toddles along the front row of bleachers, using knees as hand rails. Little Kloye — pronounced like Chloe — waves to her mom, who looks up from the auditorium floor and smiles back from beneath her black graduation cap. The blue and white tassel keeps getting caught in her eyelashes.
Here is a survivor. Twice evicted, pregnant at 14, the daughter of parents she says were absent and troubled. Sara is tough and wields a selective shield. Ask her about her childhood and details may pour out. Ask about her softball team, and she'll fix you with a dead-eyed glare and ask who told you she played. She designed the jerseys. They say, "Pitch, I will slug you."
If there is a single moment when a person is considered officially an adult, high school graduation is it. That stage is the finish line of a long run for Roosevelt students, who cross it each with a story to tell. One student who spoke at the ceremony broke down while talking about her fight with cancer. Another laughed about his past struggles with his own existence.
For Sara, walking across that stage is a triumph over challenges that are difficult to comprehend. But it is not an ascension into the ranks of the older. Sara has been an adult for years now. The ceremony is more like the opposite.
Here is a teenager celebrating a teenage milestone.
***
Looking into Sara's eyes can be like gazing into the night. It is not emptiness or darkness that stares back at you. It is knowledge and memories that you will never know or be able to understand, a chasm a stranger cannot bridge.
She looks like that when she talks about her childhood, describing years of neglect in an even voice that changes only when she ends a sentence with an emotionless laugh. She is from Casper, born and raised. She lived with her father. She went to Cottonwood and CY. She has been self-sufficient since the third grade — waking herself up for school, making her own breakfast, getting on the bus. When her brother was old enough to go to school, she took care of him, too. Wake up, clothes, food, bus. She tried to keep her brother on his schoolwork, knowing that if he didn't he would end up like her: struggling to stay afloat.
"I had to parent at such a young age," Sara said, sitting in the nursery at Roosevelt recently. Kloye was fast asleep in footy pajamas in a small tent nearby. "Being neglected, meaning I was more on my own, and when I did come into contact with my father, it was usually fighting."
They fought over crumbs on the counter, sodas in the fridge, how long it took Sara to walk back from the bus stop, whether or not Sara had to take her brother with her everywhere she went. She was her brother's main parent, she said. She had little time to be a kid. She had no cellphone and few friends outside of her neighborhood.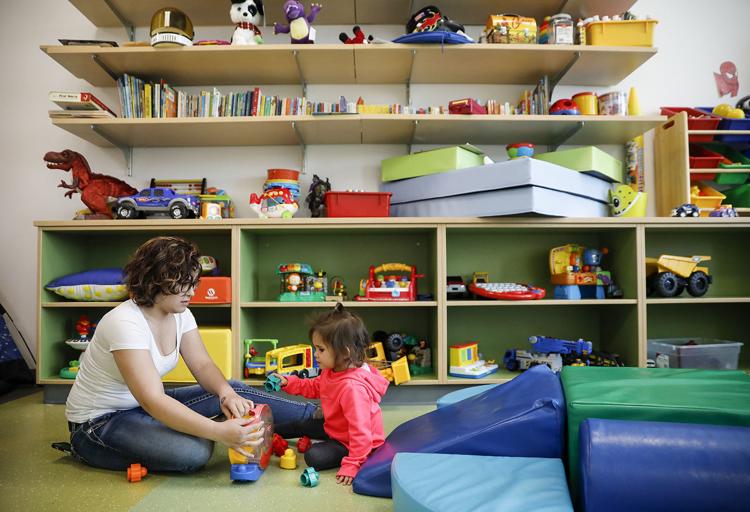 "I would make food, and I would get yelled at for not asking (my brother) if he wanted something," she said. "I had to make sure (his) room was picked up, I had to make sure (he) had this and (he) had that. And (my dad) wasn't doing his father part of the job."
Her own childhood went on. In seventh grade she learned she could sing. She joined the choir.
"Everybody else had flowers and pictures," she said of how parents would treat their children after concerts. "Sara had to wait for her dad to show up because he wouldn't stay. But I learned to just do it. I became way more independent. If he's not going to be here, I'm going to do it myself. I can do it on my own. I don't need him."
Two years later, at 14 and a freshman at Natrona County High, she got pregnant.
"I didn't get the opportunities that a lot of people did, especially because I didn't have a mom," Sara says. Her biological parents didn't get along and did not live together. "She wasn't there to teach me things, like womanly things I need to know. So I didn't get that, and it's a little awkward to talk about with your dad. I never had a more grown-up talk about birth control, anything like that."
She couldn't hide her pregnancy and one night, her father confronted her. The three of them — Sara, her brother and father — were eating steak. She remembers that distinctly. Her father stopped chewing, stared at Sara and asked if she was pregnant.
"He stops, he looks at me with this face full of disappointment, walks up the stairs and doesn't talk to me for the rest of the night," Sara said.
Her life began to accelerate. She saw a doctor only a few times. She went into pre-term labor, flew to Denver, had her contractions stopped and was trapped in Colorado briefly. As Sara's belly swelled, classmates made fun of her on the bus, joking about her baby dying.
"That annoyed me so much because I'm becoming a mom," she said.
On July 19, 2016, she gave birth to Kloye.
***
She moved out of her father's home and in with her stepsister and her stepsister's mom. But that didn't work out, either, and Sara moved again, this time into an apartment with a group of older people. None was in high school, none had jobs, and none paid rent. They were evicted.
With Kloye in tow, Sara then moved into a trailer with her biological mother. She was only occasionally going to school, when she could leave Kloye with her mom. She paid her share of the rent — $100 a month — but said she discovered her mother was using drugs and wasn't giving the landlord the rent.
"That's my mom, that's the person that I trust," Sara said. She decided to confront her. "We had this open, honest relationship where I asked her something and she gave me the blunt, honest truth. So I asked her one day, and it took her like 20 minutes to answer the question because she didn't want me to know.
"When she answered yes and I knew about it, like it kind of hit me hard," she continued. "And I lost a lot of respect, feelings, the connection that was there."
Because her mom hadn't been paying the rent, Sara was evicted again. She was 16, and Kloye had just turned 1. They moved in with a friend of a friend in late summer 2017, and two months later, he started to balk at living with a young mom and her baby. She had to move again. Two different places with her father, one with her stepsister, the apartment, her mom's trailer, now this, all in the span of a few years.
Sara describes all of this deadpan, her tone not breaking, her eyes firm and deep. She is blunt and will occasionally cushion harder details with the soft sarcasm of "all that fun stuff": the stress of living, "like where I'm going to sleep and stay and eat and all that fun stuff." Those around her doing meth "and all that fun stuff." When a district spokeswoman tries to steer the conversation away from some of the more intense details, Sara fixes her with an icy glare.
"I've survived a lot of s—- that was a struggle for a long time," she said. "I don't know. It amazes me based on my story, the difference (now), the big difference of having to struggle every morning, every day, not knowing where I'm going to sleep next time, where my next meal is going to come from. Nobody wants to have to worry about those things."
In October 2017, she went to class at Natrona County High with Kloye. She had no one else to leave her with. She had been skipping school because her daughter was the priority. A substitute teacher sent her to the nurse's office, who in turn shuffled the mother and daughter to the counselor. The counselor called Greta Hinderliter.
***
Greta coordinates the district's homeless students. In truth, "coordinates" is too sanitized of a word to describe her work. Those who know her describe her as something of a miracle worker. She finds homes, food, clothes for kids. She has eight students she's worked with graduating from Roosevelt this year. She likes graduations. It reminds her that the sleepless nights worrying about where a kid is are worth it.
She remembered getting the call from Natrona County High that day 18 months ago. She was busy, and schools calling her with concerns were usually not emergencies. She said she would swing by later. No, the voice on the other end of the phone said, you don't understand. This girl brought a baby to class.
"I'll be right there," Greta replied.
She remembered first seeing Sara. She looked desperate, Greta said. But there was something in her eyes, a determination, a fire.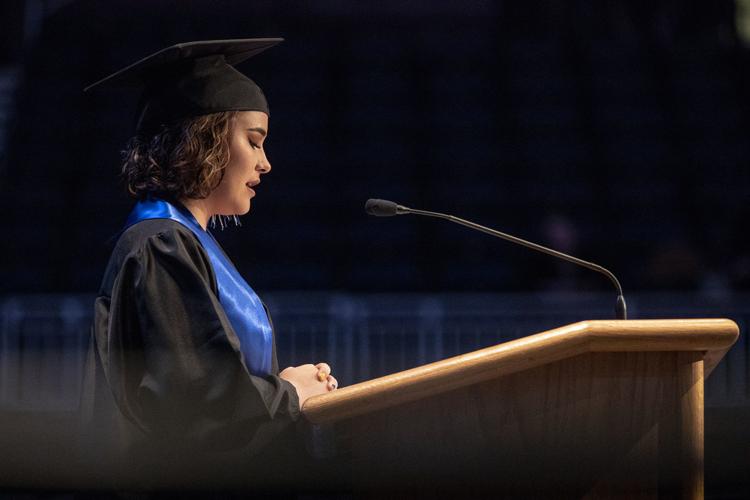 Greta worked quickly. She set up Sara to meet with Shawna Trujillo, the principal at Roosevelt, and Nikole Eaton, who runs the school's day care. Like Greta, Nikole's title is much too simple a description of her job. In truth, she's equal parts mother, grandmother, disciplinarian (with an alter-ego the girls detest) and teacher.
Sara showed up for the meeting, which was a good sign by itself. Nikole and Shawna can both remember what she was wearing that first day: a black dress that revealed a bit too much. In that meeting, Nikole got down on the floor, with Kloye on her lap.
You have free articles remaining.
"OK sweetie, let's just go ahead and – this is not going to work," she told Sara.
Nikole and Shawna both laugh about that day now. Sara resisted — hard — at first. They say she was short with them, curt. (Sara described the meeting as going fine.) Nikole gave her a tour of the school, which was brand new, to the point that Nikole didn't know where anything was.
"Sara was slow to warm because she didn't have anybody to trust," Shawna explained. "She never had anybody that it was safe enough to just let it be."
Still, Sara needed somewhere to live. Via Greta, Shawna and Nikole heard about a couple who didn't have kids who would be willing to take her in.
"She had this baby that she had to protect, she didn't have any resources, she didn't have any supports, she didn't want any," Shawna said. "And then all of a sudden, here come Heather and Andy. Out of the blue."
Heather and Andy Hintz. Heather works in PR and Andy runs a security company. Both look like a living embodiment of their jobs. They met with Sara and Kloye that afternoon.
It's hard to believe a meeting of a jaded 16-year-old mom and two strangers went perfectly smoothly, but not one of the three of them suggested otherwise. They told Sara they would expect her to be honest, to be open, to graduate, but that they were open to welcoming Sara into their home. She decided to sleep on it, and Andy gave her his business card.
Sara emailed him that night. The next day, they picked her up, gathered all of her possessions up and went to Andy and Heather's house. Just like that.
"They gave me the tour, their house is freakin' huge," Sara said. "That's the first thing I said. 'Jesus! This is huge, right?'"
They let her pick where she wanted to sleep. She and Kloye headed to the basement.
They began handling the things teenagers and parents typically deal with: learning to drive and getting a license (Sara insists she knew how to already, a claim that Heather and Andy somewhat disputed), getting health and auto insurance, buying a car. Sara began to turn her grades around — in exchange for Heather and Andy paying for half of the car.
And they've handled the aftermath of her past, getting her into counseling and helping her work through the mental health and anger issues that she still struggles with.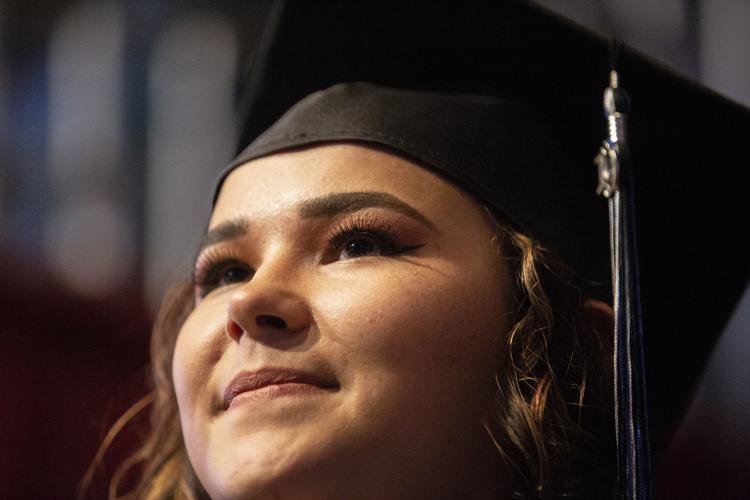 They got semi-matching tattoos — all involving an arrow because, Heather explained, "arrows only go forward." Within a few months, they decided to become Sara's legal guardians. Heather and Andy explained they decided not to adopt Sara so she could get more financial aid when she applied for college. But they wanted to be able to take her to the doctor, to get her car insurance.
"The guardianship was twofold," Heather said. "One, so that we could get her the things she needed in life and help her success, and also to give her a sense of security. To know that we went in front of a judge and said that we want you, that we want to take care of you and you're part of our family. Put that in writing."
Sara, in typical fashion, is a bit blunter about it.
"I wanted it," she deadpanned, "and then we all cried and went to Denny's."
***
Shawna calls Sara the "ultimate comeback kid." It took several months of curt answers and hesitancy, but Sara opened up to the women around her at school. She hugged Nikole unprompted and trusted the nursery women with Kloye. She's "slow to warm," Shawna said. But she had to learn what many are born knowing: unconditional love.
"She's learned that, she wants that, she yearns for that," Nikole said. "She never got good grades because it wasn't expected."
She's getting good grades now. She sees Kloye every day but entrusts the women in the nursery to care for her when she's in class. She doesn't have to choose between one or the other anymore.
She's remained grumpy and guarded, her teachers say. But after 18 months, they've found a way through her walls.
"When she came in at lunch (last week, she was angry and) she was going to leave without saying goodbye," Nikole said. "I pulled her over on my lap, like a baby, wrapped my hands around her. She will act like she hates it. But she eats it up."
"That's what people don't understand and appreciate. I have three women over there who are raising moms," Shawna said of the nursery staff. "Not just cuddling babies and putting Kloye's hair back in a ponytail, but they are raising mommas."
Yet, Sara is still a teenager. Greta remembers early on, when Sara first moved in with Heather and Andy, the two adults looked after Kloye so Sara could go to the movies with friends. Earlier this year, Sara came to Shawna and said she wanted a prom and wanted it to have a "Great Gatsby" theme, after the F. Scott Fitzgerald novel about the 1920s. Proms are a lot of work, Shawna said, and Roosevelt rarely holds them. But it was such a normal request from a teenager whose life had been anything but. Shawna said OK but told Sara she needed to form a committee, and if the committee didn't want a Gatsby theme, then tough luck.
"She was calling me bad names in her head," Shawna said, laughing. Sara wanted what she wanted.
In the end, she got the theme and dressed as a flapper. When Shawna asked her the next Monday how the prom went, Sara downplayed it: "It was OK."
Remembering that comment now, Shawna screws up her face and practically growls. All that work! For the equivalent of a shrug.
"Because she's not going to give you too much," Shawna said, laughing. "It was so awesome, that's why we did it. It's so normal. It's so normal. It's so cool. It's so senior in high school."
When asked later about it, Sara said that yeah, it was just OK. She wanted to be prom queen.
***
Eighteen months after she first arrived at Roosevelt, Sara is the most improved student in its 2019 class, Trujillo says. Two years after regularly skipping school to care for Kloye, Sara is an honor roll student taking classes at Casper College.
Here is Sara speaking at her high school graduation.
As she waits her turn by the stairs leading to the stage, she rereads the speech (she practiced at home, too, Heather says). It's one page, typed, single space.
When the student in front of her is done speaking, she walks to the podium and opens with a joke about how high school wasn't the musical adventure that Disney movies had made it out to be.
"My home life was one of uncertainty, which made school a challenge since the beginning," she said, her voice echoing throughout the sparsely filled events center. "I have been lucky along the way to have some teachers that saw something in me and challenged me to do better. These teachers gave me the fight to show up and the want to try and do better at school.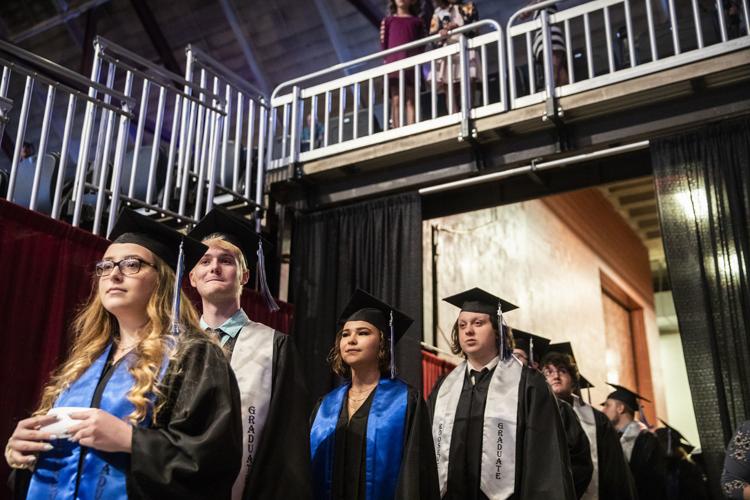 "Along my journey, I had my daughter Kloye, sitting over there," she continued, gesturing toward Kloye and the rest of her cheering section. "For some, becoming a mother at such a young age changes their path completely and doesn't include school. For me, I knew I had to fight harder to provide her more opportunity than I had and remove the challenges and roadblocks I had experienced. She provides me the strength to keep fighting so I know I do not let her down. My 17 years ... has been full of obstacles that were meant to keep me from being here today. Like many of you, I fought hard to walk across this stage. Today, we are ending one chapter and beginning new one, one that is filled with opportunity. We take with us the lessons that we have learned, the fights we have won, and the battles scars from those we have not."
As she finishes her speech and makes her way back to her seat, the applause rises and fades. From the stands, Kloye weighs in: "Good job, Mom."
The ceremony continues. Sara lines up to get her diploma. The woman announcing the names stumbles slightly over the pronunciation of her last name — car-dean-us — and then Sara strides across the stage. She takes the diploma, hugs Trujillo and walks off.
She makes her way past a long line of waiting Roosevelt staffers, shaking hands and doling out brief hugs. Then she gets to Greta. The two pull together and rock slowly side-to-side for a moment. Next to Greta is Nikole. Another long embrace. Eighteen months earlier, they were strangers. Nikole was chiding Sara about her outfit and giving her a terrible tour of a building unfamiliar to both of them.
Greta has eight students who've struggled with homelessness graduating from Roosevelt this year. Sara is one she'll talk about for a long time, she says.
Sara makes her way back to her seat. Kloye calls out to her, and at first Sara doesn't notice. She barely looks at her family as she sits back down. But then she turns, her face bright. Kloye waves.
Sara waves back. She smiles and mouths something.
"Hey Mommy," Kloye calls out, as if they were the only two people in the world. "What're you doing?"
Follow education reporter Seth Klamann on Twitter @SethKlamann