Masks and gowns, carefully spaced grids and fireworks, separation between a student receiving a diploma and the person bestowing it. Here is Midwest School's graduation in the age of COVID-19, as close to tradition as possible in a moment that demands distance.
On the edge of the school's football field, accessible through dirt roads that snake back to the tiny Wyoming town, 13 graduates gather. The rolling hills of the Salt Creek Oilfield unfold to one side, a steep cliff leading to the edge of town buttresses the other. Many of these kids have been together for the bulk of their life, each matriculating through this rural K-12 building that typically has 20 or fewer students per grade level.
The seven girls wear maroon robes with white sashes, the six boys the opposite. Some of them wear masks, some of the time ("Masks or six feet apart," teacher Ronni Mull tells them). Above the masks are the caps and the parting messages written on them. "Next stop, nursing school." "Last minute, like everything else I did in high school." "Oh the places I'll go but the country roads will take me home." Valedictorian Sheridan Vaughn's note is brief: "Adventures await."
The graduates sit in a wide crescent in front of a small black stage, each chair spaced apart. Beneath each chair, class president Madison Jones places a roll of toilet paper — "they're safe to use, I promise" — in a nod to the rush on TP that heralded the beginning of the pandemic 10 weeks and a lifetime ago, right around the time the students left school for the weekend and didn't come back.
This is not the ceremony any of them had envisioned. Parents are placed in 10-foot grids across the field, with a space between each group. Entry to the field is controlled: Assistant principal Michael Brainard stands at the gate, bouncer and disinfector, armed with a list, a box of masks and a bottle of hand sanitizer. Other spectators who aren't on the list post up just behind the field's fence, standing in truck beds and leaning against cars.
"To the pandemic of 2020, we are so disappointed by you," Vaughn says during her speech. After in-person school was canceled in mid-March, this class and their peers across the state lost their senior good-byes, their last semester of sports, their final weeks with classmates and teachers.
"To the pandemic of 2020, we thank you," Vaughn continues. "We could dwell on all we lost for days, months or even years to come. But if we shift our mindsets to look at all the lessons we have gained from making our children and grandchildren's history books, we can look toward a bright and encouraging future."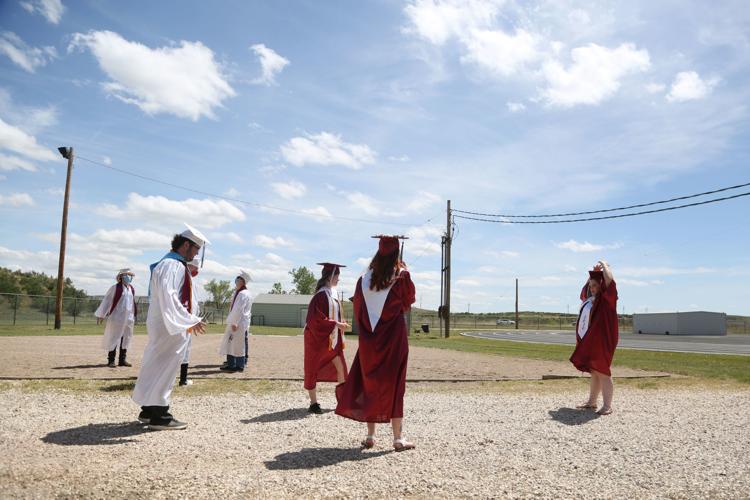 It may not be what they imagined, but the graduates' small numbers made possible the ceremony and its semi-sense of normalcy. Their peers at Natrona County, Kelly Walsh and Roosevelt high schools will get their diplomas in a drive-thru ceremony, with pre-recorded speeches and the absolute minimum amount of personal contact, all in an effort to stymie the spread of the coronavirus.
Midwest's graduation is different on a personal level, a feature of a small school. Over the course of three different speeches, teachers and Jones share personal stories about each student — that time Austin Sansoucie showed up to weld in a dress on Halloween, MaKayla McMurray's sarcasm, how classmates became siblings and visited each other in the hospital.
"This is hard to do without crying," teacher Jim Fulkerson says midway through his commencement address. After sharing stories about each student, he punctuates the memories with "I'm proud of you."
When each of the 13 graduates cross the stage, they don't shake assistant principal Brainard's hand. He reads their name off of the diploma and then sets it back down, underneath a weight to stop it from blowing away. Each student picks it up and winds back to their chairs. Vaughn weighs her diploma down with the toilet paper.
As each name rings out over the tinny loudspeaker, a group of men up on the cliff shoots off a single firework. From behind masks and safe distances, the students hold up their diplomas, move their tassels, throw their hats. And from a safe distance, families cheer.