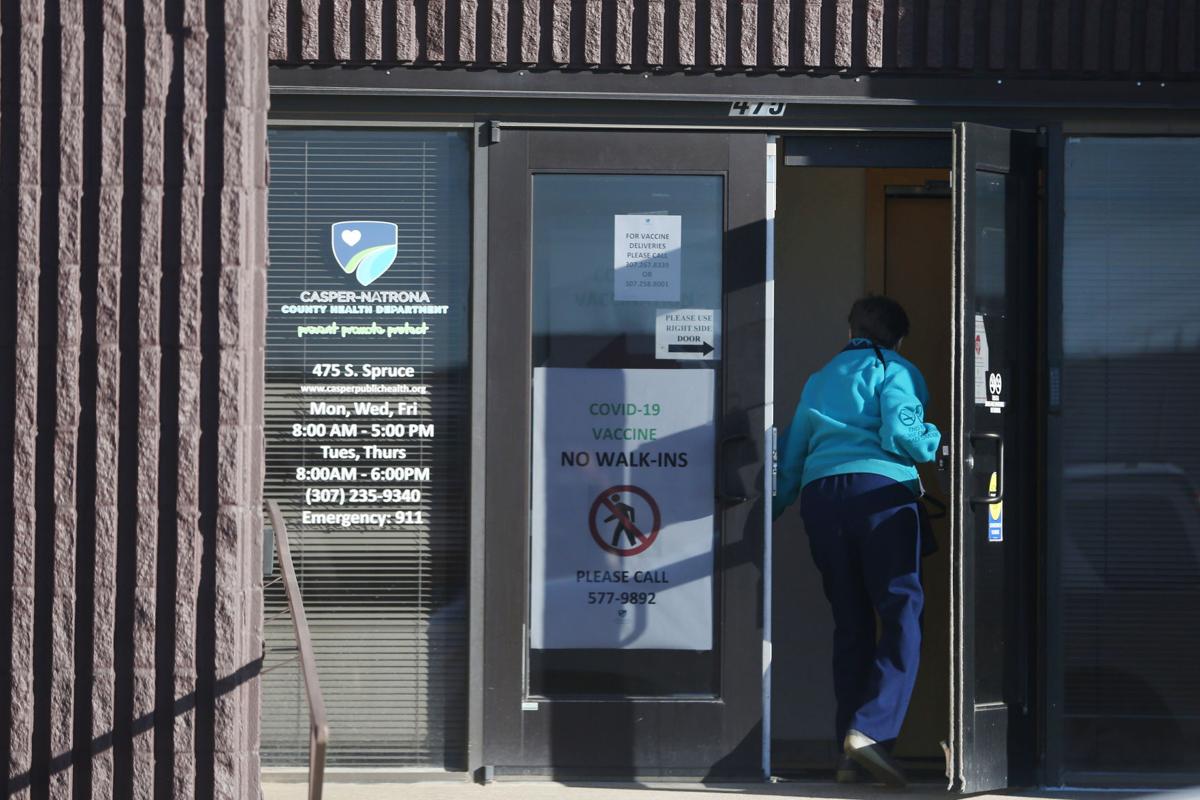 The Casper-Natrona County Health Department is moving through its COVID-19 vaccine priority groups faster than expected as demand slows among older residents.
The department said Thursday that Natrona County School District and private K-12 employees can now sign up for a COVID-19 vaccine appointment. A spokesperson for the county health department, Hailey Bloom, said K-12 employees began receiving their first vaccine doses Thursday morning.
K-12 educators and support staff were previously expected to begin receiving vaccinations in late February or early March, Natrona County School District associate superintendent of human resources Verba Echols told the school board at its last regular meeting.
But Bloom said the demand among residents 70 years or older and others in earlier priority groups had slowed, leaving vaccine doses unclaimed.
The county health department contacted the Wyoming Department of Health and asked if they could move on to the next priority groups in order to continue vaccinating at a reasonable pace, Bloom said.
"Our goal is really to keep getting vaccines out in the community," Bloom said, adding, "We've never waited for an entire (priority) category to be finished before moving on."
This is largely because not everyone who qualifies for a vaccine wants one.
When the department first began offering inoculations to health care employees and emergency responders, which made up the first tier of the first priority phase, only about 50% of eligible residents decided to get the vaccine. Demand increased when the shots were opened up to residents 70 years and older. The first week that age group was able to sign up for the vaccine, the health department ran out.
There are almost 8,000 Natrona County residents in that age group, or 10% of the population. Just over 7,000 first vaccine doses have been administered in the county, according to data from the Wyoming Department of Health. That data shows Natrona County has vaccinated more people than any other county as of Thursday.
But Bloom said the department had begun to experience a lull in vaccine appointments, which she attributed to residents waiting for more people to get vaccinated or simply being out of town.
She said allowing K-12 staff to be vaccinated now was in line with how the department has been handling distribution since December.
Employees of congregate living settings like the Wyoming Rescue Mission, behavioral health care providers and social workers are also eligible for the vaccine, as they are in the priority category just before K-12 staff.
The health department had previously estimated it could take through February to vaccinate all residents in the previous priority groups.
Bloom said if a resident is in any priority group ahead of K-12 educators, which are in tier 7 of Phase 1b, they can still make an appointment and won't have to move to the back of the line.
The vaccines are open to public and private school employees in K-12, but not to preschool staff yet.
The department is administering vaccines 8:30 a.m. to 4:30 p.m. through Saturday. Natrona County School District employees have been given a special code they can use when making an appointment that verifies they work for the district.
The department will also hold a Saturday vaccine clinic Feb. 6. The clinics still require an appointment. The department is not accepting walk-ins.
Bloom said the county had 960 Pfizer doses left at the end of the day Wednesday and is expecting another 975 early next week. She added that the department won't be able to vaccinate all K-12 staff this week but will be able to make some headway. The Natrona County School District employs just under 3,000 people. Part-time and temporary staff are also eligible.
The Casper-Natrona County Health Department is the only provider in the county administering vaccines to that group because of the limited vaccine supply, Bloom said.
To make an appointment, K-12 staff can call 307-577-9892.
Editor's note: Joshua Wolfson was not involved with the editing of this story because of a conflict of interest.
Follow health and education reporter Morgan Hughes on Twitter @m0rgan_hughes