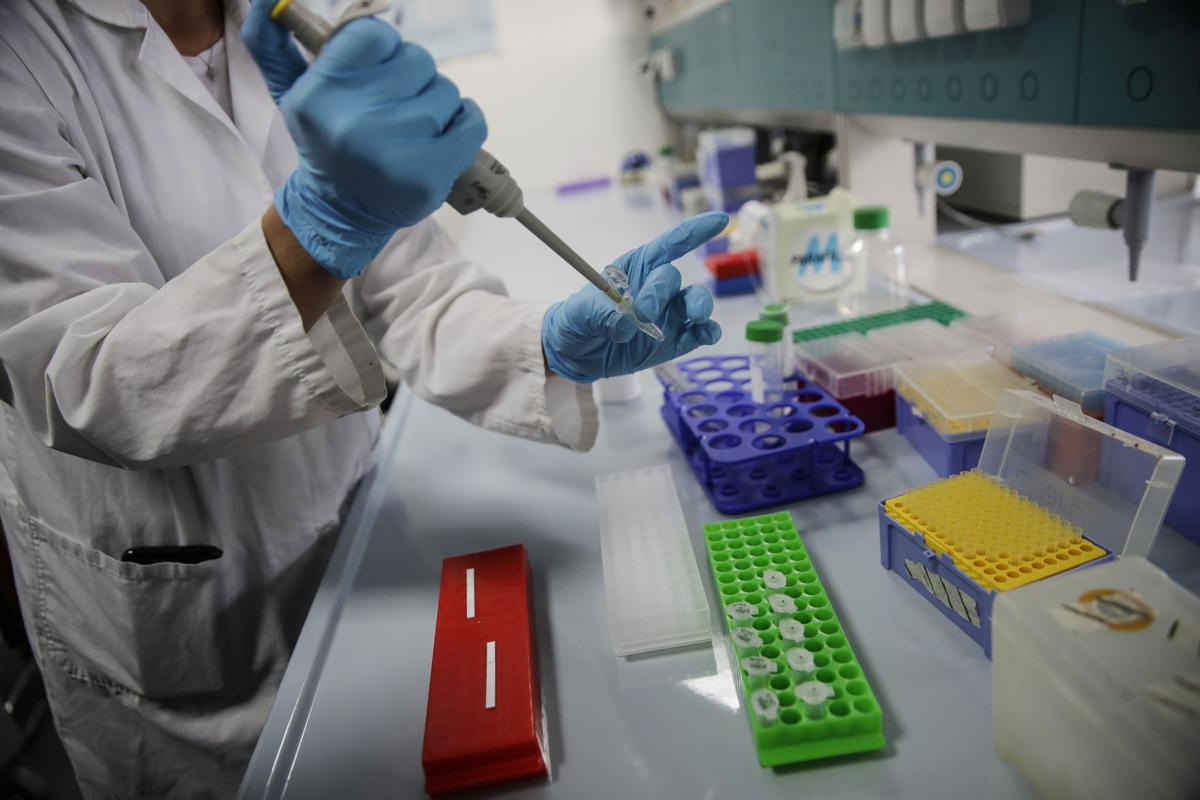 What if instead of waiting days for a positive test result, or quarantining for weeks to screen symptoms, you could know within minutes whether you've contracted COVID-19?
There are rapid COVID-19 tests on the market, but they're not always accurate and tend to work better when someone is shedding large amounts of the virus. This means a person could test negative one day and then start shedding large amounts of virus the next, making rapid tests less reliable than their more time-intensive counterparts — the polymerase chain reaction test, which requires a nasal swab.
A handful of Laramie-based scientists think they have a solution.
Laramie-based CellDrop Biosciences, Metrohm Raman and the University of Wyoming's Oakey biomedical engineering laboratory are working with the Massachusetts Institute of Technology researchers to develop a fast, accurate COVID-19 test they hope could alter the course of the pandemic.
Ben Noren, a UW chemical engineering graduate and CEO of CellDrop Biosciences, started working on hydrogel engineering about four years ago.
"Think, building tiny structures out of fancy Jello," explains the CellDrop website.
The work initially focused on finding ways to deliver biological elements into the human body on a microscopic scale. Their cornerstone technology, for example, stores stem cells in microscopic hydrogel drops before being injected into a person. The strategy makes for a more precise injection and protects the stem cells as they find their way to their destination.
As the pandemic began to look more dire, Noren thought he could use that technology to help test for COVID-19. Now that work is supported by a $354,000 grant from his alma mater, paid for with federal coronavirus relief money.
And so far, Noren's hypothesis is proving correct.
How does the test work?
CellDrop's COVID-19 test uses saliva samples to identify whether SARS-CoV-2 — the virus that causes COVID-19 — is present in a person's system.
Unlike other saliva-based tests, this one relies on a special protein developed by MIT researchers that will bind itself to a specific antigen emited by the virus.
This is where Noren's hydrogel comes in. To create the COVID-19 test, they attach the MIT-developed protein to the hydrogel created by Noren's CellDrop Biosciences. The hydrogel is then dehydrated to store the protein.
When they're ready to test for a COVID-19 infection, the hydrogel is rehydrated and combined with a saliva sample. If someone is shedding even the smallest amount of virus, the MIT protein will find it by binding to the COVID-19-specific antigen.
To make the test even more accurate, CellDrop has partnered with Laramie-based Metrohm Raman, which builds a range of analytical technology. For this endeavor, CellDrop is using what Noren described as a handheld laser that can identify a variety of chemical substances — formally called a spectrometer.
If the MIT protein finds the antigen it's looking for, the laser will pinpoint the solution and return a positive test result "within milliseconds," Noren said.
The tests will have two applications. Noren said one version of the test will employ the lasers, which would be a more accurate test. He envisions airports using those to screen passengers before they board a flight or organizers of large public events using them to screen attendees while they're in line to enter a building.
But they're also working on a home-based test that a person could take multiple times over the course of several days to ensure they aren't carrying the virus. That test would work similarly to a pregnancy test, he said.
When will the test be publicly available?
The team of researchers working with Noren have had a lot of early success, he said. But they haven't started formal testing yet.
The grant was awarded early this month, so it will be months before they can send the tests off to be tested themselves by the National Institute of Health.
Noren's goal is to have 1,000 tests ready to send to the NIH by summer.
While Noren believes these tests could significantly limit virus transmissions, he said he isn't overly optimistic yet.
"I've been in science long enough to be a little skeptical of any perceived success until it actually happens," he said.
The company will still need to find a partner or outsource manufacturing to produce enough tests for the general population. Plus, until the tests are used by people in their daily lives, they won't know for certain how effective they are.
"Even if the science works really well in a lab, it needs to be able to translate to real life," he said.
He also stressed that even if the tests are readily available in the near future, they aren't a replacement for getting vaccinated.
If things go as planned, however, Noren thinks this technology could be used for any number of diagnostic tests.
Follow health and education reporter Morgan Hughes on Twitter @m0rgan_hughes