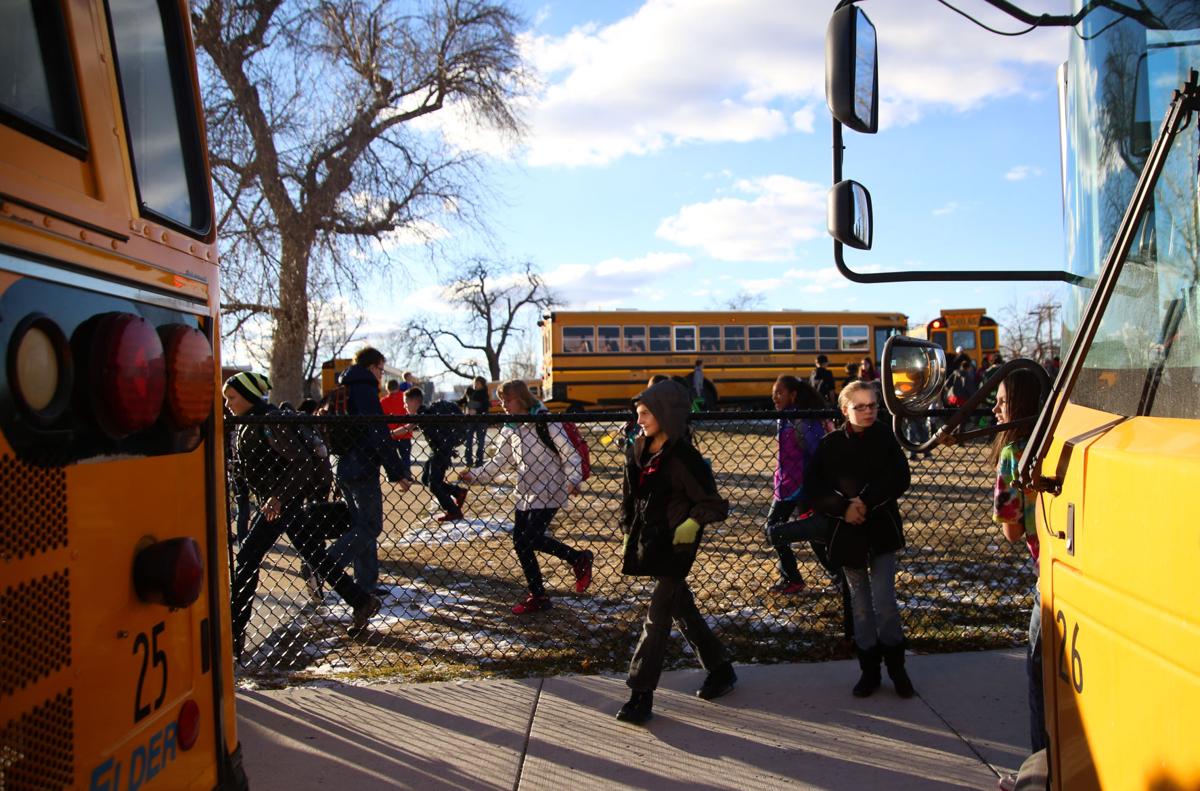 Lawmakers discussed potential new taxes to pay for a looming education shortfall at a wide-ranging committee meeting Monday, but they still appeared little closer to accepting a revenue enhancement than when they killed such a move during the recent legislative session.
The meeting, a combined session of the Select Committee on School Finance Recalibration and the Joint Revenue Committee, underscored the severity of the funding crisis facing Wyoming's education system and the difficult decisions lawmakers will have to make to shepherd the state through the storm. In the coming two-year budget cycle, which will begin next July, K-12 funding here faces a shortfall of at least $530 million.
School construction's gap, largely separate from the other issue, will be nearly $200 million during that period.
The meeting has other implications. Several school districts, including Laramie County No. 1 and Campbell County, have passed resolutions authorizing them to sue the state should they feel funding cuts have become unconstitutional.
Lawmakers have for months said the situation cannot be solved by solely taxing or just cutting. But lawmakers have expressed wariness, at the least, to increasing revenue in a state that has some of the lowest tax rates in the country and leans heavily upon the mineral industry.
Sen. Ray Peterson, R-Cowley, was silent for much of the hours-long meeting in Riverton, but he summed up many legislators' predicament near the end of the meeting.
"I'm up for re-election in another year," he said. He serves on both the revenue committee and the recalibration committee, which was created three years early to examine the state's funding model in the midst of the crisis. Lawmakers will hire consultants to study the way they fund schools here.
In a mock-campaign speech, Peterson said, "I'm Senator Peterson, I'm raising your taxes, and I'm cutting your wages. Vote for me."
Still, he said, he had his "black hat on" and that the revenue committee, which he co-chairs, was studying "everything," including new taxes. To that end, state officials from the Legislative Service Office spent the early afternoon walking legislators through options for revenue increases.
Dean Tempte, an analyst with the LSO, told lawmakers that raising the sales and use tax 1 percent and sending that money straight to state coffers would provide more than $154 million per year during the 2019 and 2020 fiscal years. Wyoming is currently 40th in the nation for highest sales tax; it's been at 4 percent since 1994.
A statewide 1 percent lodging tax, which lawmakers like Speaker Steve Harshman indicated some interest in, would chip in $6.4 million annually during those years.
That number was surprisingly low to Rep. Michael Madden, R-Buffalo. Sen. Cale Case, a Lander Republican, said guides and outfitters were exempted from any lodge tax and that companies like Airbnb are, as well.
People visiting or passing through Wyoming would probably make up 80 percent of the money that the tax would collect, officials explained, which is why it was attractive — at least more so than sales or property tax increases — to some lawmakers.
"We gotta get out-of-staters," Harshman said.
The sales and use tax increase had the largest projected benefit, followed by an additional 1 percent mineral severance tax, which would raise more than $90 million annually during those years. But lawmakers have been hesitant to further tax energy companies.
For one, they said, the state is already too reliant on minerals for its tax base, and nowhere is that more true than in education: More than 60 percent of public education here is funded by minerals, and school construction and maintenance has been almost entirely paid for by coal lease bonuses.
On top of that, they've said, further taxing an already hurting industry will likely not help alleviate the current statewide decline.
"We're so dependent on minerals," Peterson said. "I don't think we're overtaxed. At the same time, I know what taxes do to businesses, to taxpayers, to citizens."
During the session that ended in early March, the House passed a bill that would've raised the sales tax temporarily and under certain circumstances. But staunch opposition to tax increases in the Senate, led by Sen. President Eli Bebout, made the likelihood of any tax increase making it through that chamber slim. It was quickly eliminated from the bill, which ultimately passed with more than $34 million in cuts.
Bebout on Monday reiterated his aversion to raising taxes.
You have free articles remaining.
"I just would hope the last thing," he said. "It's so easy to run and raise taxes. I would hope that's the last option. I think all of us realize that."
Harshman, a chief architect of the House bill that originally included conditional tax increases, said that if the Legislature had backed that measure, lawmakers wouldn't be meeting today and the crisis would be solved.
But Peterson said that businesses would bear the brunt of any sales tax increase, especially in his district of Park and Big Horn counties. Because Montana has no sales tax, he said, businesses on the Wyoming side of the border can either lower their prices to match or risk losing customers.
"When you start talking about a property tax increase, the base is so small you can't spread it out," he said, referring to Wyoming's small population.
Still, Peterson said, he wanted the revenue committee to arrive ready for the next session, a shortened period that begins in February 2018, with bills that will tackle the situation. That might include a tax increase.
Bebout said that if it did come to taxes, he'd like it to be put before the voters. During an earlier public comment period, Rep. Cathy Connolly, a Laramie Democrat, did just that. A woman who identified herself as a former special education teacher and principal had taken the mic to advocate raising an alcohol tax.
Connolly said that the recalibration committee would look at raising cigarette and beer taxes but noted that even if increases on those items were passed, it would "garner us a fraction of what we need."
"Raising sales taxes, property taxes, how do you feel about those?" Connolly asked the woman.
The woman replied that she had "no problem with that."
"We are educating our new leaders of our state," she said. "I do not have a problem paying extra for something important as education."
Sen. Chris Rothfuss, a Laramie Democrat, said Wyoming taxpayers might have to decide which is less palatable: higher taxes or slashed education. That's a conversation that needs to be had, he said.
Bebout and other members of the legislative leadership have often pointed out that Wyoming spends significantly more on education than its neighbors. The Equality State spends roughly $16,000 per student, one of the highest totals in the country.
But Donna Little-Kaumo, the superintendent of Sweetwater County School District No. 2, said that isn't a fair comparison. Wyoming's basket of goods — the educational services that must be offered to students here, is more significant than other states in the region who may spend less.
"When we do these comparisons at other states, we need to ask and examine what is their basket of goods," she said. "Do we not want foreign language? Fine. We need to really examine that with our state because I think what we put together here is something that we're proud of."
There's also the geographic reality.
"It's expensive to be rural," said Kirby Eisenhauer, an associate superintendent in Campbell County School District. He read off a list of industries that are particularly pricey in Wyoming, like health care, spending for which is first in the nation here. "It's expensive to have long wide spaces."
That's especially true when it comes to Wyoming schools. Some counties have several school districts. Fremont County has a state-high eight, while Big Horn has four and Sheridan has three.
That many school districts in in a single county have often caught the attention of lawmakers. School district consolidation was discussed early in the session but was eventually scrapped as a hard option. But Madden brought it up again Monday, indicating that other states don't have this problem because they consolidate out of their own interest, to maximum funding opportunities.
But Rothfuss pointed out that Fremont County's situation is complicated by the Native American reservation there. The federal government provides funds because of those schools, he and others said, so consolidating them might actually cost the state.
The discussion didn't extend much beyond that, but lawmakers noted that the consultants the state will hire to examine the funding model will have the ability to look at consolidating districts, which estimates suggest could save roughly $7 million per year.
Rep. Albert Sommers, the chairman of the recalibration committee and a Pinedale Republican, said lawmakers needed a comprehensive plan, spanning multiple committees, to address what's happening.
"Education, in my opinion, is the most important thing that a state government does to service the people of this state and the future of this state," he said. "We do not want to go backwards in time where we're providing less of an education to children than when I went to school 40 years ago."
Follow education reporter Seth Klamann on Twitter @SethKlamann
Be the first to know
Get local news delivered to your inbox!