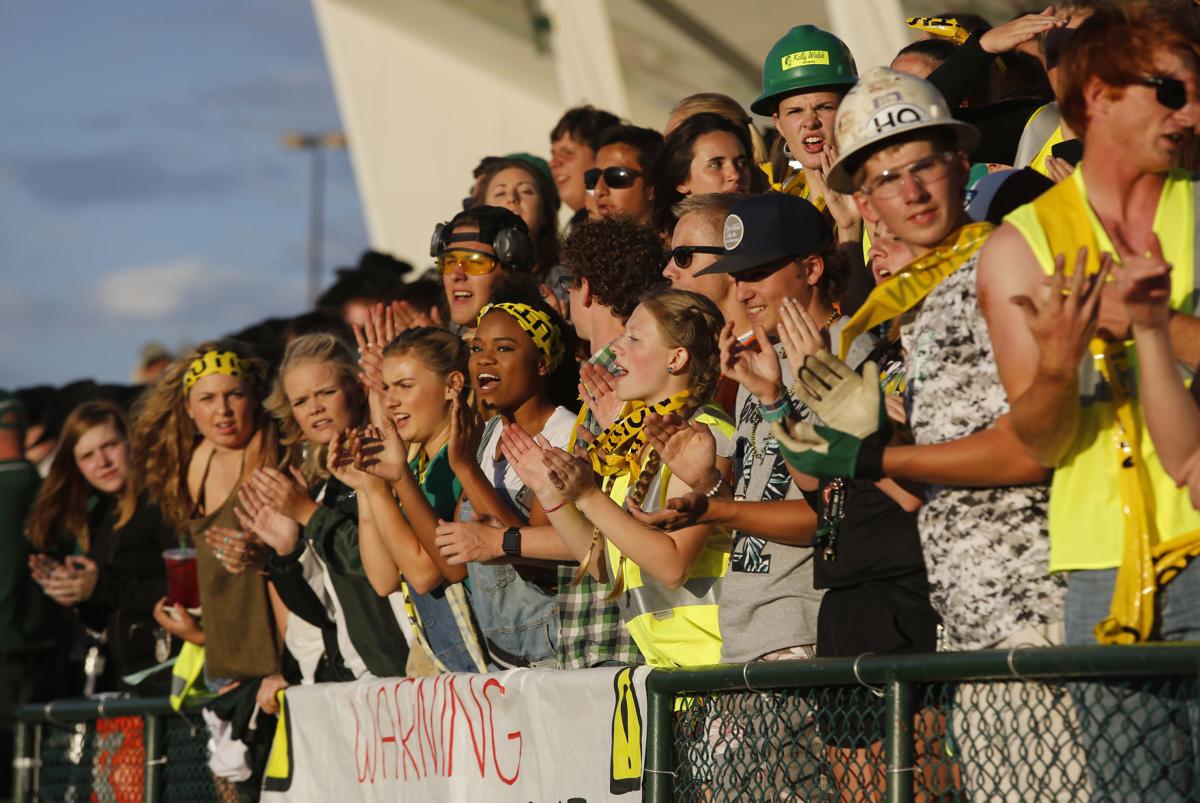 Natrona County educators and coaches discussed drugs and discipline at a recent round table, the latest in a long string of meetings about student conduct.
While the conversation at the county school board's July 11 meeting covered a broad range of topics, much of it distilled around how technology has reshaped administrators' jobs. The more than a dozen principals, educators and coaches all described how vaping devices, edible marijuana from Colorado and social media can blur the once-clearer lines of discipline.
"Kids could be doing it right in front of me and I wouldn't know," Natrona County High Principal Shannon Harris said of edible marijuana and tobacco products. She and others noted that while some weed candy may have tells like a cloudier color, much of it just looks like candy.
The complications of modern-day marijuana don't start or stop with candy. Dana Howie, who heads the board's policy committee, asked the group if they had dealt with Juuls — small vaping devices that look like elongated jump drives. The entire table nodded in unison.
The board has had a handful of relatively introductory discussions about drug testing for more than a year. Trustee Dave Applegate told the assembled staff that there's been no momentum on the board to move forward with it but that the trustees were curious about the educators' thoughts.
Casey Cloninger, an assistant principal at Dean Morgan Middle and the former principal at Frontier Middle, said he previously worked in a district that not only randomly drug tested everyone but would breathalyze students at prom and homecoming dances. The school board here has largely looked at drug testing athletes and other extracurricular participants. But Cloninger recommended they expand it beyond that.
Harris said she, too, came from a district that tested. Students were randomly selected every week and tested. That may have given some kids on the fence a reason to "say no," she said, but it was "cumbersome to enforce and time consuming."
"It's not really why I went into education," she said, adding that they were never going to know what every student did on a Friday night, nor would she want others to know what she did with her off-time.
Campbell County School District also tests students and has for a number of years. Terry Hooker, the Natrona County School District's activity director, told the board that he spoke with an educator in Gillette who was with that district when it started random testing.
You have free articles remaining.
"Overall, he would not advocate getting rid of it, but he would not advocate for a district to put it in place," Hooker recounted. He said the Gillette official ticked off cost, time and the necessary question about whether to begin testing staff as obstacles.
Tom Ernst, the district's director for student safety, said administrators could suspend a student for "reasonable suspicion" of drug or tobacco use. Board member Ray Catellier asked the assembled staff if they felt like their "hands were tied" when it came to determining what's "reasonable suspicion." Most at the table shook their heads. An assistant principal at Natrona County said the school "had a lot of concerns this year, but it never felt like we were jumping through hoops."
The discussion is not the first round table the district has had in recent weeks as officials here look broadly at student discipline, safety and bullying.
In all of those discussions, educators and administrators alike have highlighted the importance of students reporting concerns. Superintendent Steve Hopkins has said the community — meaning both parents and students — are the district's best on-the-ground defense against threats, from bullies to active shooters.
Administrators reiterated that last week. Cloninger said that in his first years at Frontier, students were hesitant but they eventually became more open with staff. Ernst and Harris both talked up Safe2Tell, a statewide program that allows students to submit anonymous safety tips. The district overall had 550 of those tips last year, Ernst said.
Overall, the assembled staff reported — and the board brought up — no glaring issues. Howie repeated a public criticism leveled in the wake of recent bullying reports: that schools don't always respond to incidents. The administrators denied that suggestion and said that when they know about something, they look into it.
The assembled staff did ask for clarity on a few things, like what resources are available to students who need help, what constitutes a "contest" for athlete suspension purposes and at what point the school becomes involved in an altercation that begins elsewhere.
Harris grabbed hold of the latter two.
"A contest is a contest — a whole meet, a whole weekend," she said. "Count it that way and quit playing games."
As for out of school incidents?
"If it comes into the school, then we deal with it just like we would if it happened here," Harris told the group. "It's a huge problem."
Follow education reporter Seth Klamann on Twitter @SethKlamann