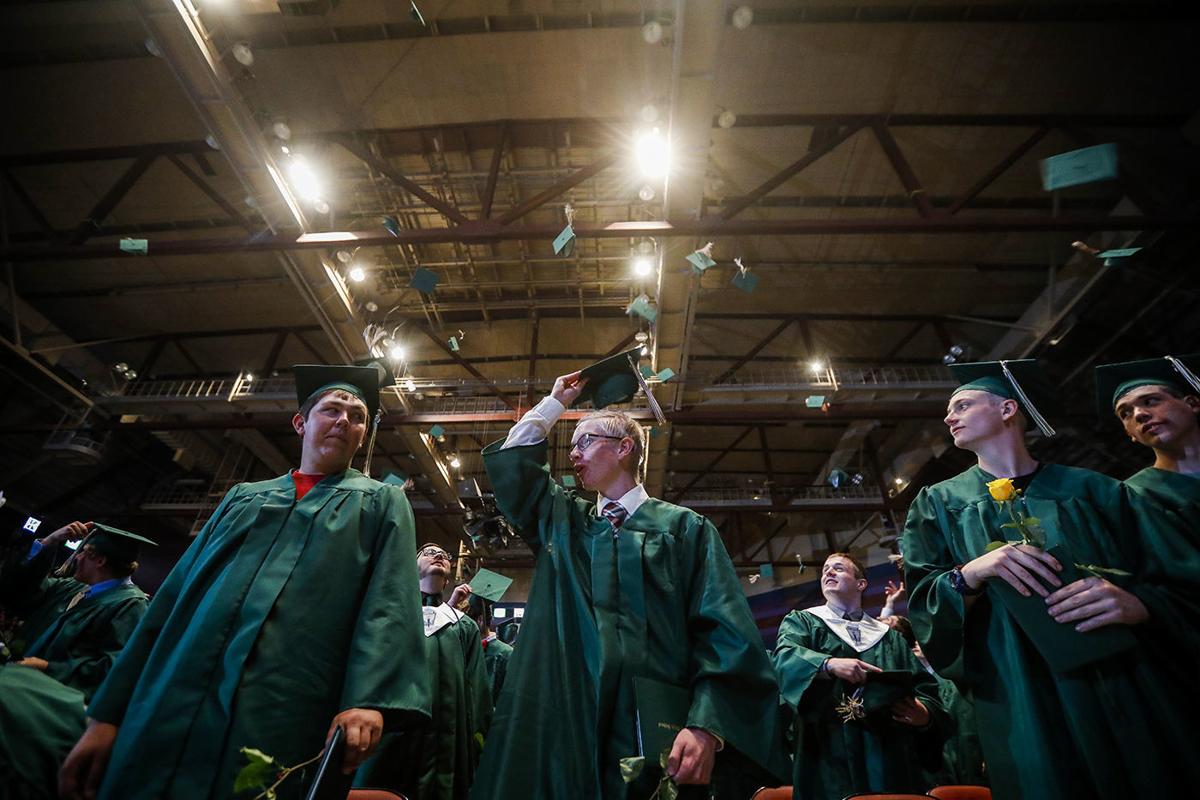 The trend of Natrona County high schools posting record-high graduation rates continued last year, with Kelly Walsh graduating 85 percent of its seniors in a five-point jump from its previous rate.
Overall, 80.3 percent of the expected 963 graduates earned a diploma last year in the Natrona County School District, according to state data released Tuesday morning. That's two points of growth from the 2017-18 school year, and it's the highest graduation rate in the state's second-largest district in at least nine years. Graduation rates grew for several student groups including male, female, homeless, students with IEPs, students with free and reduced lunch, and Hispanic students.
"Yes, we are excited about the increase in graduation rates and remain committed to our strategic goal of working together with students, parents, and schools to continue to improve graduation rates through intentional planning and collaboration," school district spokeswoman Tanya Southerland said in an email Tuesday afternoon.
Female students continue to out-graduate their male peers in Casper. Of 454 expected female grads, 381 earned their diplomas, for a rate of about 84 percent. Their male peers improved on previous rates, with 77 percent of 509 expected graduates walking across the stage last spring.
Natrona County High, which posted its own record-high grad rate of 84.4 percent for the class of 2018, dipped in the latest data to 81.6 percent.
The data was released by the state Department of Education on Tuesday, part an annual release of previous-year graduation rates that typically comes every January. Statewide, the graduation rate was largely flat, bumping upward slightly from 81.7 percent to 82.1 percent. Still, though the growth was only slight, the rate is the highest in Wyoming in at least nine years and caps off six straight years of growth.
"Wyoming has reached the highest graduation rate under this methodology, which was put in place over a decade ago," said state Superintendent Jillian Balow said in a statement. "More Wyoming students are prepared to succeed in college careers and military service. Districts have worked hard to increase the number of students who received a diploma, and I am proud of that effort. But we must continue to focus on the 18 percent of students who don't finish, and work to ensure that high school and earning a diploma is relevant to them."
In a call with media Tuesday, Balow noted improved graduation rates for homeless and Hispanic students. Asked about the 18 percent of students who still don't graduate, Balow said that "it's the 18 percent that keeps me up at night, not the 82 (percent)."
You have free articles remaining.
Of the subgroups of students, Native American children had the lowest graduation rate for the sixth consecutive year. In 2018-19, just 58.7 percent of the 196 expected Native American graduates earned their diploma. That number has been more than 10 points lower in recent years, as well.
Balow said many of those Native American students are in Fremont County, where the Wind River Reservation is located. She directed questions about how to best serve those students to local officials there.
Roosevelt High, Natrona County's alternative school, also saw its grad rate improve, from 35.4 to 44.2 percent. The school changed its model this year to become a more traditional alternative school: The graduation requirements were lightened on electives, and students must meet several at-risk criteria to enroll. Because that change is only five months old, this latest data outdates it and there's still no data to see if it's improved graduation rates.
Midwest School, a rural school that regularly graduates a dozen or so students, jumped up from 64.3 percent to 83.3 percent. Because of Midwest's low enrollment, its graduation rate can fluctuate significantly from year to year.
Tuesday's release is the first new data for Natrona County since its school board approved new goals to be met by 2024. Those benchmarks include a goal to have an 88 percent graduation rate for its three traditional schools — Midwest, NC and KW — and a 65 percent rate for Roosevelt.
The adjusted rate for NC, Midwest and KW was 83.6 percent, putting it close the since-failed goal of hitting an 85 percent rate by 2019 (although that goal would've included Roosevelt). Still, it puts the district just four and a half points away from its goal with four years to spare.
That being said, high school principals have warned that the growth from here on out will be even more challenging. Originally, the school board had looked at an even higher graduation rate goal for 2024. But those aspirations were tempered by the principals, who said that much of the low-hanging fruit had been collected and that the remaining at-risk students would be much more difficult to get across the stage.
Ideally, that's where Roosevelt's change will come in. Leaders there have been confident in it — with several students there set to graduate this month — but data won't be available to track its success for another year.
There are significant reasons to want to have a high graduation rate, setting aside the kudos schools receive. Not only can students expect to earn more with a high school diploma, but they'll live longer, healthier lives with lower out-of-pocket health costs.
Statewide, there were 16 school districts with graduation rates over 90 percent. Many of those districts are small. Lincoln County No. 1, which has about 630 students, graduated 100 percent of its class of 2019. Teton No. 1, with about 2,870 students, graduated 94 percent. Sweetwater No. 2, home to 2,544 kids this year, graduated 93.5 percent last spring.