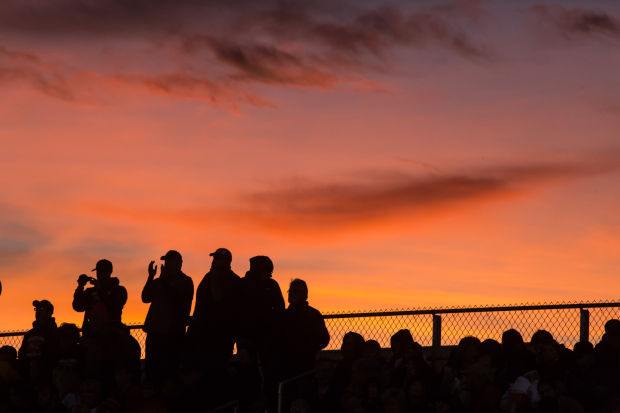 In keeping with statewide health orders, Natrona County and Kelly Walsh football games will have a firm cap on spectators this coming fall, with even more limited attendance for visiting fans.
That's the latest update from Natrona County School District officials, who discussed in detail the district's reopening plan for this coming school year. The good news is that fall sports are set to go ahead. The bad news is there will be fewer people allowed to watch them in person. Kelly Walsh's stadium has a capacity of roughly 4,000 people, while Natrona County can host just under 3,500, Associate Superintendent Walt Wilcox told the school board Monday night. A state health order caps the maximum amount of attendees at outdoor events at 1,000.
The district will require masks when spectators can't maintain 6 feet of distance, and seating will be limited to every other row. Schools across the state have decided to allow for 100 tickets to be set aside for visiting fans, but there are obvious problems posed by the Oil Bowl game between NC and KW.
Students and other attendees in Casper will have to reserve tickets prior to arrival, as they would for plays or other extracurriculars. Athletes will likely be given a limited number of tickets to distribute to their family, Wilcox said.
For basketball and volleyball events, the allowable capacity is even lower, maxed out by state health orders at 250. But Wilcox said the district is working on securing an exception from the state to increase that capacity by a few hundred.
At the Kelly Walsh pool, which normally has a capacity of 360, that number will be cut in half. The district and others across the state are looking at ways to livestream the athletic events for those who can't attend.
Athletics are one of many facets of school life that will look different this school year. Students within buildings will have to be masked whenever they're not 6 feet apart. Classrooms have been adjusted, more than 900 of the district's 13,300 students have signed up for virtual school, and other parts of day-to-day student life will be significantly limited.
Those are just the preemptive changes. What happens when a school has a single case — let alone an outbreak — will further throw a wrench in even the mostly carefully laid plans. Districts have relatively wide latitude to dictate their own situations on the ground, but, in March, state officials made their own call to close schools.