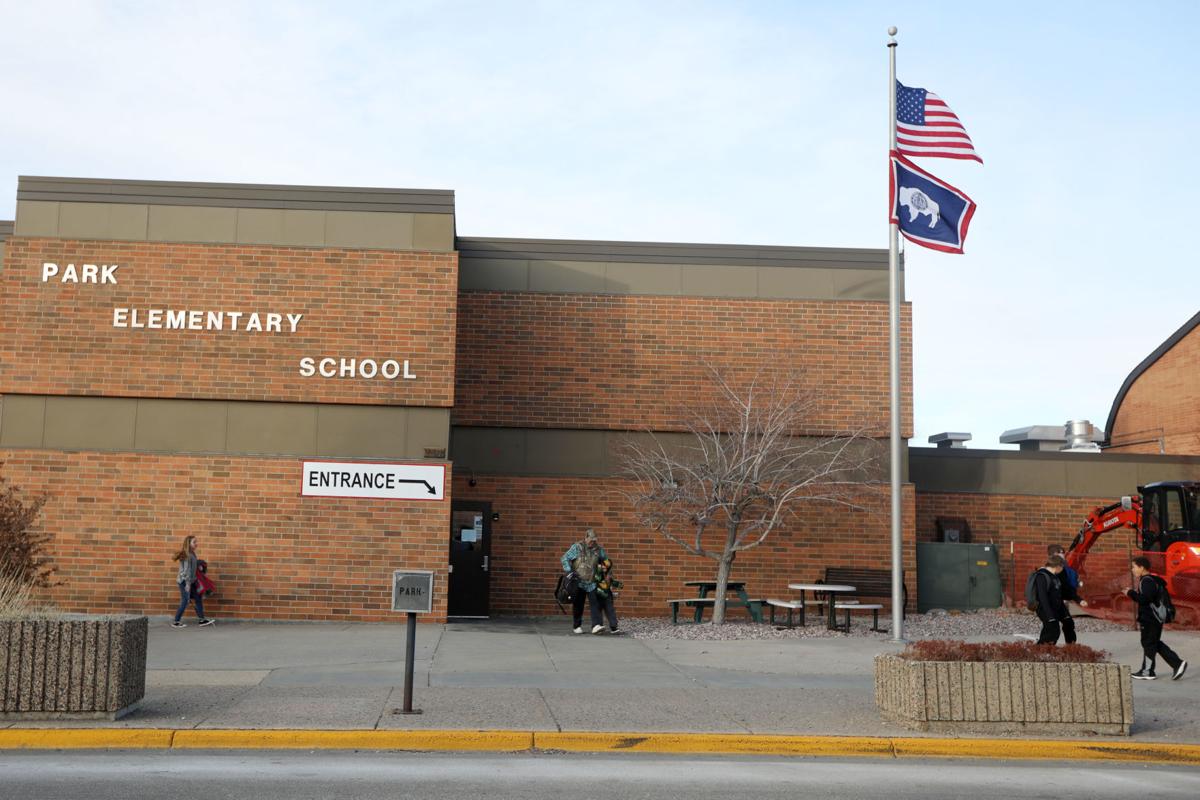 The Natrona County School District's proposed plan to return to in-person learning includes robotic cameras to aid remote instruction, the purchase of 45,000 cloth face masks and predictive models that anticipate entire schools shutting down due to COVID-19 outbreaks.
The district's Board of Trustees heard the plan during a work session Monday evening.
It was the first time holistic details were outlined in a public meeting, though elements of the draft — including the plan for resuming athletics — had already been published by the district.
The plan covered a gamut of issues, from how students will get to and from school to how they will eat their lunch. It also addressed how the district would respond to positive cases among students or staff members.
If either a staffer or student tests positive, they would need to isolate for 14 days and be asymptomatic for three days before returning to school. Students and staff who had "close contact" with the positive case would also need to isolate for 14 days.
The plan also models a scenario in which "there is an outbreak across multiple classrooms and grade levels of COVID-19 in a school setting."
In that scenario, the plan says "every effort" would be made to keep the school open, though state or local health officials would have the freedom to order the school closed. In that case, all of the school's students would learn by virtual education.
The draft plan presented Monday first emphasizes the district's goal for in-person schooling for the summer and fall but also provides for a virtual learning option for students who "cannot or choose not" to attend in-person because of COVID-19.
A district representative said beginning July 27, the option to enroll in that virtual program would be open to all students districtwide. She said that program allows students to meet all graduation requirements, but that it would preclude students from certain elective courses.
The district is hoping to employ new camera technology called Swivl cameras to aid virtual learning, a representative said Monday. The cameras are robotic and will follow a teacher around the classroom as they instruct. Microphones would also be placed around the room, and the teacher would have an earpiece, allowing the at-home student to ask questions and hear group discussions in real time.
The district has purchased 50 of the cameras so far, according to the presentation. It has also made large investments in personal protective equipment to prepare for reopening.
A district representative explained that the cameras could also record lessons for students to view later. She said the cameras could help the district be flexible in case entire classrooms or schools needed to close due to COVID-19 outbreaks.
For in-person activities, staff and students will be required to wear face masks in accordance with a standing state health order issued by State Health Officer Dr. Alexia Harrist. That order expires July 31, but if it is extended, the district's plan would follow suit.
"In the absence of a governor's or local health officer's orders," the draft reads, "(the district) will encourage masks to be worn by students, staff, and school visitors when social distancing of 3'—6' cannot be maintained."
Executive Director of District Services Steve Ellbogen said Tuesday the district had purchased 45,000 cloth face masks, which will be provided to students who arrive at school without one. The student will use the mask for the day, then leave it at school to be laundered. Students who ride the bus will leave the masks on the bus before exiting.
The district will begin this practice next week when summer school starts.
In addition to the large shipment of face coverings, the school district has also ordered large quantities of hand sanitizer.
"Sets of 100 are currently being sent from the manufacturer when they become available," a report on the district's personal protective equipment efforts reads.
Those bottles will be installed at entrances to school buildings, as well as outside each classroom.
Lunchtime will also be a markedly different experience for students, who upon entering the cafeteria when returning to school will see their tables divided into four sections by acrylic partitions.
Enough partitions have been purchased for each cafeteria table in each of the district's secondary schools.
Efforts to return students to classrooms have been ongoing since districts statewide began closing in mid-March. But what some thought would be a few weeks without students in classrooms has lasted well into the summer. With cases nationwide and in Natrona County on the rise, what autumn will look like is also unclear.
The Wyoming Department of Education in early July published statewide reopening guidelines. Those guidelines asked school districts to write their own plans, catered toward three different scenarios and addressing four key areas: communication, safety and wellness, school operations, and instruction and technology.
Indeed, the district's plan is broken down into these four categories, with three different tiers envisioning various degrees of viral transmission within the district. In tier one, the school is completely open to in-person learning, albeit with safety precautions like face masks and social distancing in place, and in tier three all schools in the district are closed to students. Tier two falls in the middle.
Follow local government reporter Morgan Hughes on Twitter @morganhwrites
Concerned about COVID-19?
Sign up now to get the most recent coronavirus headlines and other important local and national news sent to your email inbox daily.