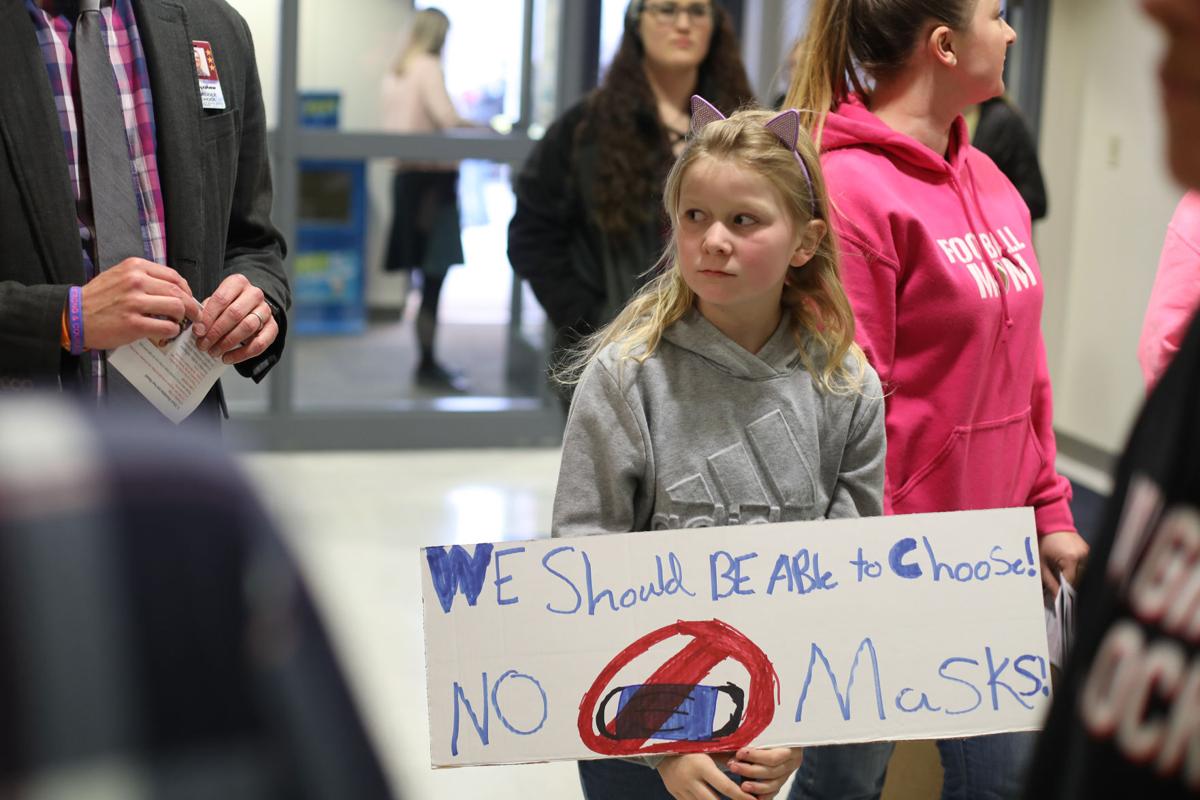 The Natrona County School District declined to answer a list of specific questions Wednesday about the administration's decision to pursue an exception to the statewide K-12 mask requirement after its board of trustees voted against doing so.
District officials have not explained publicly how the decision was made or why the board's approval was initially sought if it is not required, as administrators now say. Nor have they made themselves available to reporters, declining to speak on the phone since the announcement was made Saturday. Officials have provided scant details via email.
Just two health orders remain in the state. One sets requirements for large indoor gatherings; the other mandates face masks and other precautions at educational facilities, including K-12 schools.
The state this spring began granting exceptions to the K-12 mask rule for some districts as transmission levels fell. Natrona County parents this month began lobbying trustees to seek an exception here.
Trustees held a special meeting April 19 to hear advice from physicians and consider the request. Trustees at that meeting voted not to pursue an exception, but now the district says it will request that exception after all, at the next regular board of trustees meeting May 10.
It's unclear exactly how or when that decision was reached or who made it. Calls made to each of the district's trustees were either not returned or resulted in the trustee referring a reporter to district spokespeople.
District spokesperson Tanya Southerland said via email Tuesday that Superintendent Mike Jennings and other administrators began "operational work" following the trustees' April 19 meeting "to identify a plan to meet the educational needs of all students."
"Based on advice from the Board's attorney, variance requests are not required to be voted on by the Board of Trustees because they are operational in nature," Southerland said. "The Superintendent's path forward takes into account questions voiced by Trustees during the April 19th, Board Meeting Special Session. The Board of Trustees could take action within a public meeting to affirm or modify the actions of the Superintendent."
A call to Southerland on Wednesday seeking to clarify the statement was not returned. A reporter then sent Southerland a list of questions via email. The questions sought answers to when the decision was made, who made the decision and who was consulted. The questions also sought to clarify board of trustees procedures.
The district did not answer those questions.
"I spoke with Superintendent Jennings and we believe these questions were answered yesterday," Southerland said via email, though no district official has accepted a phone interview with the Star-Tribune this week.
Natrona County Education Association President Dirk Andrews said staff and faculty had mixed reactions to the decision. He said the district did not consult him prior to announcing the mask exception would be sought, but he added the decision was not a surprise.
"Obviously there are people who are ready to be done with the masks," Andrews said, but added there are some with health concerns who are scared of doing away with masks before the end of the school year.
Employees who have a medical diagnosis making them more vulnerable to COVID-19 will be able to request an "accommodation" through the Americans with Disabilities Act. Receiving an accommodation would require a doctor's recommendation, Andrews added. It's unclear how the district will respond to staff who are uncomfortable with eliminating masks but who do not have a medical diagnosis. Andrews said he would work with those employees to find a solution.
A survey conducted by the district shows more than 70% of staff who responded to the survey supported eliminating the mask requirement.
School districts have been granted exceptions based largely on virus transmission occurring in the district's community, State Health Officer Dr. Alexia Harrist told trustees at the April 19 meeting. Harrist and local health officials recommended trustees keep face masks in place until the end of the school year, which is about a month away.
Harrist also said at that meeting Natrona County does have low enough transmission levels of COVID-19 for an exception request to be considered.
Fifteen of the state's 48 school districts had been granted an exception to the mask order as of Monday, according to health department spokesperson Kim Deti. One district, Laramie 2, had a request denied.
All but one of the 15 districts with such an exception serve fewer than 2,000 students. The outlier is Sheridan 2, which enrolls about 3,500 students. Natrona County has the second-largest district in the state, with just under 13,000 students.
Every district that has received an exception is in a county with the lowest or second-lowest degree of transmission outlined by a White House task force. That task force separates communities into six color categories based on transmission, with the two lowest transmission categories assigned a shade of green.
Natrona County is in the second-lowest transmission category but still considered "green" by that task force.
Follow health and education reporter Morgan Hughes on Twitter @m0rgan_hughes