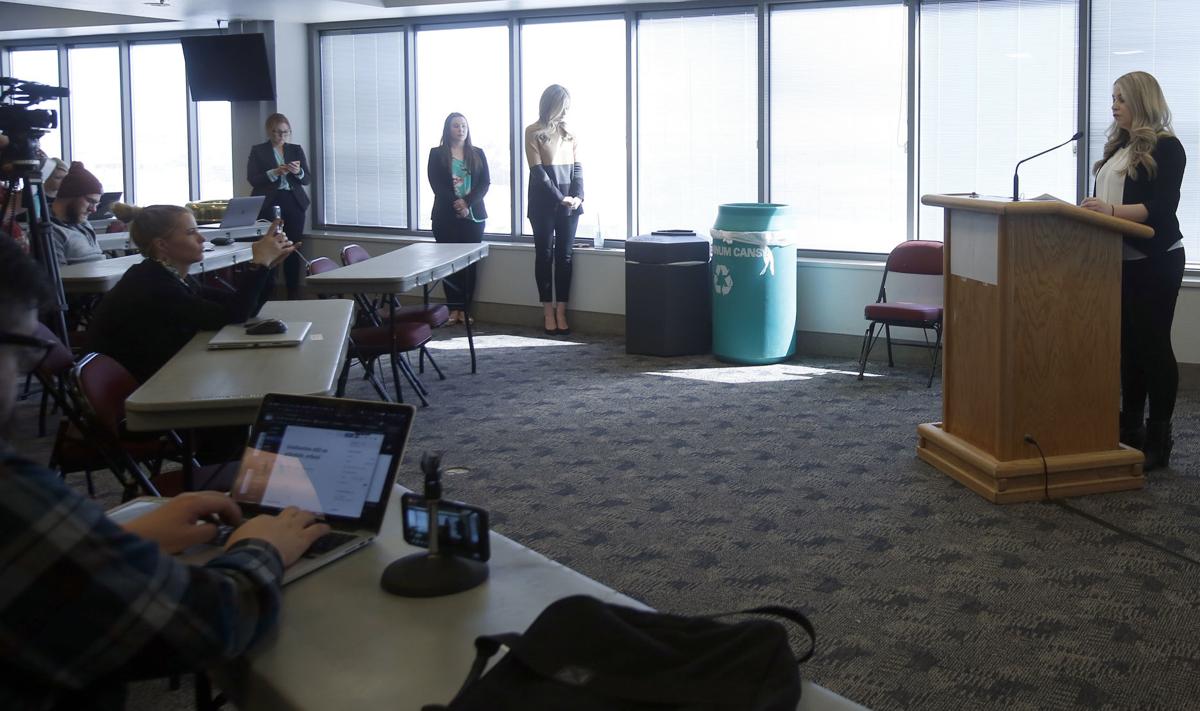 The Natrona County School District is preparing to start schools back up next week in one fashion or another, as physical buildings remain closed in an effort to slow the spread of the novel coronavirus.
"Starting the week of Monday, April 6th, students will be engaged in required coursework and learning for continued academic success," district spokeswoman Tanya Southerland said at a Monday news conference. "This may be in a variety of formats to support all students, including digital learning, mailed and printed packets, video chats, phone calls, and more."
The district has been out of school since March 15, when Gov. Mark Gordon issued a recommendation that all districts close their doors through the first week of April. Gordon later ordered the closures, and last week, he extended the deadline further into April.
There are far-reaching implications for those school closures and for not continuing coursework. Not least among them is the implications for graduation, the requirements for which are established in state law. The state received a federal waiver allowing it to cancel statewide testing for the spring, which is another significant obstacle Wyoming has vaulted.
Setting aside thorny statutory issues, there's also the problem of more than 13,000 students in the Casper area alone missing an entire quarter's worth of coursework. The district has been working on that, officials have said. Earlier this month, they sent out a survey to families to gauge access to technology, in preparation to move education online.
The new "adapted" learning models are required by the state, officials have said, and districts must submit plans to state educators in the coming days.
"You may have already received information from your child's principal regarding the Virtual Adapted/Remote learning plan," the district wrote to parents earlier this week. "However, if you have not you will receive information by the end of the day April 3rd."
The closure order came as no surprise to the district's leaders. Last week, Natrona County's health officer and infectious disease expert Dr. Mark Dowell told the school board that he "can't see" schools reopening anytime soon. He warned then that the spread of the coronavirus, which causes a respiratory illness known as COVID-19, would continue in Wyoming for the foreseeable future. Even when it appears to taper off, the state can't then begin reopening — that's a recipe for a resurgence of disease, he said.
As of Tuesday afternoon, there have been 120 cases statewide. Twenty-six patients have recovered, and more than 2,000 testing samples have been run between state and private labs.
Elsewhere in school news, the district says it's locked up its playgrounds after repeated instances of gatherings on school grounds. A state order prohibits gatherings of more than 10 people, and state and federal guidance has been issued to maintain social distancing as much as possible. Casper police have responded to a handful of calls to school facilities over the past week because of gatherings there.
"We know the playground facilities are a fun place for families and students to spend time outside," Southerland said in an email. "However, at this time they will remain closed to keep the safety of our students, families, and community as the priority."
Concerned about COVID-19?
Sign up now to get the most recent coronavirus headlines and other important local and national news sent to your email inbox daily.