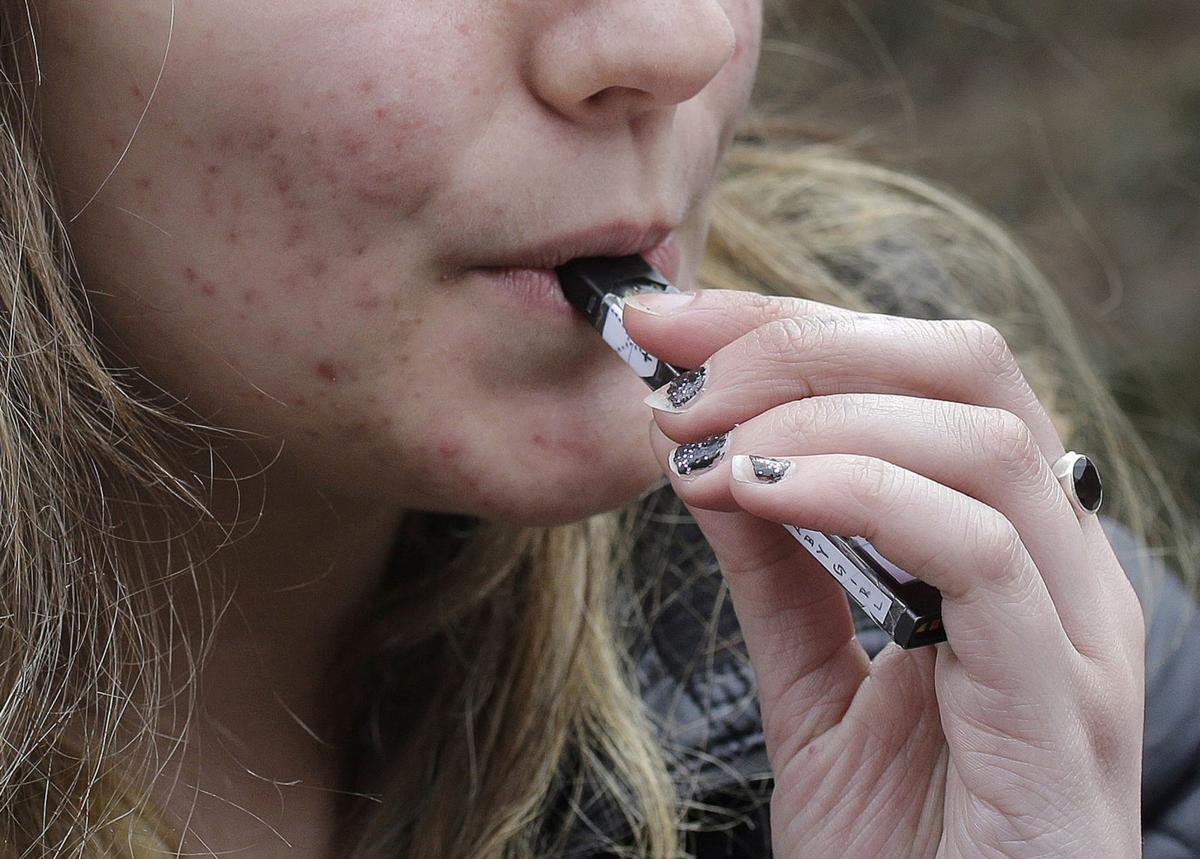 Armed with data showing high rates of electronic cigarette use among Natrona County's high schoolers, the school board here voted Monday to pursue a federal lawsuit against vaping giant Juul.
"I think a company that — it appears at least — has made a conscious effort to get children addicted to nicotine, which we all know has a long, storied history in this country and causes a great deal of health effects and early death, I think is worthy of us participating in this," board member Dave Applegate told his fellow trustees.
The board voted 7 to 2 to pursue the litigation, which will be handled by Jackson attorney Jason Ochs. Ochs previously represented the cities of Cheyenne and Casper in lawsuits against several opioid giants. The district's Juul lawsuit won't cost it any money, officials said Monday — costs will be borne by Ochs' firm, who will get paid should the district receive a settlement or a victory at trial.
The district is the first in Wyoming to pursue litigation against Juul, officials said. Juul, which makes small, nicotine-loaded cartridges that can be loaded into its stick-like devices, is a giant in the e-cigarette industry. It reportedly holds 75 percent of the market.
A company spokesperson said Tuesday that the company did "not intend to attract underage users."
"We will continue to reset the vapor category in the U.S. and seek to earn the trust of society by working cooperatively with attorneys general, regulators, public health officials, and other stakeholders to combat underage use and transition adult smokers from combustible cigarettes," the spokesperson said in an email to the Star-Tribune. "As part of that process in the U.S., we are preparing comprehensive and scientifically rigorous Premarket Tobacco Product Applications, stopped the sale of flavored pods other than Tobacco and Menthol in November of last year, halted our television, print and digital product advertising and support the Administration's final flavor policy."
CNBC reported in October that while sales of e-cigarettes continue to climb, figures have slowed amid negative headlines and pressure from federal regulators.
In an email to the Star-Tribune, Ochs wrote that the lawsuit would be "consolidated into the nationwide multi district litigation venued in California," but should the case go to trial, "it will be tried in federal court in Wyoming."
Craig Silva, the district's private attorney, said Ochs had proposed the litigation to the board.
"You're going to be the lead school district in the state, you'll be the only school district in the state that has at least engaged counsel to investigate and possibly bring action against Juul," Silva told the board Monday. "Nationwide, I think this would be the eighth state to have entered and joined the litigation."
As of February, there were more than 300 lawsuits as part of the California litigation that Natrona County will join. The lawsuits allege that Juul marketed its products to juveniles. According to a 2018 reported by the Food and Drug Administration, one in five high schoolers in America had used e-cigarettes in the previous 30 days.
In Natrona County, the rates are even higher. A survey conducted last year showed that 60 percent of high schoolers had vaped at least once in their lives. Forty-four percent had vaped in the past 30 days, and 15 percent said they vaped daily. Sixty-two percent said they saw little to no risk in using the e-cigarettes.
The data was sobering when it was presented to the board in January. Shannon Harris, the principal at Natrona County High, said then that kids were addicted and didn't realize the risks associated with e-cigarette use.
But one Juul pod contains the nicotine equivalent of an entire pack of cigarettes, and data shows that vaping can lead people "from experimentation with cigarettes to established smoking," according to an analysis in the Annual Review of Public Health.
A Yale article from earlier this year cited a 2019 study, which found that "people who use only e-cigarettes increase their risk of developing lung disease by about 30 percent compared with nonusers."
The FDA sent a letter to Juul last year, alleging the company had broken the law for advertising that its products were safer than conventional cigarettes without regulatory approval.
"Referring to your ENDS products as '99% safer' than cigarettes, 'much safer' than cigarettes, 'totally safe,' and 'a safer alternative than smoking cigarettes' is particularly concerning because these statements were made directly to children in school," the agency wrote. ENDS products are e-cigarettes. "Our concern is amplified by the epidemic rate of increase in youth use of ENDS products, including JUUL's products, and evidence that ENDS products contribute to youth use of, and addiction to, nicotine, to which youth are especially vulnerable."
FDA commissioner Ned Sharpless further criticized the company in a statement to CNBC.
"Regardless of where products like e-cigarettes fall on the continuum of tobacco product risk, the law is clear that, before marketing tobacco products for reduced risk, companies must demonstrate with scientific evidence that their specific product does in fact pose less risk or is less harmful," he wrote. "JUUL has ignored the law, and very concerningly, has made some of these statements in school to our nation's youth."
Be the first to know
Get local news delivered to your inbox!