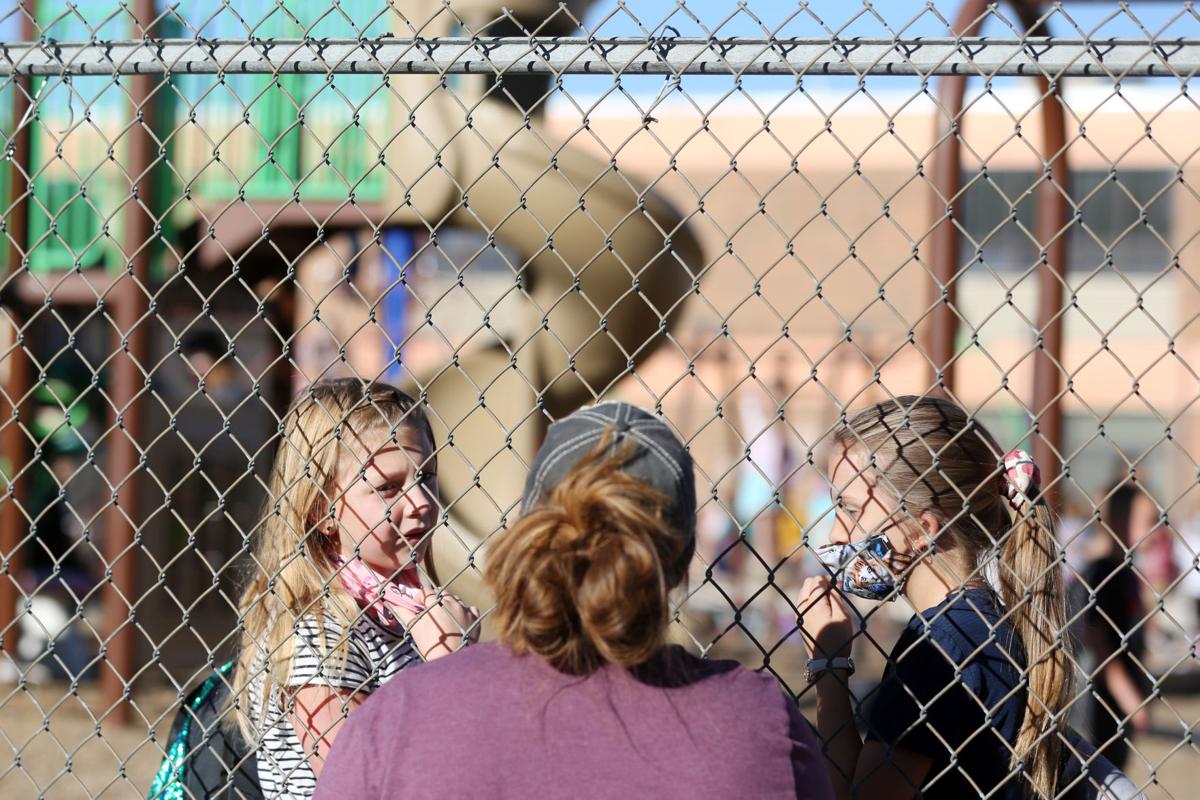 The Natrona County School District has no immediate plans to transition all classes online, district Superintendent Michael Jennings told the Star-Tribune on Tuesday.
The statement came in response to a question from Dirk Andrews, president of the Natrona County Education Association. Andrews on Monday night addressed the district's Board of Trustees with a sobering message. He said teachers were anxious about rising COVID-19 cases among district staff and students, and stretched thin filling in for their peers who have tested positive for or been exposed to the virus.
"The staff in this district are drowning, and we're begging for your support," Andrews told the board.
Speaking on behalf of the local education association, Andrews pressed the board and school administrators for concrete answers about the district's plans if cases continue to rise. He asked specifically what would be the rate of community spread that pushed the district to switch to entirely remote learning.
Jennings on Tuesday said the rise in COVID-19 in the community at large was creating a larger burden for the district but that there were not yet indications that the district as a whole would need to shut down in-person classes.
"There are a lot of stressors going on," Jennings said, acknowledging that staff have had to take on additional duties to fill in for quarantining co-workers. "If a staff member is ill, we do want them to stay home, but that puts a burden on the system as a whole."
Jennings added that while employees are picking up added duties, whether they be teachers, custodial or administrative staff, the district's top priority is to keep students in school for as long as it is safe to do so. And so far, there hasn't been any indication that the virus is spreading within schools.
Wyoming Department of Health spokeswoman Kim Deti said statewide the department is not seeing significant virus transmission in school settings. Between Oct. 23 and Friday, the state recorded 241 virus cases among K-12 students and 180 among staff.
The use of face masks, social distancing and sanitizing procedures has meant that students are not becoming exposed to the virus at school, the district and the Casper-Natrona County Health Department have said.
"As long as we focus on those strategies, we're going to be able to keep our doors open," Jennings said of the prevention measures listed.
But while the virus isn't being spread in school, staff and students are contracting the virus when they leave for the day. And the number of staff and students testing positive for or becoming exposed to the virus has surged in recent weeks.
On Oct. 30, 113 students and 10 staff members were quarantined because of potential virus exposure. As of Friday, 429 students and 45 staff members were quarantined.
And the sudden surge has made it more difficult for the school district to accurately report case numbers each day, Jennings explained. The district before Friday had been providing daily updates on district staff and students who had tested positive. But the surge in new cases has made providing accurate daily numbers nearly impossible.
The district doesn't vet virus exposures itself. Instead, the local health department and private medical providers administer tests, and the health department conducts contact tracing to identify close contacts to those who've tested positive. But as cases in Natrona County reach unprecedented levels, quickly tracing those contacts and providing accurate daily numbers has become a burden, Jennings said.
Indeed, virus cases in Natrona County and statewide have surged since mid-September, reaching a nearly exponential climb in recent weeks. As of Tuesday, more than 1,100 confirmed COVID-19 infections were still active in the county, and more than 8,000 were presumed or confirmed active statewide. A month ago, the latter number hadn't exceeded 1,600.
But the loss of the daily updates will negatively affect staff, Andrews said Monday.
"Sometimes that daily update was the thing that helped a staff member with severe anxiety get up and go to work that day," he said. "Just knowing that the cases were not rising in their schools eased their minds about walking into their building each day. We need to remain transparent about the reporting of COVID-19 cases."
Jennings stressed that the district is still striving to provide accurate information on virus cases within the schools.
"That continues to be our goal, to be as transparent as we can with our whole community," Jennings said, adding that the weekly update will allow the district to continue to provide accurate numbers without overwhelming the county health department with daily data requests.
The rise in community cases has made more than just accurate reporting a challenge. As more students and staff are required to quarantine, the remaining teachers must meet the burden of teaching remote students and in-person students, while also filling in for co-workers who are out.
Andrews said there are educators in the district who have forgone their planning periods for weeks because they're filling in for other teachers who are out sick or quarantining because of COVID-19 exposure.
He said teachers are having to clean more because custodial staff members are also out, and that special education providers are having to take on larger caseloads because of staff shortages.
"We're begging for answers and, to be blunt, we're scared," Andrews said. "No one is listening to us or giving us concrete answers."
Jennings also acknowledged the challenges of switching students to online learning. He said there had been issues with parents not receiving the proper documentation from health officials indicating that students needed to quarantine and therefore be educated remotely — another consequence of ever-increasing caseloads for local public health representatives.
But Jennings said that issue has since been addressed, and students requiring remote learning during their quarantines are being set up to do so within a couple of days.
Follow health and education reporter Morgan Hughes on Twitter @m0rgan_hughes