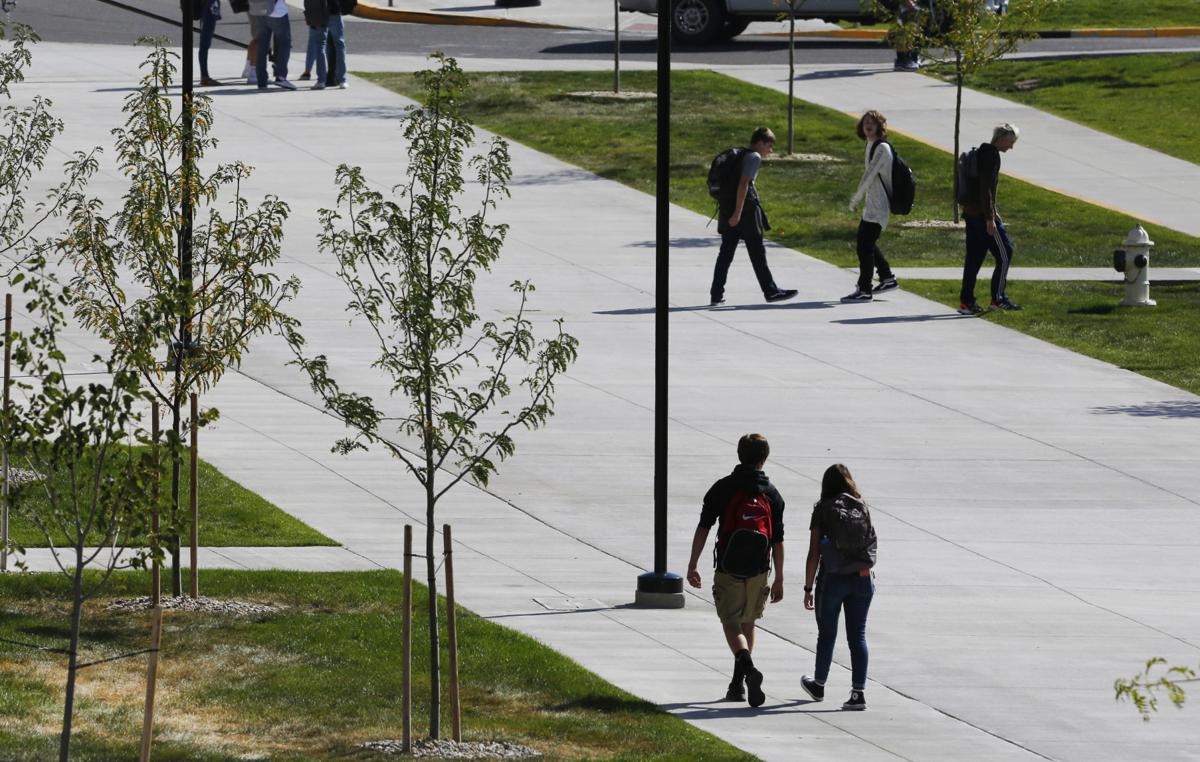 Just 10 of 29 Natrona County schools met or exceeded accountability standards last year, according to Department of Education data released Thursday, well below the state average. Eleven schools here had the lowest rating, a slide from the previous year, though recent changes make direct comparisons tricky.
Wyoming schools fall into one of four ratings — exceeding expectations, meeting expectations, partially meeting or not meeting — on the performance ratings that show how schools are stacking up to state and federal accountability standards. While the rating system and the standards remain the same from years past, state education officials advised caution when comparing this year's results to previous reports because of state and federal changes.
Statewide, just over 55 percent of schools either exceeded or met expectations. In the Natrona County School District, the figure was roughly 34 percent. Only one school — Evansville Elementary — earned the top rank of exceeding, the fourth straight year it's scored top marks.
"Over half of schools were meeting or exceeding; that was something we were certainly pleased about," Julie Magee, the Education Department's director of accountability, said of the state's performance in a press call Thursday.
The cut scores for what qualifies for each rating are set by a professional judgment panel that included parents, educators, community members and business representatives.
"We set a high bar for schools with our accountability system, and my hope is that this information is a catalyst for discussions at the local level on how our schools can continue to do their best for all students," state Superintendent Jillian Balow said in a statement accompanying the ratings release.
She said there have been three significant changes over the past year that make a direct comparison from last year to this year harder. One is that the state rolled out a new assessment system — WY-TOPP — that is entirely digital and adaptive.
There have also been changes to both the state and federal accountability systems. For instance, there's now an added focus on "specific student groups," Balow said, as well as changes to how districts measure students' readiness for life after high school.
In Natrona County, eight schools partially met expectations. Eleven — the largest share — were judged to have not met expectations, the lowest rating. In all, 11 total schools had their ratings drop at least one category. Fifteen stayed the same — for better or worse — and three gained ground.
Four recently closed schools were included in the data: Frontier Middle (not meeting), Willard (not meeting), University Park (meeting) and Mountain View (not meeting). A handful of rural schools in Natrona County are not given the same ratings because of their size.
You have free articles remaining.
Roosevelt High School, an alternative school, is subject to a different accountability system. But it was determined to be below average on four of five federal indicators. Midwest — which has students K-12 — was judged to be partially meeting expectations for elementary, middle and high school students.
Mills Elementary, which closed in June 2017, was listed on one area of the Education Department's data but was replaced elsewhere by Journey Elementary, which essentially absorbed Mills' students and staff. Other displaced students, including from Grant Elementary — which also closed in summer 2017 — have also enrolled at Journey. Mills did not meet expectations for its final two years, and Journey did not meet expectations in its inaugural year of 2017-18.
Districtwide in 2016-17, only Evansville exceeded expectations, while 12 schools met expectations, 14 partially met and just three didn't meet. In the 2015-16 academic year, two schools exceeded, 12 met, eight partially met and eight didn't meet expectations.
Natrona County district officials were unavailable to comment Thursday. Last year, the district's associate superintendent for instruction, Walt Wilcox, told the Star-Tribune that the district's goal was for 100 percent of its schools to be at least meeting expectations by the end of 2019.
Kelly Walsh remained at partially meeting, the same rating it's held for three years. The east Casper school was judged to be meeting the target on two of eight high school indicators — growth and equity — and exceeding another, for English language learners who meet progress goals. It was judged average on three federal indicators and above average on a fourth. But it was below the target on one federal and four state indicators.
With a rating of not meeting expectations, Natrona County High continued its slide backward; it was rated meeting expectations for the 2015-16 school year and then partially meeting in 2016-17. NC was determined to be "below target" on seven of the eight high school indicators for the state — including achievement and post-secondary readiness.
Elementary and middle schools, meanwhile, are weighed using four indicators for both state and federal accountability: growth, equity, achievement and English learner progress. The district's top performing school, Evansville, was exceeding the state target on two, exceeding the federal target on three and falling below on just one — English learners.
On the other end of the spectrum, recently closed Willard Elementary was judged to be below the state target and the federal average on all indicators (the school's English learner progress was not taken into account). The same story is largely repeated across the other 10 schools that failed to meet expectations.
All schools that aren't meeting or exceeding expectations are required to submit an improvement plan. Those schools will receive additional support to improve their performance going forward, officials said.
The performance rating release is the most recent in a wave of score results unveiled by the Education Department this fall. In August, the state released ACT scores, showing that both Wyoming and Natrona County's average ACT scores dropped for the second straight year. The average here — a 19 — is slightly below the statewide average of 19.5.
A month later, in late September, the results from the first WY-TOPP assessments were released publicly. Because the test is new to the state, officials again warned against comparing to previous years. Still, the results showed that Natrona County generally lagged behind the state average in elementary and middle school English and math.
Graduation rates, which spiked here last year, will likely be released after the New Year.
Follow education reporter Seth Klamann on Twitter @SethKlamann