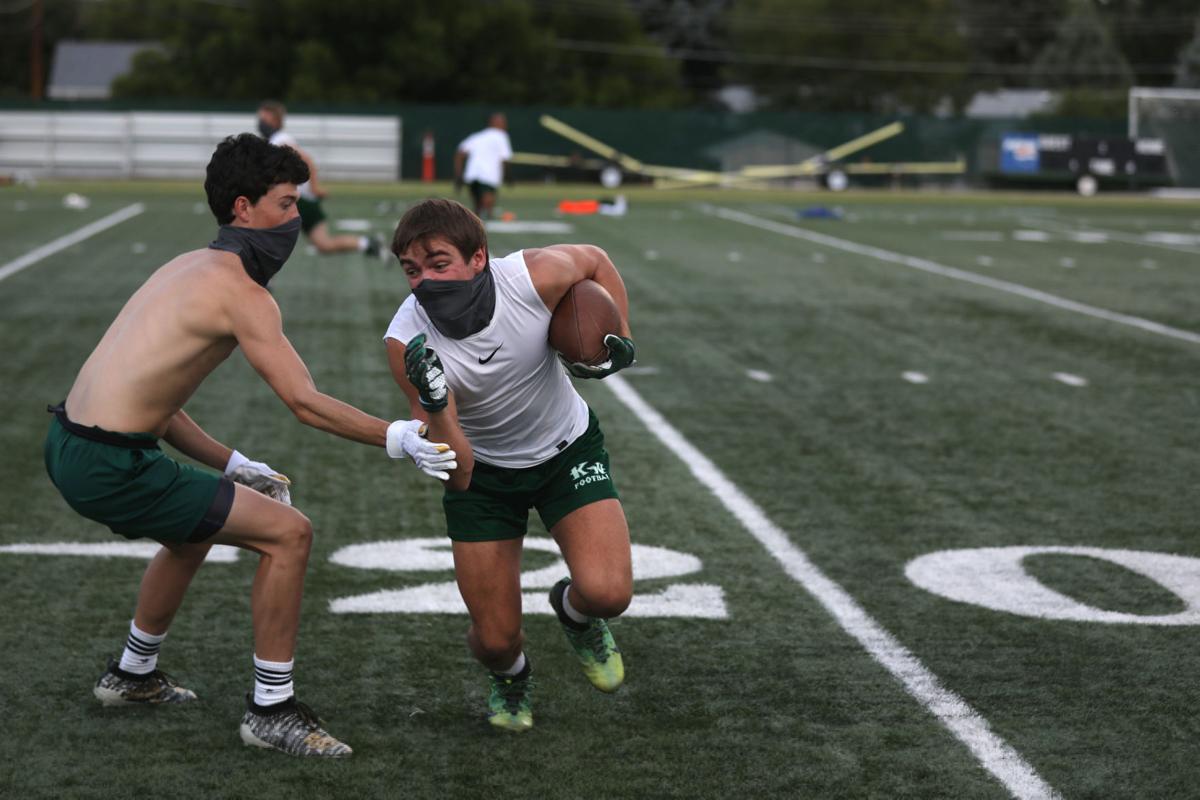 The Natrona County School District Board of Trustees agreed to research lifting the district's mask requirement after public comment Monday. A handful of parents asked the trustees to consider requesting an exception to the statewide requirement.
Ten districts had received such an exception from the state as of Friday, according to the Wyoming Department of Health: Weston County 1 and 7, Niobrara County, Johnson County 1, Converse County 2, Goshen County 1, Platte County 1, Crook County 1, Washakie County 2, and Carbon County 2.
A majority of those districts serve fewer than 1,000 total students. The districts in Niobrara, Johnson, Goshen and Crook Counties each serve between roughly 1,100 and 1,600 students.
Natrona County has the state's second-largest school district, serving just under 13,000 students.
District Superintendent Mike Jennings said during Monday's meeting he was aware of one district that had an exception request denied. Jennings added if the district did choose to request an exception, it would take time to complete that process.
Dr. Jack Hardy, a dental surgeon at Casper's family-run WYOMS, asked board members to consider lifting the mask requirement, which would require approval from the state health officer.
He briefly questioned the efficacy of face masks, but added: "It has affected them in other ways that we're not taking into account."
Hardy told a story in which his young daughter thought she was in trouble with her principal when she was actually being given a standard reading exam. But the daughter couldn't see the principal's face and couldn't hear through the mask, he said.
His wife also spoke. She gave inaccurate information about the COVID-19 death toll, saying the number of deaths in 2020 was no different than previous years. In March, the Wyoming Department of Health announced nearly 1,000 more people died in 2020 than in 2019 in the state. The state expected incremental increases, but "before the COVID-19 pandemic hit ... never would have predicted the large jump we saw in 2020," a department of health administrator said then.
But beyond discussing data or opinions on the effectiveness of masks, Hardy said the masks were affecting her children's mental health and well-being.
Another parent, Lisa Nichols, spoke of her two children who attend school in the district. She told a story about her daughter who met a new friend this year, who she knew for six weeks before seeing his face for the first time.
"You might think this is something silly and something we can laugh at ... but I'll tell you as the mother of this child who has a diagnosed panic disorder, it's nothing to joke about," Nichols said.
She added masks were making it harder for students to connect with each other. Nearly all trustees supported lifting a mask requirement to varying degrees.
The state renewed its existing requirement, which was set to expire Friday, on Tuesday. For a district to be excused from the order, it must receive an exception from the state health officer. The board agreed to take action depending on the state's actions this week.
Trustee Rita Walsh suggested the board go forward with requesting an exception if the state order was extended again.
"Should the governor not lift it on Thursday, I do not want us to wait two more weeks until the next board meeting to ask for a variance," she said.
Trustee David Applegate said he supported the idea and was comforted that health officials would need to approve the change.
"I think the fact it has to be approved by various health officials ... if they don't agree with it ... then I'm going to support us continuing to wear masks," he said.
COVID-19 cases have remained relatively low in school settings in large part because of compliance with face mask orders, according to local and state epidemiologists. Natrona County as a whole is in the second-lowest transmission risk-category set by White House officials, but cases nationwide are ticking up again.
But as cases fluctuate, student mental health has worsened during the pandemic according to a litany of emerging research. Between March and October 2020, mental health-related emergencies jumped by 31% over the year in students 12 to 17 years old, according to the U.S. Centers for Disease Control and Prevention. Whether masks have been an influence is unclear.
Vice Chair Clark Jensen said he would support lifting a mandate but only after students, parents and teachers were given the change to weigh in.
Trustee Dana Howie was the sole opponent to the proposal. She said the precautions taken thus far were the reason students in Wyoming were able to attend in-person school. She agreed with Jensen's idea to survey the community before making a final decision.
Jennings did warn trustees the district would not be able to transition large numbers of students to virtual school if cases were to surge without masks. Jennings said he would plan a meeting with county health officers to gauge support ahead of putting together a community survey. Jennings added he didn't see the work taking weeks but that it would take several days to put together a survey.
Follow health and education reporter Morgan Hughes on Twitter @m0rgan_hughes