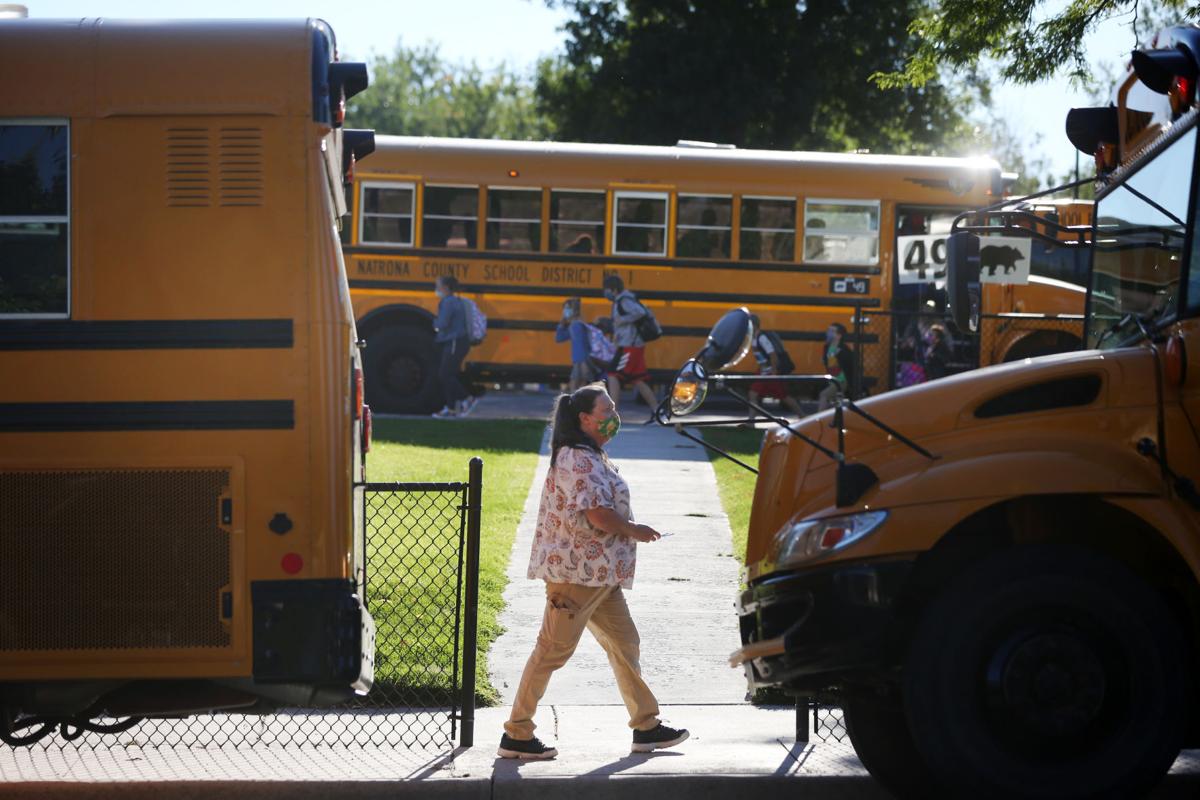 Fifty students and 15 staff members in the Natrona County School District have tested positive for COVID-19 this fall, but none of them contracted the virus at school, district and health officials say.
District Superintendent Mike Jennings said there isn't evidence of community spread in any of the district's 28 schools, in part because students are "doing what they need to to be able to participate." That includes wearing face masks and distancing.
Casper-Natrona County Health Department spokeswoman Hailey Bloom said the same, adding, "of course you always have people that are friends or related that hang out outside of school, but near as we can tell so far any of that transmission was just that — unrelated to school-based exposure."
While younger people are at less risk of suffering the worst effects of COVID-19, some worried that in-person schooling would result in students spreading the virus among themselves and then infecting older family members. Nearly a third of Wyomingites who have tested positive for the virus have been 18 and under.
However, Wyoming Department of Health spokeswoman Kim Deti said statewide, the department is "not seeing significant transmission among students in the classroom setting."
Between Oct. 2 and Oct. 15, the state recorded 124 virus cases among K-12 students and 76 among staff. But, Deti added, "it would not be accurate to always assume those individuals were exposed to the disease at school."
Currently, there's little evidence to suggest many of them have, she said.
The success had so far by the Natrona County School District — whose 65 cases came between Sept. 2 and Friday — and K-12 schools generally is a stark contrast to trends elsewhere in Wyoming. Cases have surged since late September. The state exceeded 10,000 total cases Thursday, more than 2,800 of which were presumed active at the time. And Friday added 426 total new cases, exceeding the previous record — set Wednesday — by more than 100.
In Albany County, case numbers soared after students returned to the University of Wyoming. The county now has more cumulative coronavirus cases than any other county in the state, and UW currently has 174 active cases.
The trend of community infections surging has affected hospitals and long-term care facilities. The Wyoming Medical Center last week reported having 13 staff members unable to work either because they'd tested positive for COVID-19, or had been exposed. The hospital's interim CEO Dr. J.J. Bleicher has said those infections aren't happening in the hospital, but rather out in the community.
The Natrona County School District has also been affected by the trend. More than 40% of the cases reported by the district have come in the last two weeks.
"That is absolutely a reflection of what we're seeing in the community with the increase in cases," Jennings said.
County health officers Dr. Mark Dowell and Dr. Ghazi Ghanem have both pointed to face masks, and routine compliance with their use, as a reason for relatively few cases in local schools. But Dowell said at a recent press conference that if mask use doesn't become the norm across the whole community, cases in schools and among health care workers will continue to rise.
Before they could welcome students back into their facilities, every school district in the state had to develop a plan outlining how it would respond to a variety of coronavirus-related situations, from students testing positive to entire buildings being shut down. The outline was then approved by the Wyoming Department of Education.
So far, the Natrona County School District hasn't had to act on any of its more extreme protocols. About 100 students and 15 staff members had been required to quarantine as of Friday. But no school has been compromised with outbreaks.
Another element of the district's COVID-19 plan involved a massive expansion of its remote learning program. Currently, the district has 850 students enrolled in its virtual program and between 30-35 staff members instructing.
Prior to this year, that program would have served only about 30-50 students and required one or two staff members. The district opened the program this semester to anyone who wanted to enroll.
District officials said they could not say whether any students were on a waitlist for the virtual program for next semester.
With nearly two months of the school year behind them and no transmissions considered to have happened in the school environment thus far, Jennings said the district's plan is to "stay the course and refine and get better at" what they're already doing, including plexiglass barriers at lunch tables, widespread mask use and diligent sanitation.
The district isn't considering any revisions to the plan the state Department of Education approved in August.
Follow local government reporter Morgan Hughes on Twitter @morganhwrites