The Natrona County School District's decision to reverse course and request an end to the state's mask requirement did little Monday to temper passions about the issue.
More than 100 students and parents filed into the district's Board of Trustees meeting to testify against the mask rule. Testimony ranged from students telling trustees they did not like masks, to parents asking the board to give students a choice.
A week earlier, the trustees had voted against requesting an exemptions. Then on Saturday, the district announced it would seek an exemption. That statement did not answer questions about the reason for the change, which still requires state approval and would not go into effect until next month.
Then on Monday, trustees took comment from parents and students for more than an hour, all of whom decried masks in school.
"Third grade is hard enough," one parent said. "It's hard to learn when you have something over your face, you can't see anybody."
"My kids are being forced to wear a mask at school, but none of you are wearing a mask. And that to us is showing us that they're not that important," she said.
Several elementary and middle school students told trustees masks were giving them headaches or making them feel ill at school. A high school senior testified that wearing face masks had given him seven staph infections on his face throughout the school year.
In interviews prior to the meeting, sixth-grader Natalie Rodriguez and fourth-grader Olivia Cruz said teachers were often strict about mask usage. They shared stories of being scolded for taking their masks off at recess and during free time.
"I want the masks to be gone and just everything to go back to normal," Rodriguez said.
"I liked it more than this," Cruz said of school before the pandemic, adding that her friends dislike wearing masks, too.
Natalia Follensbee, whose daughter is a sophomore at Kelly Walsh High School, said she wanted to settle the debate before the end of the school year to ensure masks don't hang around through the fall.
"If they don't do it now, we're going to have to start this battle all over again next year," she said.
No action regarding the mask exception was on the board's agenda Monday, and so no action was taken. Trustees had the opportunity to make remarks at the end of the meeting. Several acknowledged the public's concern and said the current plan, to move forward with an exception request at the May 10 meeting, was the best course. Several trustees, however, acknowledged their own frustrations for the public.
"What I have had a hard time with … is quite a bit of the vitriol we've gotten from a lot of people and that has changed my picture of my constituents, I have to tell you," Trustee Dana Howie said.
The entirety of public comment heard Monday was in favor of seeking an exception to state mandates. But Trustee David Applegate said the board received many comments opposing the move, too. He read a number of those comments received by email. Several asked trustees to wait out the remainder of the year. One comment reminded trustees the worry is not that kids will get sick, but that they could pass the virus to a vulnerable adult. Another comment was from a parent who chose in-person school for their child, trusting the district would maintain safety precautions.
Questions remain
With no action taken Monday, parents and students will have to wait at least two weeks for a resolution.
"The Natrona County School District Board of Trustees and the Superintendent have developed a path forward that will result in a variance request to the Statewide Public Health Order #1 (face covering order) in K-12 schools and facilities on May 10, 2021," a release issued Saturday by the district reads. "This will allow staff time to develop and implement plans for students and staff who have concerns regarding the removal of the statewide face covering order."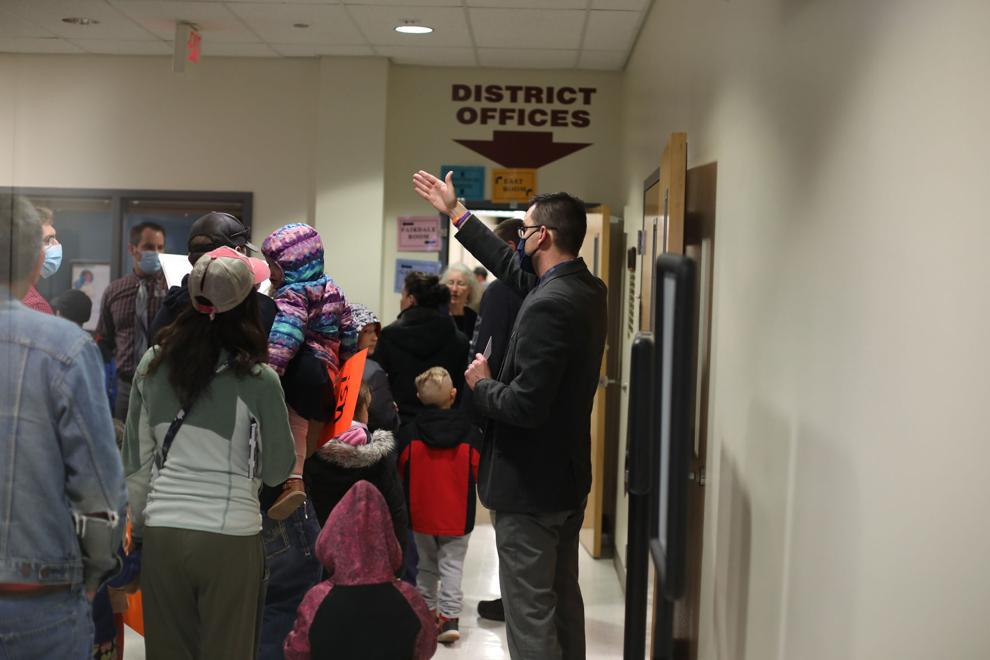 It is unclear how the decision was reached. The release does not provide details of any meeting or conversation between superintendent Mike Jennings and the elected trustees following the April 19 meeting in which trustees voted against the proposal.
District spokesperson Tanya Southerland said via email Tuesday that Jennings and other administrators began "operational work" following Trustees' April 19 meeting "to identify a plan to meet the educational needs of all students."
"Based on advice from the Board's attorney, variance requests are not required to be voted on by the Board of Trustees because they are operational in nature," Southerland said. "The Superintendent's path forward takes into account questions voiced by Trustees during the April 19th, Board Meeting Special Session. The Board of Trustees could take action within a public meeting to affirm or modify the actions of the Superintendent."
Southerland on Monday declined an interview with the Star-Tribune, referring a reporter instead to Casper attorney Craig Silva, who has represented the district in the past. When contacted, Silva declined to answer questions about school board procedures and hung up.
A call to Southerland on Tuesday for additional details on how the decision was made was not returned. Instead, she sent an email just after 5 p.m., when the district offices close.
Quick action?
Several parents told the Star-Tribune they were frustrated by how long it will take trustees to act on the exception request.
"A lot of the parents felt it was to toss us a bone to try to get us not to show up tonight," said Jamie Bates, a district parent and organizer of a Facebook group leading the protest efforts.
The protest against masks has been two-fold. The demonstration Monday night followed a day of student protests, according to several parents. Some students protested Monday by not wearing masks to school or by not attending school at all. Parents have been keeping track with a Facebook group of how many students did not attend school today in protest. Bates said it was close to 500.
Bates added she herself thought the district's decision was a fair compromise, but agreed with other parents that trustees should expedite the process to request the exception from state officials.
Just two state public health orders remain as COVID-19 infections have plummeted and vaccinations have become widely available. One order requires masks in educational facilities, like K-12 schools and college campuses.
Parents have lobbied district trustees for weeks asking that face masks be made optional after state officials began granting exceptions to that rule for small districts in counties with low transmission levels.
Trustees debated whether to pursue a mask exception request in a meeting April 12. They decided to survey parents and staff, and planned to make a decision at a special meeting the following Monday.
The survey results overwhelmingly favored requesting the state exception, with more than 80% of parents and more than 70% of staff supporting the move. But about 200 families reported that if masks became optional, they may have to withdraw their student from the district.
Local health officials testified at that meeting, too, asking that the district keep face masks for the remainder of the school year.
With roughly one month of school left, trustees spent the special meeting April 19 debating whether the majority attitude should jeopardize the minority.
Ultimately, trustees voted 5-4 not to pursue lifting the mask order.
"It's as important to protect the minority as it is to honor the voice of the majority, and I am as concerned for those teachers and students who are afraid to attend school if the mandate is lifted as I am for those who are frustrated by the mandate," Trustee Clark Jensen said at the time.
The district's weekend announcement alluded to plans to honor the wishes of both groups, though specifics on those plans were not provided.
Follow health and education reporter Morgan Hughes on Twitter @m0rgan_hughes