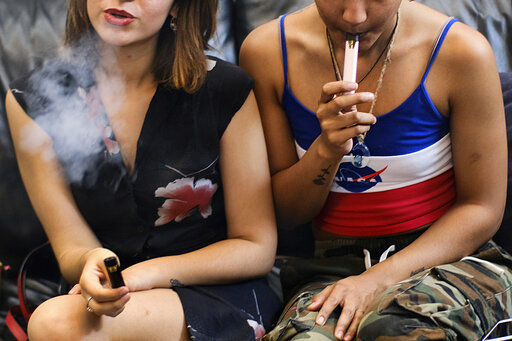 Top leaders at the Natrona County School District plan to tackle vaping during two public meetings in January, and the district is hoping parents and the rest of the community will participate.
The district has been dealing with the rise of vaping and tobacco use in recent years. According to data released in August, the use of tobacco products jumped nearly 70 percent in the high schools compared to the year before. In the middle schools, it was up 180 percent.
In an effort to tackle the problem, the district will discuss the issue during its Jan. 13 and Jan. 27 public meetings. It's seeking input not only from high school administrators and law enforcement but from members of the public.
"We recognize and greatly value the contributions of our entire community towards creating safe and healthy school environments," the district's spokeswoman, Tanya Southerland, said in a statement. "We would like to ask for public feedback and attendance during the Jan. 13th and 27th, 2020, Board of Trustees Work Session to be held at 6:00 p.m. at Central Services Facility."
You have free articles remaining.
Students vaping isn't an overnight phenomenon in Natrona County. In summer 2018, high school principals and other top administrators all said they'd dealt with vaping and Juuls, the thin vaping devices that look like elongated jump drives. NC principal Shannon Harris said it was a constant problem.
It's also not a problem unique to central Wyoming, or the Equality State at all. The Centers for Disease Control and Prevention, in a surgeon general advisory against e-cigarettes and similar devices, found widespread use of vaping products. In 2018, the CDC found, one in five high schoolers used e-cigarettes. One in 20 middle schoolers did, as well.
Earlier this year, there was an outbreak of a lung disease associated with vaping, especially vaping marijuana products. There were more than 2,500 cases as of early December and at least 54 confirmed deaths across 27 states.
The CDC announced recently that the outbreak was likely tied to vitamin E acetate, which was added to some products with THC, the psychoactive compound in marijuana.
The outbreak isn't the only risk associated with vaping. According to a 2019 study published in the American Journal of Preventative Medicine and quoted in a Yale discussion about the outbreak and vaping, "people who use only e-cigarettes increase their risk of developing lung disease by about 30 percent compared with nonusers."