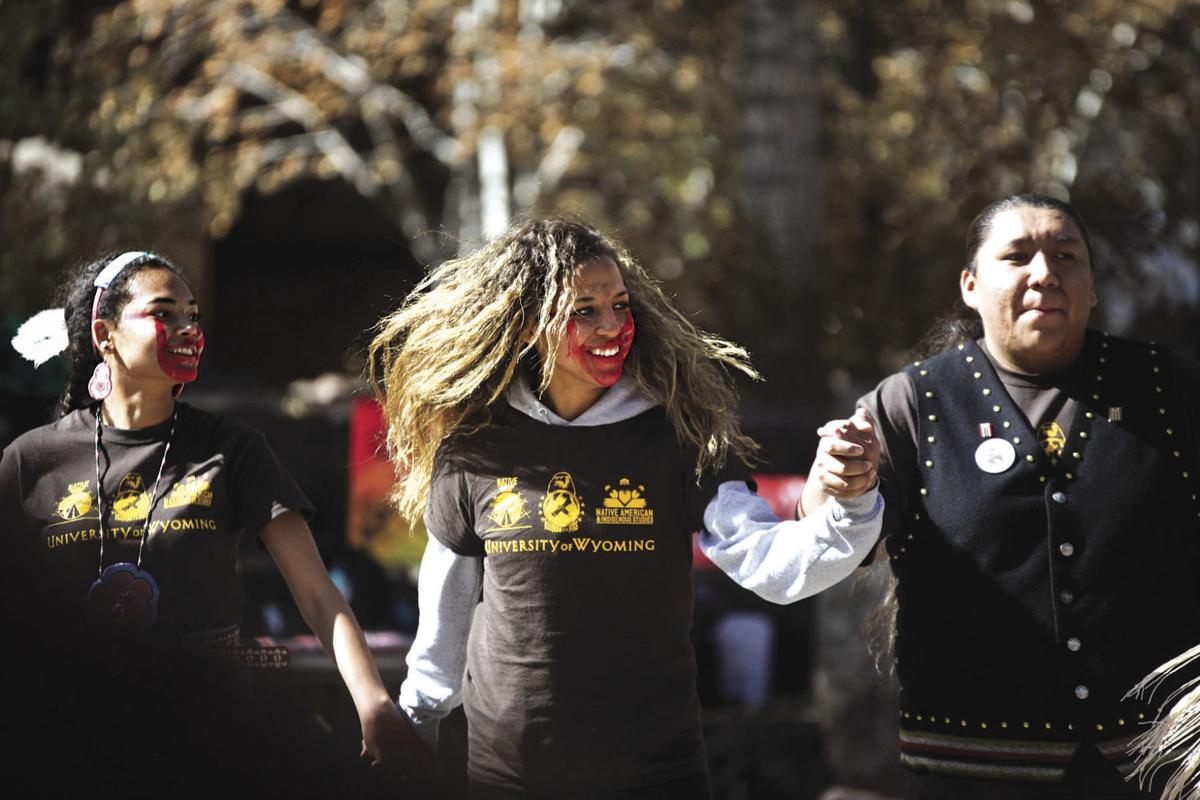 The University of Wyoming has completed a guide for school leaders to follow as they look to increase Native American student enrollment and better work with Indigenous populations and tribes.
Under former President Laurie Nichols, the university prioritized increasing Native American student enrollment and retention while also working more with Wyoming tribes through research projects and other partnerships. The new strategic plan, finalized earlier this year, lays out ways in which university leaders can build on the previous administration's efforts in the next five years.
The plan isn't binding, and there are no cost estimates for recommendations. But it offers a guide for UW officials to continue to improve the experience and enrollment of Native students while better serving the state's Indigenous population and tribes, said Professor Ken Gerow, a member of UW's Native American Advisory Committee.
"Over the decades, the University's relations with the tribes have gone up and down," he said, adding that he hopes the plan and other work UW has done recently helps the tribes "feel secure that things are going well — that they're not being sidelined again."
While Gerow said previous administrations' work — and success — "waxed and waned" before Nichols' tenure, the plan and UW's Native American Advisory Committee should help the university continue to progress in its goals for Native students and Indigenous communities.
While Gerow said some of the recommendations to achieve the plan's goals may be more "aspirational," many can be reasonably accomplished.
The plan is part of a broader effort to increase enrollment, outreach and other engagement with the Eastern Shoshone and Northern Arapaho tribes that UW has recently highlighted. Some of those efforts include work on helping revitalize the Northern Arapaho language; studying the effects of traditional Shoshone foods on health, identity, well-being and culture; and the opening of the Native American Education, Research and Cultural Center, which provides advising, recruitment and other services to Native American students and helps them transition from life on Wind River to Laramie.
You have free articles remaining.
The new plan also comes as more Native American students have enrolled at UW in recent years.
At the start of the most recent semester, 57 Native American or Alaska Native students had enrolled at the Laramie campus, with 79 total across the university, according to university enrollment data from the start of the fall 2019 semester.
That's an increase from the fall of 2017, which saw the university's fewest Native American or Alaska Native students in the last 10 fall semesters, with 48 and 62, respectively. The highest fall numbers, according to final UW enrollment data, were in 2009, when 119 enrolled across the system.
To continue to increase enrollment and reach other goals, like increasing research and outreach, UW could: improve training for faculty and staff who work with Native American students; recruit more Indigenous faculty members or those with expertise in tribal issues and culture; improve campus life for Native students; and frequently consult with the Wind River tribes on strategic plan progress.
"I'd like to see UW be the first choice for students from Wind River," Gerow said.
The plan was completed with the input of tribal leaders and Wind River Reservation residents. More than 200 attended 15 listening sessions that also included university faculty, staff and administrators.
Before UW began to more aggressively focus on Indian Country, other higher education institutions in surrounding states did a better job working with and educating their Indigenous populations, James Trosper, director of UW's High Plains American Indian Research Institute, said in a previous interview. Trosper, who is Northern Arapaho and Eastern Shoshone, has also served as an advisory committee member, been a UW student and served on the Board of Trustees.
But now, he said, the university — which is in a state that once was land inhabited by many tribes, including the Eastern Shoshone and Northern Arapaho — is beginning to change that.
"Recently, with all of the work that we're doing, we're catching up, and in some cases, passing them," Trosper previously said. "There's some really good, positive momentum right now."