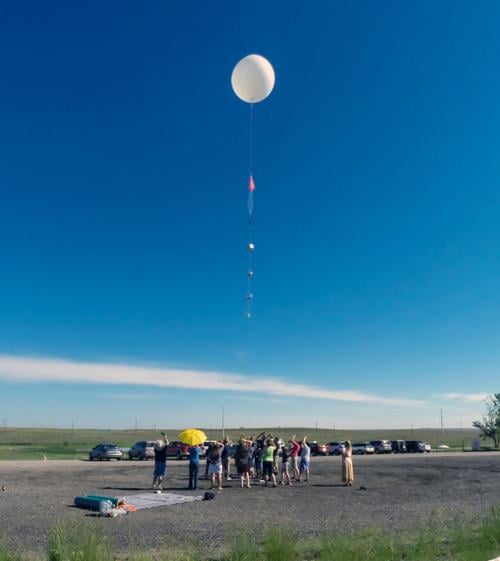 The large latex balloons will be filled with helium and released to ascend into the atmosphere, where they will grow until they burst.
As the balloons rise, cameras attached to them will capture and broadcast a solar eclipse that is set to cross Wyoming one year from now. The footage will be live-streamed to NASA's website.
The project is being coordinated by two University of Wyoming doctoral students, who will work with grade-school students throughout the state to deploy three weather balloons in Riverton, Casper and Glendo State Park. Central Wyoming is directly in the eclipse's path and is considered one of the best places in the country to observe the celestial event.
"You think solar eclipse, you think, that's an amazing opportunity that many people go their entire lives without seeing," said Phil Bergmaier, a doctoral student in atmospheric science. "I know that it's really neat and it's something that is going to happen and is going to be coming across the entire country, so we might as well do something really cool with it and allow other people who aren't in the U.S. to see it as well."
You have free articles remaining.
Katie Foster, the other doctoral student working on the project, will be running test flights until the time of the eclipse, she told the University of Wyoming Daily News.
The balloons will be sent between 60,000 and 100,000 feet into the atmosphere. Each balloon will have a Styrofoam payload box carrying the cameras, as well as GPS signals and sensors to detect humidity, pressure and temperature. The box will parachute to the ground when the balloon bursts.
The Wyoming weather balloons are part of a national effort to draw attention to the eclipse. Bergmaier and Foster are working with the Wyoming NASA Space Grant Consortium. Other NASA Space Consortiums throughout the country are planning similar projects. Since the eclipse will cross the country, groups in each state will release weather balloons as it goes on a pathway across the United States.
"I think it's kind of a once-in-a-lifetime opportunity," said Shawna McBride, associate director of the Wyoming NASA Space Grant Consortium. "The last time an eclipse went across the entire United States was 1918, so it doesn't happen that often. Just watching that is pretty interesting. You can see how the moon completely blacks out the sun."
McBride said she hopes the weather balloons will encourage students to be interested in science.
Follow crime and courts reporter Lillian Schrock on Twitter @lillieschrock