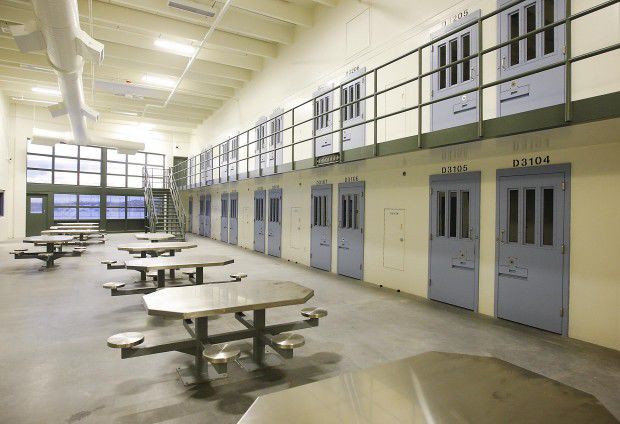 Wyoming inmates are learning to read English and Latin through a program originally designed for younger students with dyslexia.
"Sixty to 70 percent of English is based on Latin and Greek," she explained. "We trained the instructors in how to teach basically suffixes and prefixes and how to start. So they can help their adult population, not just with single words, but with multi-syllabic" words.
For example, she said she has a lesson for the word hydrophobic. It's a long, technical-sounding word, but it becomes more approachable, especially to less advanced readers, when it's broken down into its prefix (hydro, or water) and its suffix (phobic, or having fear of). Another example is unpredictable. It's easy enough to break down: un (not)—pre (before)—dict (say)—able (capable of).
She says part of the reason for educating the inmates is so they simply have base literacy abilities. But it could also help them integrate into the work force once they're released.
"We come to these young adults that are in these prison systems, and they may not have finished high school," she said. "Those that did probably did not get great grades. They come into the job place, don't have these marketable skills. ... To be competitive today you have to be literate. Really try and help them to gain the literacy skills so they have the chance to go out and get better job."
The program is being taught in all five of Wyoming's corrections facilities, said Betty Abbott, who is the manager for educational programs in the department. The training was customized for the prison system, which is the first corrections department in the nation to deploy this method of reading education.
Abbott said she's gotten "nothing but positive feedback" about the program from teachers and inmates.
"That doesn't happen often," she added.
A version of the program was developed in the 1930s by two Columbia University academics, Rishel said, partially to help children with dyslexia. When it's taught to younger students, it's done so partially to help cut down on simple memorization.
"We want to get this information to students so they're empowered and understand the language," she said. "We don't want them to guess or memorize. High school seniors need mastery of 40,000 words. ... For kids that can't make those implicit leaps from one word to another, they're just lost."
The same basic principle works for helping older adults learn to read English.
Abbott said she had always wanted to bring the program into the prison system and was finally able to do so thanks to grant money from the state Department of Education. Part of its appeal is that it can be integrated into other education programs within the prison, like math or social science. She's eager for teachers to adapt it within their own instructional model.
"They've always taught reading, writing, social science and math," she said. "But never to the extent they are now."
Follow education reporter Seth Klamann on Twitter @SethKlamann