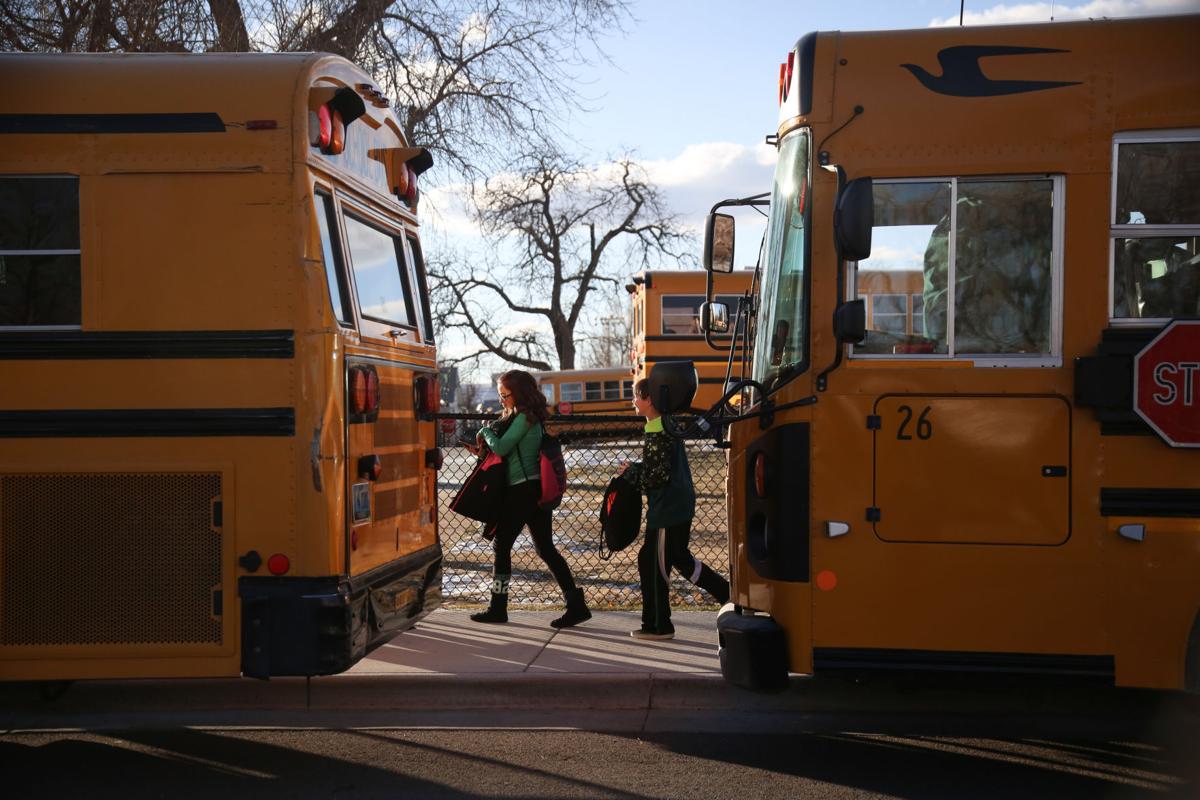 Three of the four largest school districts in Wyoming have passed resolutions authorizing their boards to file lawsuits against the state over funding cuts.
Earlier this month, lawmakers began recalibration, a process of examining the model that pays for schools here. While it could decide the future of school funding, it may also push districts into another round of litigation against a state that's avoided education lawsuits for a decade.
Some superintendents say that if the recalibration is used as a "back door cut," rather than a way to establish what qualifies as an equitable and adequate education, that could be all they need to drag the state back into a courtroom.
Gillian Chapman, the superintendent for Teton County School District, said her board has not considered a resolution but officials there will be closely monitoring what happens in recalibration.
The school board in Laramie County School District No. 1, the largest district in the state, passed the resolution authorizing potential legal action by a 4-3 vote. John Lyttle, the district's superintendent, said the resolution had as much to do with the district's overcrowding as budget cuts. During the recently completed legislative session, state lawmakers stripped away tens of millions of dollars that had been appropriated to build a new school in the county.
"We still have 800 students in modulars," he said, referring to trailers on school campuses. "(The board members) have concerns about construction, as well as what's happening in operations."
The district's resolution is similar to what's already been passed in Campbell and Sweetwater counties: a resolution lamenting that "the board has diligently exhausted all potential means to resolve this conflict without pursing legal action." Laramie County's has a similar spirit but includes language about facilities.
"(T)he Legislature ultimately failed to provide the necessary funding for Carey Junior High School," the resolution read, referring to the school that was planned but had its funding removed.
Campbell County's school board passed the first resolution weeks ago, before the first re-calibration meeting. It claimed that the district had done all it could to work with the Legislature but that those efforts proved fruitless.
Statewide coalition
That district is part of a coalition of roughly a dozen others across the state. It includes Sweetwater 1 and Albany 1, meaning the coalition has four of the five most populous districts in the state. The outlier is Natrona County.
Campbell County's resolution has become the blueprint for other districts. Donna Little-Kaumo, the superintendent in Sweetwater 2, and Kelly McGovern, who heads Sweetwater 1, both said their boards approved resolutions that are nearly identical to Campbell County's. As Sen. Hank Coe said when Campbell passed its resolution, the county has typically been the vanguard of legal action in pursuit of protecting education funding.
It's important to note that the statements set no timeline and are not declarations of imminent lawsuits, superintendents say. They're warning shots, an alert to school districts and lawmakers that litigation is a serious possibility.
"The best is to solve issue without litigation, but we have lost so much through the legislative cuts," said Kelly McGovern, the superintendent for Sweetwater 1. "You know, our district is down $6.1 million for next year."
Looming litigation is not lost on lawmakers. Rep. David Northrup, the chairman of the House Education Committee and a member of the recalibration committee, said he was surprised that a lawsuit hadn't already been filed. That was before Sweetwater 1 and 2 and Laramie 1 passed resolutions.
Messages left for Northrup and Coe, the chairman of the Senate Education Committee and another lawmaker involved in recalibration, were not returned Friday.
Jubal Yennie, the superintendent for Albany 1, said his board has not voted on a resolution, though it was discussed at an executive session last week. He said he wasn't sure if it would be scheduled for a vote at the board's next meeting.
It's tough to dispute that Wyoming schools have been richly funded compared with most other states. But the superintendents and the resolutions passed by their school boards note that the Legislature has gone beyond what it's statutorily allowed to do in terms of cuts. A bill passed last month slashed more than $34 million from schools. Education leaders also point to cuts from last year and the recent denial of inflation adjustments.
Yennie said there was truth to those concerns.
"One of the values that we have, we have a constitutional decree for this thing. But we also have an understood and accepted basket of goods," he said, referring to the standards of education that schools are held to.
Patrick Hacker, an attorney who tried a landmark education case in the mid-1990s and who also represents the Wyoming Education Association, said litigation is a serious possibility, though he believes that, despite the resolutions, districts are working to avoid it.
"My perception is that they're legitimately concerned about the impact on students, but they're holding a bit to see if maybe the process is going to work," he said.
He added that "we've seen this movie before." Indeed, it's played out several times in Wyoming's history. Notable litigation started in the 1980s, and the first in a series of cases, known as the Campbell decisions, was decided by the state Supreme Court in the 1990s. More rulings from the high court came after that, notably about school construction.
Hacker said facility construction and maintenance were both potential legal powder kegs. He pointed to the Laramie 1 overcrowding as something that should be a serious concern to lawmakers.
"Reality is that Laramie 1, if you look at the Campbell 1 decision, much of it talks about Laramie being overcrowded," he said, referring to the first of the Campbell decisions. "They're still overcrowded."
Chapman, of Teton County, said she wasn't surprised that districts in the coalition, of which her district is a member, were inching closer to litigation.
"Unfortunately, that's a direction that sometimes school districts have to take so that we protect the rights of our children, and that's what our duty is as superintendents and trustees," she said. "We're out for one thing, and that's to educate students."
Follow education reporter Seth Klamann on Twitter @SethKlamann