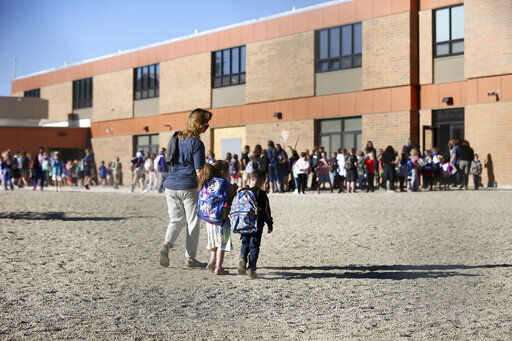 Student enrollment fell by nearly 1,900 in Wyoming this school year, the latest indicator of how deeply the economic slowdown caused by COVID-19 and the energy downturn has affected the Equality State.
Statewide student enrollment dropped to 91,938 for the current school year, numbers released Monday by the Wyoming Department of Education show. That's 1,894 fewer students than the previous year, or a decline of roughly 2%. Thirty-eight of the state's 48 districts suffered enrollment declines.
Wyoming's enrollment figures fell below 92,000 students for the first time since 2012, the education department reported. Still, Wyoming's student enrollment has fared worse. It declined from 101,000 in the 1993-94 academic year to roughly 84,000 in the 2005-06 school year, education department figures show.
In comparison, K-12 student enrollment has hovered in the low 90,000s for much of the current decade in Wyoming, topping out at 94,000 in 2015-16.
This year, more than a quarter of the statewide drop occurred in Natrona County, where student enrollment fell to 12,754 this academic year. That's 576 fewer students than a year earlier. Natrona County, perhaps not coincidentally, has also suffered the highest unemployment rate in Wyoming following the economic downturn that began in March.
The district's enrollment decline wasn't evenly distributed across the district. Elementary schools took the biggest hit, with a loss of 423 students. Middle schools lost 144 students. High school enrollment fell by only 24.
Kindergarten suffered the worse decline of all grade levels, with a decline of 169 students. Put another way, nearly 30% of the district's decline was due to losses at the kindergarten level.
Statewide numbers mirrored the trend seen locally. Kindergarten enrollment suffered the biggest decline statewide of any grade level, according to education department figures shared with the Star-Tribune. More broadly, the elementary levels took the biggest hit, followed by junior high schools. Enrollment actually increased at the high school level.
Natrona County is home to the state's second largest school district. Wyoming's largest, Laramie No. 1, saw its enrollment fall by 421 students to 13,840.
Falling enrollment has broader implications than how crowded classrooms are. A school district's funding from the state is based on enrollment. Fewer students means fewer state dollars.
Some districts fared better. Niobrara County School District No. 1 experienced an enrollment increase of 607, or 76.8%. Big Horn County School District's enrollment grew by 729 students, or 68.1%. The education department says districts that experienced the largest enrollment jumps offer virtual education programs. More students have turned to virtual learning since COVID-19 emerged here in March.
"Wyoming had a structure in place to offer full-time virtual education to students before the COVID-19 pandemic began," State Superintendent of Public Instruction Jillian Balow said in a statement. "I am proud of Wyoming educators for their commitment to offering in-person instruction and I'm grateful that parents and families had a range of public, home, virtual, and private options."
An education department spokeswoman said it's too soon to know how much of the state's enrollment decline is attributable to parents opting to home school children in light of the pandemic versus the energy downturn, which has the potential to push families to other states in search of work.
"We haven't been able to delve into the data yet," said department spokeswoman Linda Finnerty.



Photos: A look back at when Casper students returned to school following COVID closures