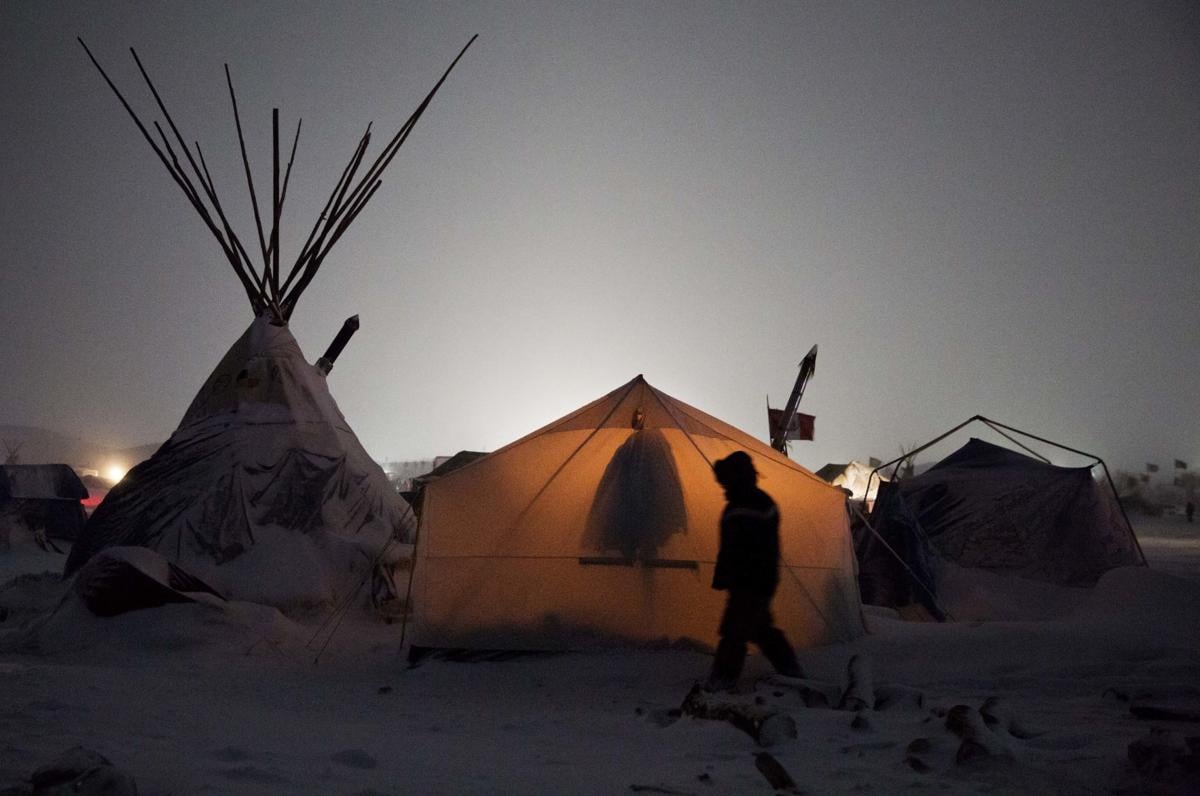 CHEYENNE — After a veto by then-Gov. Matt Mead at the close of the 2018 budget session, legislation that would create criminal charges for impeding fossil fuel facilities and pipelines during protests is back in the Wyoming Legislature.
Similar in scope to bills introduced in statehouses across the country following the Dakota Access pipeline protests, Rep. Lloyd Larsen's Crimes Against Critical Infrastructure bill was written with numerous fixes to address questions raised last year.
However, critics told lawmakers at a packed committee hearing Monday that the bill would still restrict people's lawful right to protest.
This year's version of the bill is similar to a version introduced last year, which would have made it a crime to purposefully obstruct the construction of "critical infrastructure," like pipelines. The 2018 iteration of the bill was feared to be flawed, with many critics arguing it was far too vague and unclear in what it would actually do. Others criticized it on First Amendment grounds, arguing the bill served only to restrict free speech and dissuade protests.
In the new legislation, the definition of critical infrastructure has been clarified. It now includes not only fossil fuel infrastructure (which constitutes a majority of the language in the bill) but also transportation facilities, various agricultural installations and reservoirs. The process for bringing charges on an individual or group for "impeding" the construction or operation of critical infrastructure has also been updated, Larsen said, to ensure that charges are only levied if they were knowingly and purposefully violating the law.
Nowhere in there, he said, is language infringing on free speech.
"The concerns I've had voiced on the bill is this infringes on my freedom to protest and my ability of free speech," Larsen, a Lander Republican, said Monday. "That is 10-to-1 of the comments I've had. So look at the bill, look at the markups on the bill, and tell me where you see any restrictions on free speech and people's ability to protest."
However, many in attendance — including representatives from both the Eastern Shoshone and Northern Arapaho tribes — argued that the bill does exactly that, and, while the technical issues may have been worked out, the concerns were still the same.
"This is going to make criminals out of a lot of people just doing their day-to-day activities," said Rep. Aaron Clausen, R-Douglas.
Beyond the right to protest
The Native American-led protests against the Dakota Access pipeline, which drew thousands of people from around the world to join the Standing Rock Sioux in opposition of a pipeline near their land, inspired a push for bills similar to Larsen's across the country.
Members of the tribes speaking out Monday described the feeling of a "target on their backs." Existing trespassing laws are adequate, they argued, and the provisions for misdemeanors and felonies outlined within the bill were a means to "intimidate" protesters from standing up for the land they lived in.
"The oil industry is crucial to my people," said Rep. Andi Clifford, D-Riverton, who is a member of the Northern Arapaho tribe. "We have oil royalties we depend on. But with our cultural beliefs, we respect land, water, wildlife and our resources, and there always needs to be that balance. That is the critical infrastructure that's important to us."
For those in opposition of the bill — a group that largely consisted of private citizens, tribal members and environmental groups — the narrative went beyond one's right to protest: It extended to their own rights as landowners. Many questioned what sorts of actions would qualify them as intentionally encumbering a critical infrastructure project.
While some groups — such as the Wyoming Stock Growers Association — lauded the bill's revision of language regarding private land owners, others disagreed. Monika Leininger, a community organizer for the Powder River Basin Resource Council, noted the bill contained vague language that she believed would be confusing to laypeople and would leave them unsure of their rights as private property owners.
"If it's in the interest of the government to protect private companies, isn't it in our interest to protect ranchers and private landowners?" she said.
This concern was echoed by Joyce Evans, a member of the Powder River Basin Resource Council who recently co-authored an op-ed against the bill. She said that everything prohibited in the bill is already barred in existing law and was unsure another layer was going to stop the illegality. However, she said that the layers the bill does implement — particularly, the lines about purposeful obstruction — create tricky situations in cases when something like eminent domain is implemented, expressing concern that if she pushed back against eminent domain to protect her land, that would potentially make her a felon.
"I see this bill as taking away my right to be a good steward of the land and making good decisions for the good of the land," she said.
One of the more compelling moments of testimony came from Devin Oldman, director of the Northern Arapaho Tribal Historic Preservation Office, who noted that on protests on federal or tribal land, it would become hazy whose jurisdiction the law actually covered. He said that the law as written was unworkable, and if the state had an option, it should pursue improving the already existing trespassing laws, rather than create a new one that was targeted toward a particular group.
"I do believe if this law passes it will give the state the go-ahead to arrest members of the tribe on the reservation," he said. "That, to me, we can't work out."
Arguments for the bill
On the other side of the argument, numerous industry groups, lobbyists for the fossil fuel industry and the Wyoming Business Association spoke in favor of the bill. They say protests that impede critical infrastructure don't just imperil the finances of the companies building them; they affect communities as well.
"We're in a different day and age, and the impacts of damaging or impeding these facilities — going back to the example of broadband being down or not having gas on a cold day like today — are things that should cause us great concern," Larsen said.
In the aftermath of the protests on the Standing Rock Indian Reservation, entities both public and private suffered severe financial losses. A study from the University of Colorado Boulder found that the protests cost private industry more than $7.5 billion throughout their course, with nearly $38 million in costs to the North Dakota government.
Many of those costs could have been contained, said Steve Lundin, a North Dakota-based private security contractor who was hired to disperse protests around the Dakota Access pipeline, if law enforcement had the proper authority to dissolve demonstrations before they had the chance to escalate.
"The issue we had in North Dakota was we have no statute in place that talks about impeding versus your traditional trespass laws in place," he said.
He gave the example of a landowner on the east side of a highway who has leased a right of way to a pipeline company to build a pipeline. The area 50 feet out from the highway, he said, would be considered public right of way so, according to statute, people could block access. As long as they stayed in the right of way, they could remain there as long as they wanted, with law enforcement unable to do anything.
That, he said, is what happened with the Dakota Access pipeline protests, which began with a handful of people on a public right of way and, within several months, grew to thousands of protesters.
"Had law enforcement had the tools like this legislation, to be able to have some clear-cut legal remedies in situations with small direct action, we could have prevented a much larger issue that cost tens of millions of dollars to local communities," he said.
The meeting ended without a vote and will be taken up at the Minerals Committee meeting on Friday, the final day bills can be considered before moving on to the House of Representatives.
Follow politics reporter Nick Reynolds on Twitter @IAmNickReynolds