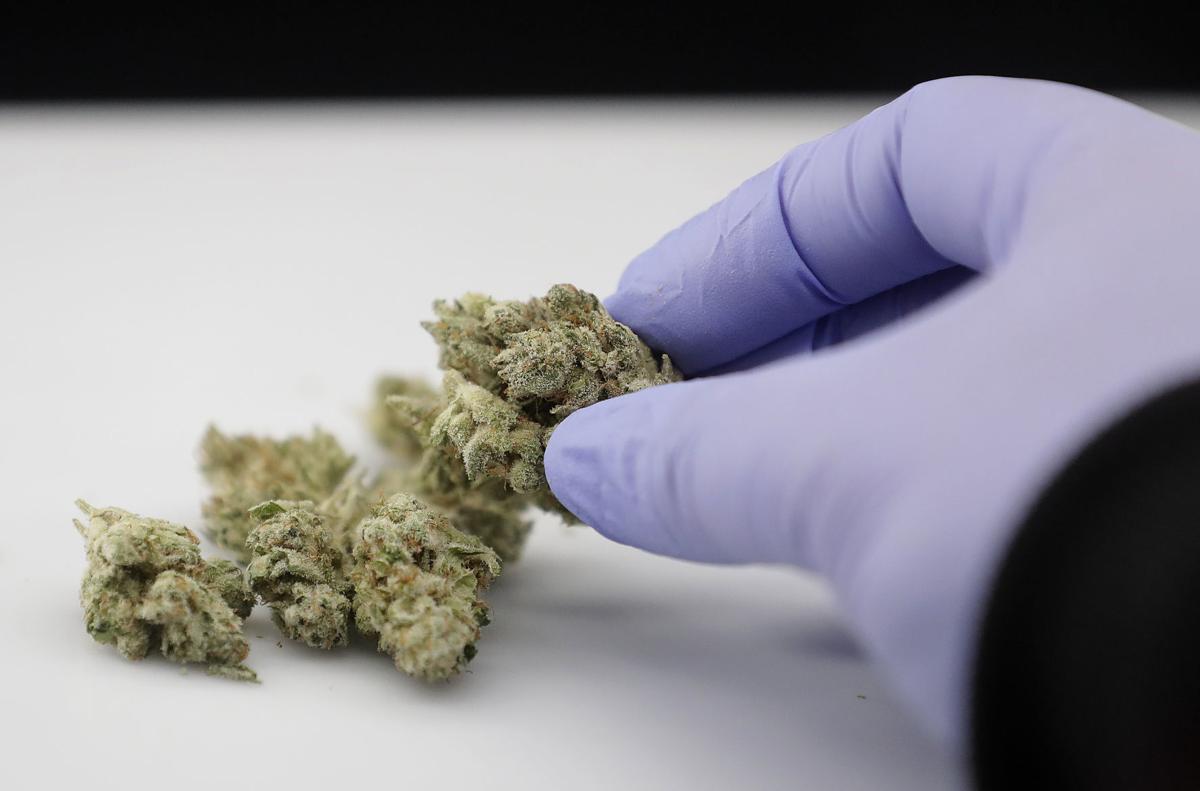 CHEYENNE – A bill with the backing of a number of prominent lawmakers seeks to legalize the use of medical marijuana in Wyoming, though members of the medical community have expressed skepticism with the measure.
Sponsored by House Majority Floor Leader Rep. Eric Barlow, R-Gillette, House Bill 278 would create an extensive set of guidelines for the use and distribution of medical grade cannabis in Wyoming, covering everything from permissible THC content (the psychoactive compound that gets you "high") to the agency responsible for testing and regulating marijuana.
"This is a request I've had from multiple constituents and other folks across the state," said Barlow. "We just don't have a big conversation about it in Wyoming."
Controlled system
The bill does not provide a wholesale legalization of medical marijuana but rather, a tightly regulated system for the substance's distribution and control. Penalties for violating the law would range from a $750 fine for negligent infractions to prosecuting defendants as if they were producers or consumers of recreational marijuana.
It's unclear how common such a cap is. Iowa has placed a THC cap of 3 percent on medicinal products there. Frank Latta, the director of Wyoming's chapter of the National Organization for the Reform of Marijuana Laws, said the cap was "not the norm" and that it was an attempt to win over lawmakers who may be hesitant about supporting the measure.
Barlow said the upper limit for THC content was decided upon after conversations with producers of medical-grade cannabis in other states, who base their mixture on ratios of THC and CBD, another chemical component of marijuana that does not cause a high on its own. The higher the THC level, Barlow said, the lower the CBD level, making a moderate THC content the most ideal strain of marijuana for medical use.
"The closer the THC and CBD level are, the more therapeutic or medicinal it is," said Barlow. "We're not trying to give folks 'the highs,' we're trying to give them the health benefits."
"I'm not advocating for recreational marijuana," he said. "If the number is too low or too high, we can have that discussion. Maybe it is [an arbitrary number], but I'm trying to get away from giving people a recreational effect, rather than a medicinal effect."
Under the bill, the Wyoming Department of Agriculture would also be responsible for the licensing of medical marijuana providers in a process that, unlike the "golden ticket" type licensing programs employed – and exploited – in places like New York, will offer one-year licenses to any producer that can meet state standards. These include record keeping and subjecting their crop to regular, state-administered testing.
The system proposed under the bill would be a direct-to-consumer model, with no middle men or distribution plan involved beyond producers keeping records of who receives the cannabis and where it goes. This, said Barlow, was done in order to keep the distribution model for Wyoming simpler than those seen in other states.
"I purposefully avoided the 'golden ticket,' because then it's a concentrated type thing," said Barlow. "Really, we're trying to get health care to individuals in communities, so why wouldn't you want to get multiple potential producers in communities to compete on the free market?"
"I wanted to simplify this as much as possible and give people access to medical cannabis who needed it, and to provide a source that couldn't be monopolized," he added.
The legislation also has restrictions around who can receive a prescription for medical marijuana, limiting doctor-issued scripts to Wyoming residents over 18 years of age or with the endorsement of a parent or guardian, with a "medically indicated recommendation" from their doctor.
Public opinion
About 70 percent of Wyomingites would support a bill legalizing medical marijuana, according to an October poll from the Wyoming Survey and Analysis Center at the University of Wyoming.
However, state lawmakers have long been opposed to such a move and have been reluctant to pursue any legislation that could potentially be in conflict with cannabis' federal status as a Schedule I controlled substance. Legislators last week rejected a bill to legalize legalize cannabidiol products that are often used for medical purposes.
Latta, the director of the state marijuana advocacy group, said he supported the measure and its efforts to give patients a different choice in treatment. But he acknowledged its success was a tall order.
"I think it's got a rough road to hoe in the Legislature, in that even if 90 percent of the legislators are Republican and they want to say that they give really a lot of credence to individual freedoms, that has to be a specific freedom, it's not just all freedoms."
The medical community was less enthusiastic. Kevin Bohnenblust, the executive director of the Wyoming Board of Medicine, said his group didn't have a position yet and hadn't taken one on similar legislation in the 12 years he's been in with the organization. But he said physicians had expressed concern about the lack of evidence-based medicinal uses of marijuana.
Dr. David Wheeler, a Casper neurologist and the vice president of the Wyoming Medical Society, said he personally opposed the bill, as did his organization. He echoed Bohnenblust's concerns about the lack of research into effective uses of marijuana.
"From my perspective and from most physicians' perspectives, it doesn't make very much sense to ask physicians or to require physicians to play a role in deciding whether or not an individual should use marijuana for whatever purpose they see fit," he said. "Marijuana doesn't meet any of the basic criteria for calling it medication. It's not dispensed in a uniform fashion, doses are unknown, side effects unknown."
Wheeler stressed that he wasn't opposed to the decriminalization of marijuana or personal use of marijuana. But he said those issues are not at their heart medical questions, and he said he was personally bothered by attempts by some marijuana advocacy groups to use medical cannabis as a stepping stone to full legalization or decriminalization.
As for the 15 percent THC limit proposed in the bill, Wheeler said the cap wasn't a medical determination but was something to "increase the comfort level of people who are opposed."
"There are relatively few clinical trials, especially large clinical trials that can produce the most definitive results," the report's authors wrote. "In recent years the number of trials has increased to some degree, perhaps reflecting the commercialization of medical cannabis products around the world over the past few decades."
The medical society previously opposed an effort to legalize medical marijuana in 2016, citing the same concerns Wheeler expressed.
'Starting a conversation'
Barlow has no illusions that the legislation will actually become law this year. With several days left for bills to leave committee, it's uncertain whether or not the medical marijuana legislation will even receive an assignment. Notably, the bill lacks a number of provisions necessary to implement a viable medicinal marijuana program.
However, Barlow said the topic has never been seriously visited by the Legislature and, given Wyoming's status as one of a minority of states that have not legalized medicinal marijuana, he believes it's time for the discussion.
"I'm not naive about the prospects," he said. "But I do believe — I've been in the Legislature for six years — and we've never had a conversation about medical marijuana, and we have states all around us who have put medical marijuana in statute."
"We're certainly in the minority now in Wyoming," he said.
Follow politics reporter Nick Reynolds on Twitter @IAmNickReynolds