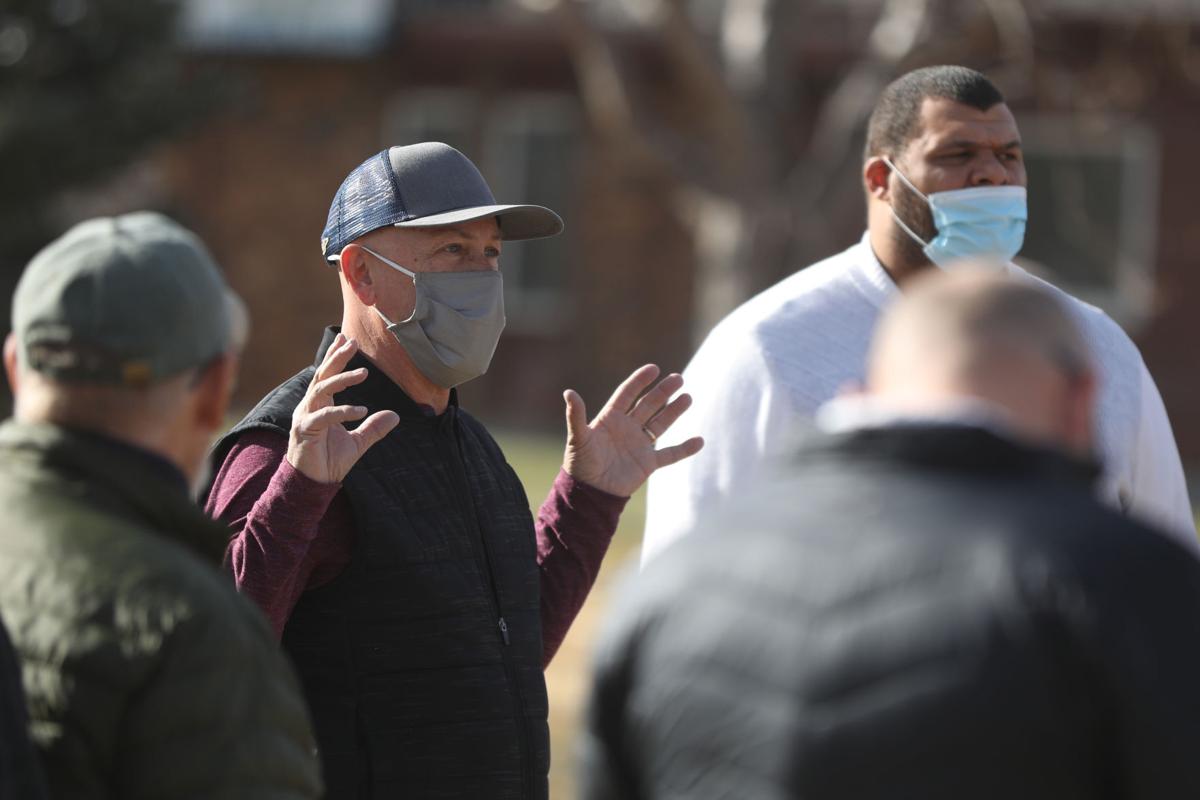 A face mask requirement for public places went into effect in Natrona County on Wednesday evening. It comes as cases, hospitalizations and deaths from COVID-19 have soared in the community and statewide.
Thirty-six Natrona County residents have died from the virus — the most of any Wyoming county. Many of those patients were residents of local long-term care facilities. Local officials have stressed another influx of hospitalizations could push Wyoming Medical Center to the brink. Sixty-four patients were hospitalized for the virus at WMC as of Friday, according to state data.
Face masks have been a contentious topic in Wyoming and across the U.S. But health officials have repeatedly said masks are an effective way to limit the spread of COVID-19 by stopping respiratory droplets from traveling into someone else's respiratory system. Natrona County Health Officer Dr. Mark Dowell said Thursday a local mask order is a tool to try to save lives, and to save businesses from the stress of another shutdown if cases continue to climb.
Here's what the order means for Natrona County residents:
Where are masks required?
You need a mask in pretty much any public place. That includes businesses, government buildings, medical facilities, public transit or taxi and rideshare services, as well as when entering or exiting a restaurant, bar or gym.
Where don't I need one?
Masks are not required in private offices, at a table in a restaurant when properly distanced from other patrons, when actively exercising at a gym or when getting services involving the face, like dental work. Officials have also said that masks are not required when residents can socially distance outdoors, like when walking down the street.
Who has to wear them?
In short, pretty much anyone who isn't a minor, though anyone older than 3 years old is encouraged to wear one. But there are some exemptions.
Which are?
Anyone with a medical or mental health condition or disability where a face mask would obstruct breathing or interfere with the illness or disability is not required to wear a mask, and doesn't need to provide evidence of the exemption. Those who are hearing impaired and need to see someone's mouth to communicate are also exempt from the order.
What counts as a 'face covering'?
The health order defines a face covering as being made from cloth, fabric or a similar material without holes that covers the nose and mouth.
When does the requirement expire?
The order is effective Nov. 18 through Dec. 4, but may be extended through the new year. Casper Mayor Steve Freel said Thursday it's likely the orders would be extended through the winter holidays.
Who decides to make the requirement?
A county health officer has the authority to pass a local health order with approval from the state health officer and the attorney general.
In this case, Drs. Mark Dowell and Ghazi Ghanem, as well as State Health Officer Dr. Alexia Harrist signed Natrona County's order.
Dowell said in a press conference Thursday he also consulted with city and county officials before signing the local mandate.
What gives them the authority to do that?
Title 35, Chapter 1 of Wyoming State Statute authorizes the Wyoming State Health officer and County Health Officers to take measures to protect public health, including issuing public health orders.
Are there mask orders anywhere else in the state?
Yes. Natrona County is one of 15 counties to pass or request a local mask order, as of Friday evening. Other counties with mask orders are: Teton, Laramie, Albany, Sweetwater, Sheridan, Park, Lincoln, Goshen, Sublette, Hot Springs, Carbon, Washakie, Uinta and Converse
The Wind River Reservation also has a mask order, but did not need state approval to institute it.
In fact, Natrona County's order is identical to the other orders around the state, County Attorney Eric Nelson said.
Are there consequences for not wearing a mask in public?
Maybe. Technically, violation of the order is a criminal offense, but officials have said law enforcement will prioritize education and compliance over writing citations.
Freel said Thursday the Casper Police Department wouldn't be conducting "masking patrols" but will respond to calls for service. If a business owner struggles to get a customer to comply, the police department could write a trespassing citation, Freel said.
But, he added, it is not the city's intent to write citations for mask violations.
Natrona County District Attorney Dan Itzen has not responded to questions on how his office will handle those who violate mask orders. Because violation constitutes a criminal offense, his office would be responsible for prosecuting those cases. His counterpart in Wyoming's most populous county, Laramie County District Attorney Leigh Ann Manlove has publicly stated her office will not prosecute violations of that community's mask order.
Follow health and education reporter Morgan Hughes on Twitter @m0rgan_hughes