CHEYENNE – The first day in the Legislature almost feels like the first day of high school.
In bags and in binders, colored pieces of paper – green for the Senate, yellow for the House of Representatives – outline the day's schedule: what committee meets in what room, what legislation is being discussed and where and how close a bill is to becoming law.
In the dim and droll hallways of Cheyenne's Jonah Business Center, lawmakers and lobbyists zip from door to door, discussing votes and the developments of the day.
For the uninitiated, the experience can be overwhelming, as the responsibility of helping to run a state falls on their shoulders.
"I kind of laughed and dismissed that 'drinking from a firehose' saying," said Rep. Shelly Duncan, R-Torrington. "I understand completely now. You hurry up through the campaign trail to hurry up and get the win, you get here and get all of the training, and then all of the sudden you're here and then 'boom.'"
Pieces of legislation fly across desks and debates proceed quickly, with amendments and changes coming undone as quickly as they enter the record. In the hallways, legislators bump from conversation to conversation and in between, lobbyists seek familiar faces, looking to sell lawmakers on something one last time.
"What surprised me most was the volume of materials that started coming my way right after the election," said Rep. Art Washut, R-Casper, a freshman lawmaker in his first week as an elected official. "From interest groups inviting you to meetings or presentations to mailings and materials to read … in the middle of November, I was receiving lots and lots of stuff."
Hitting their stride
Rep. Sara Burlingame, D-Cheyenne, is the director of an LGBTQ advocacy group that would often lobby in the Capitol. During the campaign, she often sold her knowledge of the legislative process as proof she was ready and able to make an impact in politics on day one.
Behind the scenes, she's discovered a learning curve she didn't quite anticipate.
"It's a different beast," said Burlingame. "…As my fellow freshman can attest, there's not a lot within your purview."
For those in government for the first time, it's about finding your niche. On the campaign trail, candidates have to opine on everything, from bulldozers to bronchitis. Once elected into office, however, their areas of expertise can really come through.
At the party caucuses in November, new members are given a survey where they can list their top-three committee choices. Based on lawmakers' backgrounds and expertise, party leadership assigns them to where they're best suited. Washut, a criminal justice instructor at Casper College, was assigned to the Judiciary Committee and, in week one, had already contributed significantly to the discussion of several bills expected to eventually reach the House floor.
Others took the bull by the horns. Rep. Sandy Newsome, R-Cody, was among the first of the freshman legislators to sponsor a bill of her own – a bill requiring hospitals to report gunshot wounds — inspiring other newcomers to follow suit. Older lawmakers, said Burlingame, have been supportive in the effort, offering technical advice to help the freshman succeed.
"Even if they don't agree with you policy-wise, they want to be sure your ideas see the light of day," said Mike Yin, D-Jackson. "When they come to light, you can work the bill and make it better, whether it's bills I'm supporting myself or whether I'm arguing for or against a bill."
Allegiances to support those bills sometimes form organically. In the weeks leading up to the start of the general session, Washut approached the legislative service office for assistance drafting a bill that would freeze the property tax level for senior citizens, only to find a similar bill was already being drafted by a fellow freshman legislator, Richard Tass, R-Johnson County, which Washut signed on as a cosponsor for. Other allegiances are formed strategically, and can occasionally be coordinated based on factors that may help a bill become more successful than others.
"There's a strategy to bills," said Washut. "Getting people from different places and backgrounds to cosponsor your bill, because there's a certain amount of influence in getting a certain chairman of a committee to cosponsor a bill or getting a Democrat from another county to cosponsor it. There's different factors people will consider to be important. So getting a nice cross-section of cosponsors could be advantageous to your bill."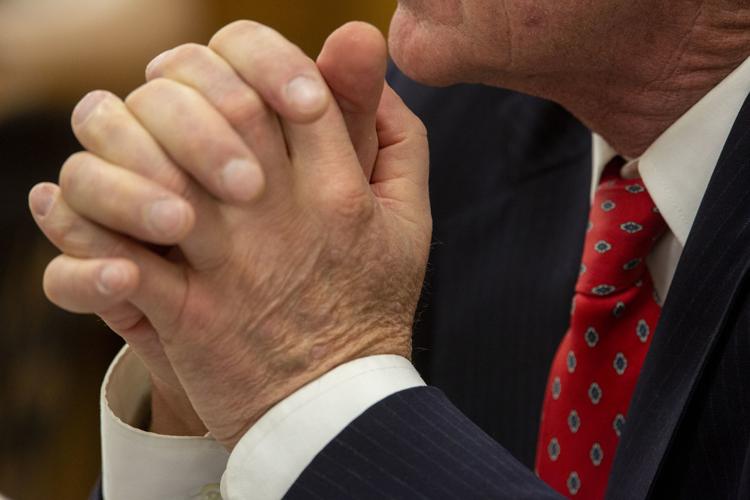 There's other help to be found too. Sometimes, even right next to you.
"Our minority floor leader has been very good about seating us next to legislators with some experience," said Andi Clifford, D-Fremont. "I was fortunate enough to be seated next to John Freeman, who is a teacher. I can literally ask him 101 questions and he'll put on his teacher hat and get me through my little moment where I feel like I don't have control and don't know what's going on.
"But each day, I'm feeling more and more confident," she added. "We'll get it."
Balancing life as a legislator
Legislators with day jobs, however, can find it difficult to balance it all. While legislators like Yin were able to take a leave of absence, some – like Washut – are still working. He will continue teaching an online criminal justice class at Casper College throughout the start of the session, on top of the several hours of committee meetings each day, addressing emails from constituents and negotiating with other lawmakers.
"It's difficult to unplug from your career for 40 days and come to Cheyenne," he said. "You're not going to see a lot of blue-collar tradesmen and so forth in the Legislature."
As members of a citizen legislature, lawmakers don't get paid – they receive only enough to cover their expenses while performing their duties – and the time required to perform their jobs is extremely demanding, with two intense months of lawmaking followed by a full year of committee meetings, spread far and wide across the state.
"Our legislature actually makes it harder for people who are middle class and have full-time jobs to be able to take two months off and go to the Legislature," said Yin. "A high school teacher can't exactly do that unless you're taking a whole half of the year off. I do think it would be better if we could have a Legislature that could be a middle-class, citizen legislature."
"Working class," clarified Burlingame. "Yesterday, two people on the floor of the House said that if you don't have the money, you shouldn't run for office. Without flinching, clear as day, 'this is for people with financial means.' That's so offensive."
Engagement, however, is the only way to change things. It was one of the reasons why Duncan – a realtor tired of some of the policies facing her industry – decided to run, knowing from an insider's perspective that there were ways Wyoming could do better.
"If you don't have a seat at the table, you might as well be on the menu," said Duncan. "I wanted a seat at the table – I was tired of arguing across the table."
Remembering your roots
On the campaign trail, newly elected legislators pitched to their constituents that they were the best choices to represent their interests, and would serve as their strongest advocates once elected.
This requires maintaining dialogue with the people who elected them. Legislators like Duncan try and boost their engagement with constituents through daily broadcasts on Facebook Live. Others take pains to work through the mountains of emails and correspondence they receive on a daily basis throughout the session, making sure to answer locals first.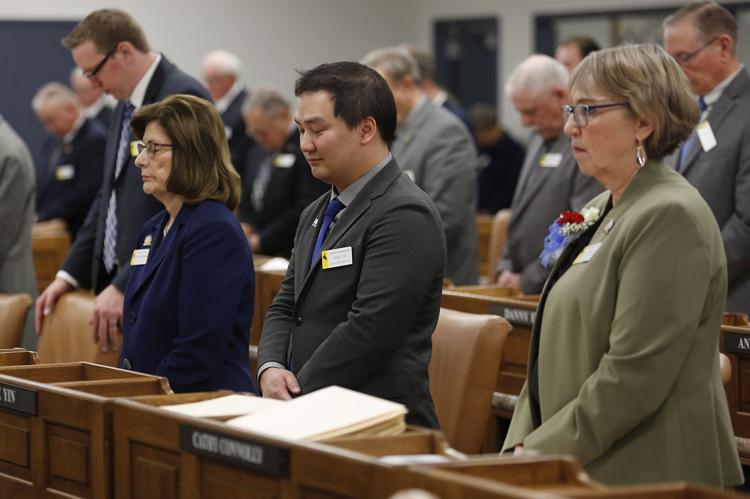 But Clifford, a member of the Northern Arapaho Tribe whose upset win in Indian Country marks a symbolic victory for voters on the Wind River Reservation, feels a duty to use her new platform as a means to inspire those who elected her and break the trend of a Wyoming politics long defined by old, white men. That was seen at her swearing-in ceremony on Tuesday, when a bus of 30 tribal members visited Cheyenne to watch her take the oath of office, despite the fact the roads were closed.
"I just remember who I am and where I came from, an indigenous woman," said Clifford. "I don't have to state it – I just am, that's how I was raised, that's my culture. And when I look at things or decide on things, it comes from that grounding of where I come from, tribal values and the culture I come from. I remember that."