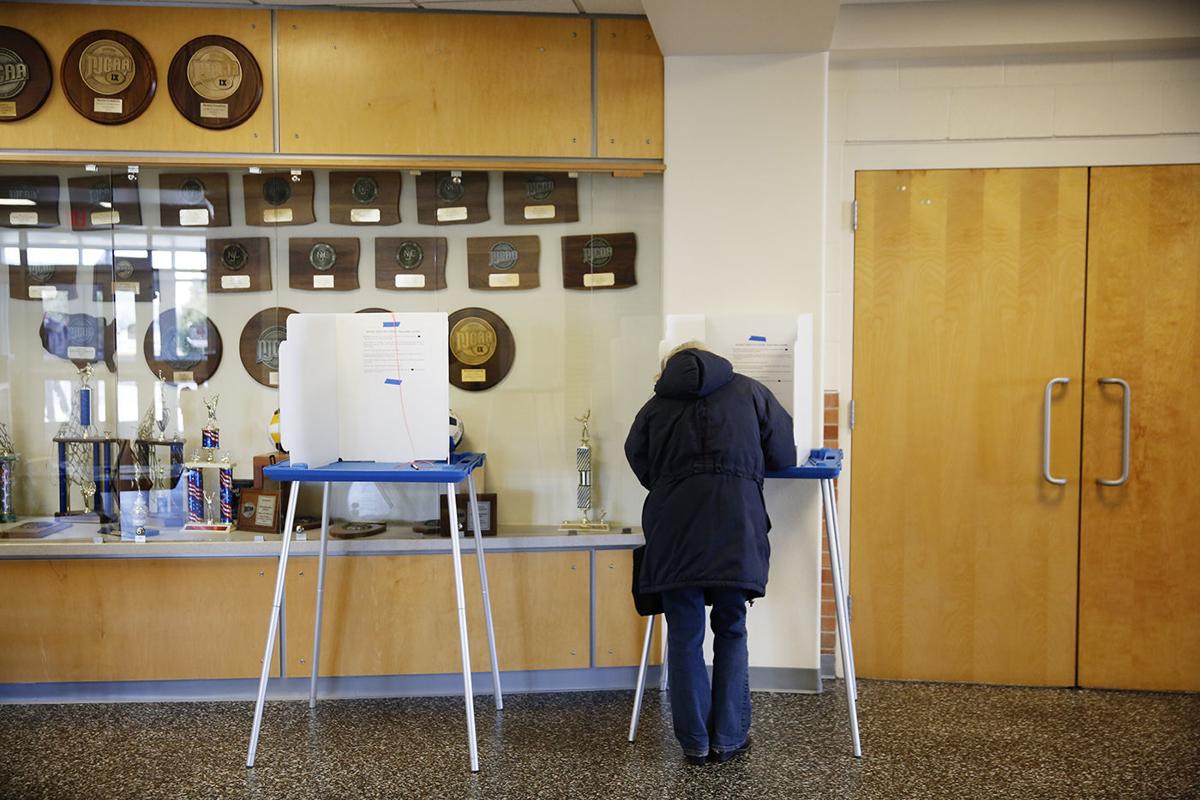 State and tribal officials have started discussions over making it easier for voters with tribal identification to use them to vote in Wyoming. The talks follow concerns of difficulty using them to register last fall.
Last week, Wyoming Secretary of State Ed Buchanan met with leaders of the Eastern Shoshone and Northern Arapaho tribes, among others in attendance, to discuss how the state could allow tribal IDs to be the only form of identification tribe members would need to register to vote.
Although tribal IDs can currently be used to register, a driver's license, its number or a Social Security number must be presented with the ID in Wyoming. Tribal leaders say that the type of information included on many tribal IDs and the rigorous process for obtaining one should qualify them to be the only form of identification needed when registering to vote.
"There's a lot of process that goes into that," said Leslie Shakespeare, co-chairman of the Eastern Shoshone Business Council. "We want to show our unique status as a federally recognized tribe is just as valid as any state-issued ID out there."
That information, according to the state, is needed to ensure that person is eligible to vote or isn't a convicted felon without restored voting rights.
The meeting also included Rep. Andi Clifford, D-District 33, a citizen of the Northern Arapaho Tribe; Rep. Lloyd Larsen, R-District 54; and representatives from the Fremont County Clerk's and Attorney's offices, according to tribal officials. The discussion was the first in what Buchanan and Shakespeare said in interviews with the Star-Tribune would likely be multiple meetings, including discussions with members of the state Legislature's Select Committee on Tribal Relations.
"We're at the beginning stages of trying to find a solution," Buchanan said. "It was a good meeting. … I learned about the tribal IDs, and I learned a lot about the facts I need to know going forward."
The meetings came after the Wyoming Democratic Party alleged in May that members of the two Wind River Reservation tribes had difficulties registering to vote for last year's election. The concerns also followed more widespread worries about voter suppression on Indian reservations around the country, most notably in North Dakota, after incidents of voting difficulties.
You have free articles remaining.
Calling it a "well-vetted process," Buchanan said he was surprised to learn how much information is included on — and required for — many tribal IDs.
Tribal IDs like the Eastern Shoshone's often include addresses, date of birth and blood degree, in addition to common physical identifiers like height, weight and eye color, Shakespeare said. To receive an Eastern Shoshone ID, he said a Social Security number and state-issued birth certificate is needed.
While Buchanan and Shakespeare said they support continued discussion, the biggest hurdles are federal voter registration laws, which prohibit the sole use of a tribal ID without a drivers license to register.
"I want to find a solution that works for both tribes," Buchanan said, while adding that any solution has to comply with federal laws. "That's the variable or the factor that we have to deal with."
In the meantime, Buchanan said he'll be speaking with other states, like New Mexico, that have tackled the issue. Other states like Montana and Arizona allow tribal IDs to be used for voting, Shakespeare said.
A more immediate solution, Buchanan said, would be to include driver's license numbers on tribal IDs or the last four digits of a Social Security number for those without licenses.
One concern with that idea, Shakespeare said, would be the required education needed to inform law enforcement, government and election officials that the information, like a driver's license number, on a tribal member's ID is legitimate.
"Right now, we have people that question tribal IDs," he said. "We want to make sure anything we do works in practice and people trust it."
Shakespeare said educating tribal citizens about tribal identification and where and how it can be used is also important. Often, tribal members' "assumption is always 'I can use my tribal ID," he said.
Follow reporter Chris Aadland on Twitter @cjaadland
Get Government & Politics updates in your inbox!
Stay up-to-date on the latest in local and national government and political topics with our newsletter.