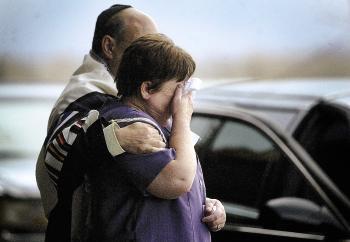 Sarah Dawn Tolin lived a full and beautiful life.
Good memories of that life wrestled hard Monday afternoon against grief over her death at age 23 last week at an Oklahoma University apartment.
Tolin was best-known for breaking the gender barrier as the first girl to wrestle on a Wyoming high school varsity team. Her death in Norman, Okla., is still under investigation, but her life was recalled on Monday with a poignant celebration.
"The Tolin family has always been an integral part of the Jewish community of Casper," said Barb Watters at the opening of the afternoon service at Highland Park Community Church.
"As in every phase in our life as Jews, we journey with others; with those who have come before, and those who stand with us now, and those lying ahead," said Watters, president of the Jewish Community of Casper.
The Jewish faith has known death, sorrow, and continuing life even after death, she said. "Death is not the end; in our hearts, our loved ones never die."
Hundreds of hearts - of family, friends, members of Temple Beth-El, schoolmates, judges and fellow lawyers of Sarah's father Don Tolin - filled the church for the service before she was laid to rest at Highland Cemetery.
For a half hour before the service, Sarah's sister Cece and brothers Joshua and David presented the gathering mourners with a photo and music tribute.
Scores of photos portrayed a rich life: family, wrestling, school events, friends, Job's Daughters, lighting the Menorah at Hanukkah, travel, 1999 and 2000 group photos of the Trojan wrestling team, a trip to Mount Rushmore, looking cool in sunglasses, and more family, more friends, and more wrestling.
Mourning, Watters told the Tolin family, passes through phases of crying, silence and singing.
"This sharp, intense grief is painful and real," she said.
It evolves into silence with the recollections of the loved one's life, and then to mourning's highest form, singing, Watters said. "Make her memory a song."
Rabbi Sam Wiseman of Temple Beth-El picked up that theme.
"Death is as much a part of life as birth," Wiseman said.
Sarah's wrestling coach, Ron Estes, eulogized her by recounting how much life she packed into her few years.
Already an accomplished athlete, she changed state sports history by successfully challenging the Wyoming High School Activities Association rule that prohibited mixed-gender teams, Estes said.
Her work ethic and efforts paid off, he said. "Sarah became quite buff."
The team regarded her as an equal, she always finished matches, and enjoyed wide support from around the state and especially her family through her Kelly Walsh High School years culminating in her graduation in 2000, Estes said.
Other school and extra-curricular accomplishments included Girl Scouts and Explorers; student council; playing viola; travel and study in Mexico, Peru and Guatemala; and multiple letters in varsity sports.
Estes began crying when he recalled coaches selecting her for an outstanding athlete award.
During her college careers at Casper College and Neosho County Community College in Kansas, she was named to dean's lists, developed her wrestling skills and received national and international recognition for her wrestling ability, Estes said.
She would have graduated from the University of Oklahoma in May with a double major in sociology and history.
"Sarah Tolin was always a champion," he said.
Dale Fitzsimmons, pastor of Faith Bible Chapel and a long-time friend of the Tolins, called to mind King David, who wrote that his times were in the hands of God, Fitzsimmons said.
"I know that this is a dark, chaotic time for you, but I know in his time, as we read, he makes all things beautiful," he said.