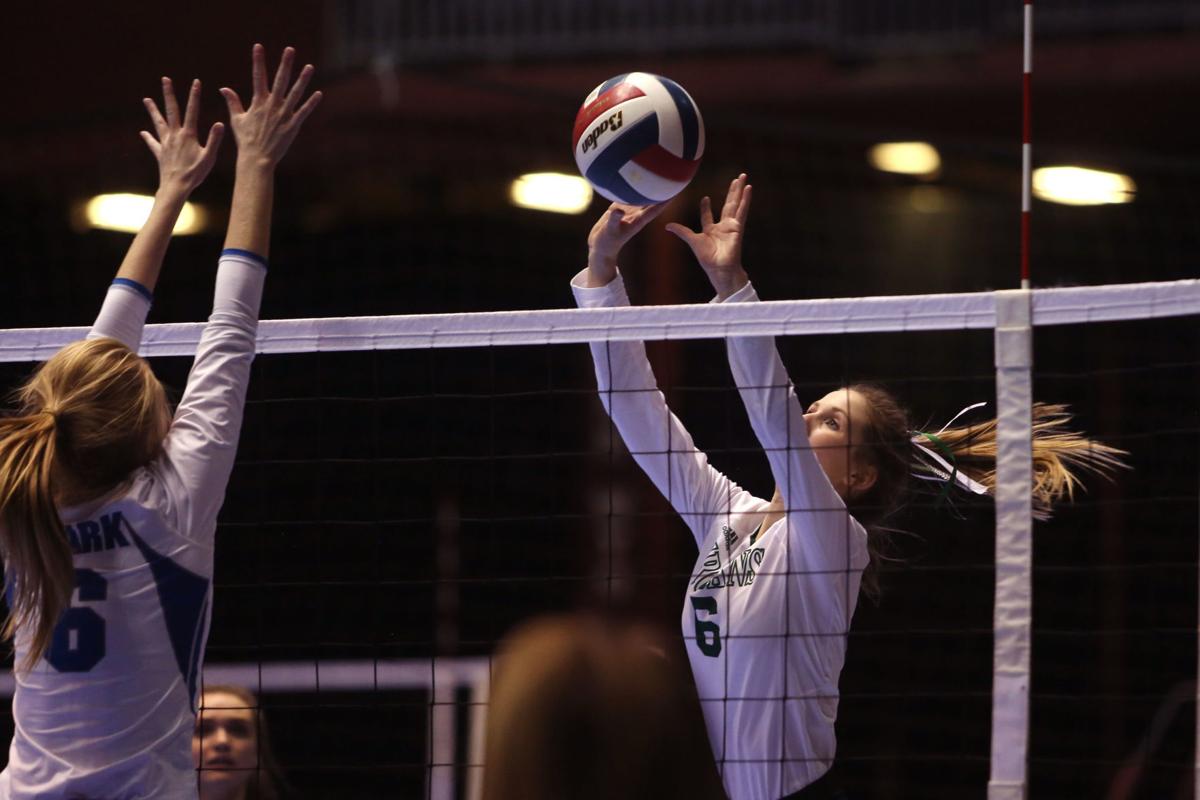 The Casper Events Center nearly shook to its core as green-clad fans and admirers from around the state roared throughout a Thunder Basin timeout.
The Bolts called for the break after Kelly Walsh jumped out to a 4-0 lead in the fifth set of the 2019 Wyoming State High School Class 4A Volleyball Championship on Saturday. Having rallied from two sets down to force a fifth, the Bolts felt the momentum shifting away from them.
Kelly Walsh four-year starter Danilynn Schell came out of the timeout to serve. Ace. More momentous hometown cheering.
Schell was called upon again later. Senior classmate Isabelle Lyons set a ball up for her Division I-bound friend. And down it went. That kill gave Kelly Walsh a 13-5 lead, bringing the Trojans ever closer. An ace from freshman Peyton Carruth and a decision from senior Corin Carruth to let a ball go out ended the season. Kelly Walsh survived (25-17, 25-19, 22-25, 22-25, 15-6) to avenge the Trojans' lone loss of the season and win a third consecutive state championship.
"We had a chip on our back from that," Schell said of the previous loss. "We wanted to show them that we were the best team in the state. And we did that."
The reigning champions started the match with the confidence of a multi-time state champion. Up by just one, the Trojans finished the first set on an 8-1 run — capped by a kill from Schell. They did it again in the second set, taking an 18-all tie and finishing on a 7-1 run with a kill by Lyons.
Thunder Basin continued to scrap into the third set. It was 18-all yet again and the Trojans led by as much as 21-19 before the Bolts rallied. And when the Bolts needed points they turned to senior Rigan McInerney.
McInerney constantly provided an offensive spark for the Bolts, pummeling kills across the back line and providing support for her teammates. She scored a necessary point during Thunder Basin's third-set closure and carried her attack in the fourth. Four of McInerney's fourth-set kills came immediately after Kelly Walsh points. That helped Thunder Basin take a 14-all tie, turn it into a 21-17 lead, and hold on to force a fifth set.
"We recognize she's a good hitter, we just know we have to come back with each ball just as strong," Corin Carruth said of McInerney. "(We) just have our blockers line up on her shoulder and our defense line up around her so we can cover all the angles."
McInerney calmed her team and gave motivational instructions going into the fifth set. This wasn't new. After all, the Bolts rallied to win in five in the semifinals against Cheyenne East.
Kelly Walsh, meanwhile, may have been nervous but remained calm going into the final set. The Trojans had been there before too.
"I just told them that this could happen and we could lose right here and over there they were probably talking about how they came back last night and could fight and win," Kelly Walsh head coach Jeff Barkell said. "You've got to think about how you want to feel at the end of this game and play accordingly."
The Trojans came out on fire. Schell drop shot. Sarah Strube kill. Corin Carruth kill. Another Corin Carruth kill. That forced the timeout. Thunder Basin didn't score in the fifth until 5-1. The senior Carruth delivered another kill to make it 6-2. Then she impacted a ball at the net for 7-2. The Bolts went back to their leader but McInerney's influence wavered from the back.
With championship resolve came the Trojans' final run — and a third straight state championship.
Follow sports reporter Brady Oltmans on Twitter @BradyOltmans
Get local news delivered to your inbox!
Subscribe to our Daily Headlines newsletter.