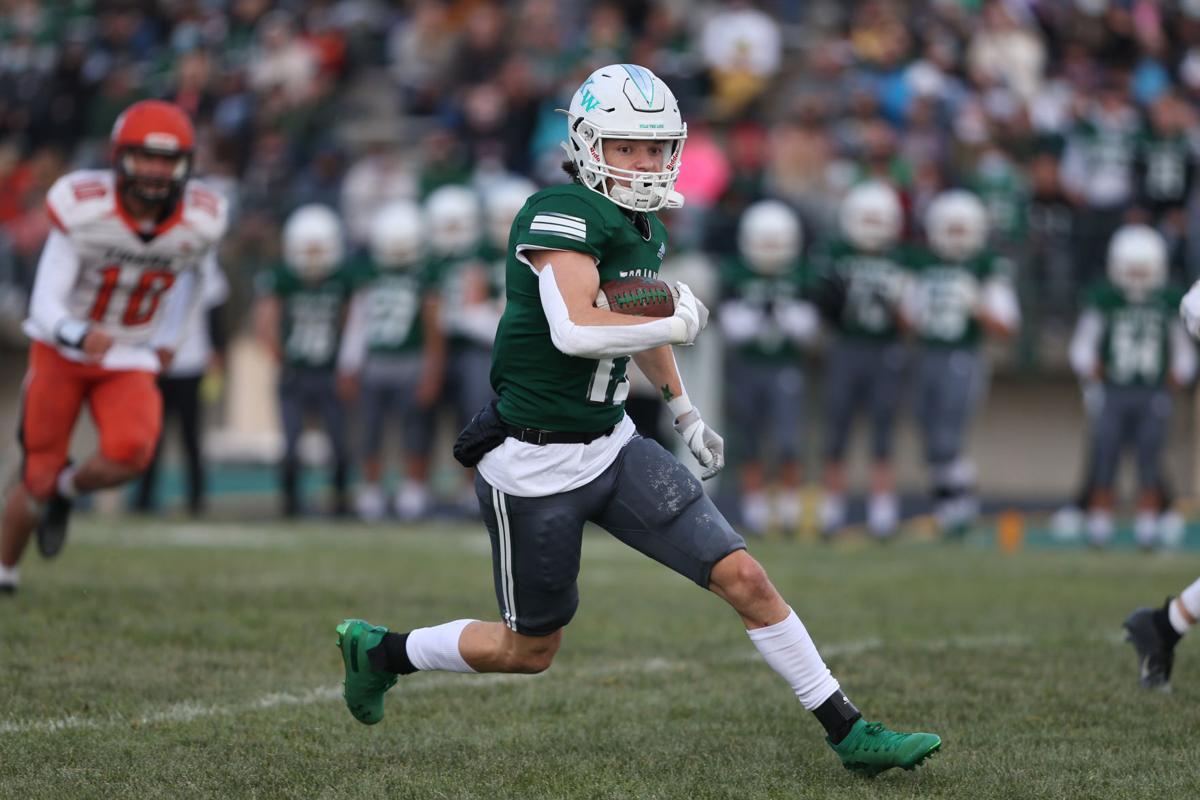 Three weeks into the 2020 season, Kelly Walsh has already equaled last season's win total. And the Trojans did so in dramatic fashion Friday night at Harry Geldien Stadium, scoring with 6 seconds remaining for a 28-24 victory over Rock Springs.
The Tigers had taken a 24-20 lead with 2 minutes, 2 seconds left to play on a 25-yard scoring pass from Brock Bider to Isaac Schoenfeld. There was no sense of panic on the Kelly Walsh sideline, though.
"I didn't see anybody flinch," second-year Kelly Walsh head coach Aaron Makelky said. "We practice that situation multiple times a week and we knew time wouldn't be a factor. If it came down to athletes in space, and that's what we needed to do to win, I liked our match-up."
The Trojans' final drive began at its own 21 with 1:56 on the clock. Two quick passes from Trenton Walker to Korven Kaufmann and Dom Jahr gave the Trojans a first down at the 39. Three runs by Walker moved the ball to the Rock Springs' 43 with a fresh set of downs. Just over 1 minute remained, but the only concern from the Kelly Walsh side of the field was coming from the fans in the stands.
"I told Trent on the sidelines, 'We've got plenty of time. Let's go down and win this thing,'" senior receiver Dom Jahr recalled.
Three plays later the Trojans faced a fourth-and-1 at the 34 with just 42 seconds remaining following an incompletion – Walker's only one on the final drive. The senior quarterback brought the team to the line, took the snap and handed off to junior running back Cam Burkett, who fought his way for 8 yards and another first down.
The clock inched closer to 30 seconds but still there was no sense of worry from the Trojans.
"All the coaches were coming up to me and saying, 'You've got this. We believe in you,'" Walker said. "And that really helped."
Rock Springs managed to get pressure on Walker on the next couple plays, but he eluded a couple of would-be tacklers before the Tigers pushed him out of bounds inside the 10. A penalty pushed the ball back to the 15.
"He was under pressure all night and he did such a great job of rolling out," Makelky said. "And with them being in man coverage, he knew if he got out of the pocket he could run."
There were 11 seconds on the clock when the Trojans took their final timeout to draw up a play. As Kelly Walsh broke its huddle, Walker turned to Jahr, who had already caught five passes for 81 yards.
"Trent told me, 'I believe in you,'" Jahr said. "I was jogging back to the line and I whispered, 'I believe in you, too' under my breath. I just knew we had it in us."
Jahr lined up to the left of the formation and broke to the corner of the end zone on the snap. The Kelly Walsh offensive line gave Walker all the time he needed and he unleashed a strike to Jahr, who had his defender pinned on his back shoulder. Jahr reached up and grabbed the pass in the end zone with just 6 seconds.
"I had 100-percent faith that he would go up and make the grab because he's a clutch dude," Walker said of Jahr.
Added Burkett, who rushed for 116 yards and had touchdown runs of 5 and 42 yards: "I saw Trent throw the ball to Dom and I was just screaming because I knew Dom was going to catch it."
The touchdown set off a wild celebration on the sidelines and in the stands. Moments later, the outcome was final when the Trojans sacked Bider.
Walker completed 19 of 26 passes for 196 yards and ran for 102 more. He was at his best on the final drive, though. He was 5-of-6 for 42 yards and added 32 yards on the ground.
"Maturity wise with Trent, you can see it with the poise in the pocket and the decision-making," Makelky said. "He's a different guy and we're a different team than we were last year."
The victory was one the Trojans might not have been able to pull off last year, when the coaches and the players were still trying to get on the same page. But Friday, Kelly Walsh overcame penalties that killed drives, some coverage mistakes on defense and Walker's fumble into the end zone, which Rock Springs eventually turned into the go-ahead touchdown.
"There were a lot of opportunities for our kids to hang their heads," Makelky acknowledged. "I think that's the biggest thing our kids have learned. If you just put your head down and move on to the next play and not find a reason to give up, guys are going to find a way to make plays and win it at the end."
"We're fighters and we're playing as a team," he said. "Coach is always telling us that if everyone does their job the scoreboard will work itself out."
Next up for the Trojans is crosstown rival Natrona County, which comes to Harry Geldien Stadium for the annual Oil Bowl next week.
Follow sports editor Jack Nowlin on Twitter @CASJackN
Get local news delivered to your inbox!
Subscribe to our Daily Headlines newsletter.