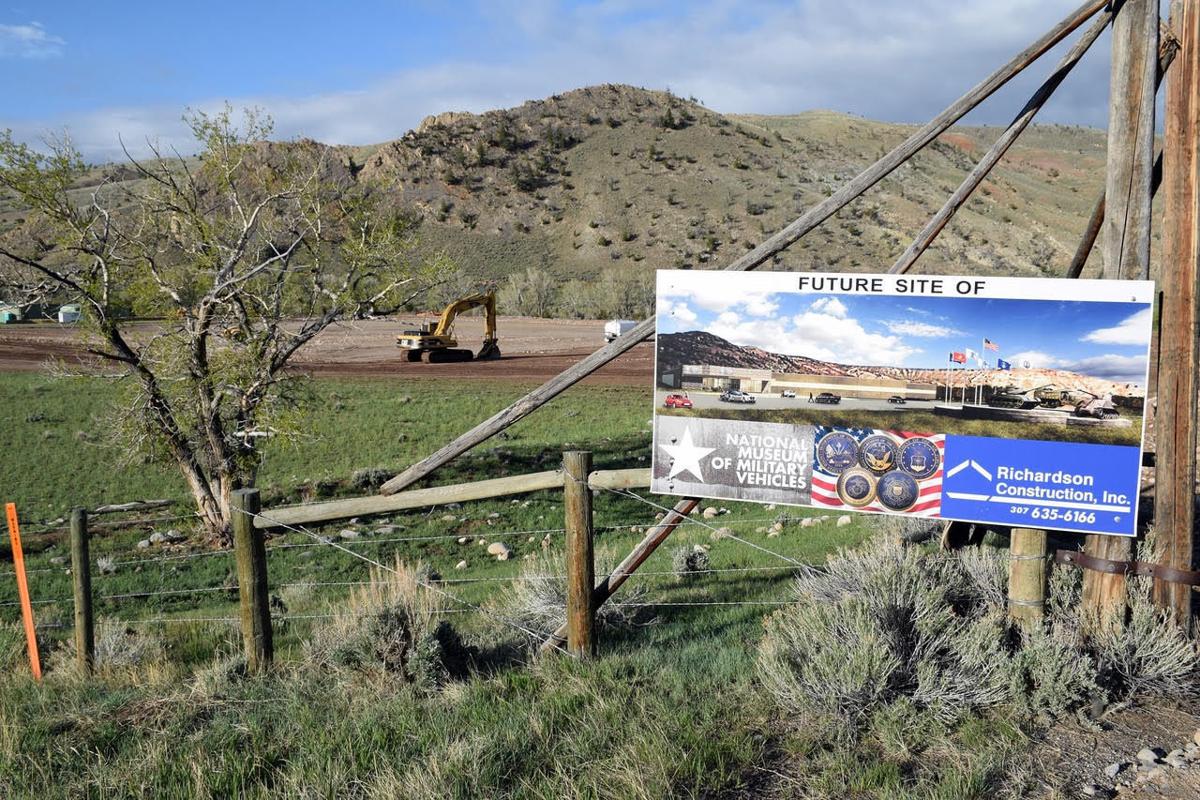 DUBOIS — A boyhood passion for military history, a "30-ton paperweight" rotting in a field and a snowball effect all played a part in the process of the creation of the National Museum of Military Vehicles coming to life in Dubois.
The man on this mission to build the museum is Dan Starks.
"I had an interest in military history since I could read," he says. "I played guns, read books about the frontier experience, the Civil War; that was always the stuff I liked reading. I never lost that."
Sharing the personal experiences of a friend who served in Vietnam led Starks to "read every book I could get my hands on about the Vietnam War. As I neared the point of retirement, I have been able to dig back into the passion that started when I was eight years old."
Starks and his wife, Cynthia, purchased ranch property west of Dubois in 2011 and began building a home, which included a "tank barn" to house what was then an 11-tank collection. The barn could hold 20, so there was room for expansion.
The "tipping point" in deciding to create a museum came in 2016 when the private, family-owned Normandy Tank Museum shut down and its collection was liquidated. Starks purchased a number of tanks and items at the auction, which included mannequins outfitted with original authentic WWII uniforms and kits.
"We spread them out among the tanks (in the tank barn) and...it was just too cool; it was more than we imagined," Starks says. "So we asked ourselves, 'Why have it as a private thing for us and our friends to look at?'"
They came to the conclusion that they would have to build a facility away from the ranch– and that facility would be a museum.
***
He had a "hard time" figuring out the location, but there were a few criteria. It had to be "close to town without being annoying" even though land would be less expensive elsewhere, have highway frontage and have room for expansion.
The Wind Rock Ranch, about six miles east of Dubois, fit the criteria.
Although the entire ranch is about 1,500 acres, there are 27 flat acres situated between the south side of the highway and the Wind River, which is where ground was broke a few weeks ago.
Construction completion of the 140,000-square-foot building– which has a four-acre footprint– is expected in May 2019, but it will take additional time to set exhibits and build dioramas. Starks expects the museum to open later next year.
The Starks are fully funding the project themselves; they are seeking no local, state or federal funding.
***
Planning the displays has been in parallel with the construction.
Starks has visualized in his head what he wants the museum experience to be and so far has designed the exhibit himself, laying it out with precise dimensions on graph paper.
"In my mind, the exhibit display is dynamic, but on paper it's pretty static," he says. "In two weeks, I want to have the skeleton of the vehicle display room documented so I can take it to the exhibit building firm to start discussions. I want to be able to say, 'Here's the general idea– now make it live."
Starks begins a verbal tour of the museum from the point of entering the lobby, which will house "a vehicle or two."
One room will be dedicated as a research library that will include "a collection of every single technical and operating manual for every single U.S. World War II military ground vehicle," Starks says. "There's no such collection anywhere outside the Smithsonian that I'm aware of."
Fifty pallets of these documents – which are all originals – are in the process of being cataloged, which will take about a year.
"This will be a unique research capability," he says. "There's a lot available on the Internet, but not the original source and not in the original language of the time."
***
There is also an extensive number of hours of raw footage of World War II scenes from the National Archives that are being transferred to digital format to be contained in the library.
He is especially pleased the library will include a video interview with local World War II veteran Tom Guthrie, who shares a firsthand account of his war experiences, including Guadalcanal and Iwo Jima.
"It will be a historian's dream," he says of the library. "I can hardly wait to see it."
A "huge" walk-through firearms vault will display modern military firearms "from mortars to machine guns to pistols to anti-tank rifles from World War II, Korea, Vietnam and post-Vietnam, including Japanese and German machine guns and mortars."
A complete personal collection of every Winchester gun model from the company's founding in 1866 to the sale of the company in 1966 – even a few that the Cody Winchester Museum does not have – is also being considered.
The vision is to include both gun collections, but because the Winchester collection "doesn't fit the theme of military vehicles," it will be saved for a future expansion project should the vault fill up with military guns.
***
The museum will include a 10,000-square-foot display case room to exhibit smaller military artifacts from the same time periods covered by the vehicles.
Highlights of the display case room will be an original two-volume set of General George Patton's personal war diary, and original documents relating to the Normandy D-Day invasion that are marked Top Secret.
Original uniforms, equipment, home front items and a wide variety of other artifacts relating to U.S. military history will be exhibited in the display cases.
The first vehicle display bay will be 55,000 square feet dedicated to World War II, through a combination of dioramas and vehicles so "people have a sense of the environment surrounding these vehicles and how they were used."
The walls will be covered with images to set the scene that will depict U.S. military logistics and supply chain and on to a command post, followed by a line of artillery, armored half-tracks, then tanks.
A second vehicle bay, also 55,000 square feet, may not have any dioramas on the day of opening, but will house post-World War II vehicles.
The vehicles lined up in the museum will show technological advancements over the decades, but to Starks, it's more than just an impressive array of vehicles.
"It will be a parking lot, but it will be a parking lot with a story," he says. "It will give the soldiers' courage some life. That's the main reason. It's not about the vehicles, it's the human experience, using the vehicles to help tell the story."
***
His enthusiasm for the project is palpable, but Starks' knowledge of the history and advancement of military machinery goes far beyond the interest piqued in his youth.
He can rattle off without hesitation how technology evolved due to pressures in battle and also on the home front. He can give details of where each of the vehicles might have been used, and how, on the war front.
"I started with one tank and didn't intend to get more," he says, laughing at what has become a prime example of intentions gone awry.
About eight years ago, the Starks created the Nevada State Veterans Memorial and in the course of fundraising, met a veteran who had access to a World War II Sherman tank. "A 30-ton paperweight overgrown with trees," he recalls.
He bought that first tank in 2010, but the restoration took seven years and it wasn't ready until last summer.
"That's why I got another one; it was taking so long for that one to be restored," he laughs. "Then it snowballed."
His collection of military vehicles now numbers about 250.
***
Many of the vehicles, in various states of repair, are spread through several restoration companies (one in the Netherlands and others in Indiana, Kentucky, Missouri and Salt Lake), all of which have a backlog. Eventually, Starks wants to add his own restoration facility as an expansion of the museum.
Starks is aware the museum will create "surrounding economic consequences" and he hopes those will be a boon to the businesses in Dubois.
"It does have the opportunity to become a destination– the museum just has that much substance to it," he says. "There will be a ripple effect outside of how many new jobs are created."
Starks has built his collection in part through liquidation from other collectors, and because of that, he is ensuring that the local museum won't suffer the same fate.
"We're going to endow our museum so it can live in perpetuity," he says. "There's such an educational value to it. We want people to become more educated about this history. It's important now and will be every bit as important 10 years from now and 40 years from now."