Wyoming's newly elected U.S. House Rep. Liz Cheney criticized President Donald Trump's views on NATO and Russia in comments to the Star-Tribune.
"He's wrong," Cheney said. "I hope that we'll see a change."
While Cheney has long supported NATO, her comments in a wide-ranging interview on Wednesday appear to be her first direct rebuke of the new Republican president.
Trump criticized NATO throughout the presidential campaign while praising Russian President Vladimir Putin, who views the alliance as a threat.
Trump doubled down on his attacks in an interview with two European publications published last week.
"I took such heat when I said NATO was obsolete," Trump said. "It's obsolete because it wasn't taking care of terror."
Wyoming's U.S. House Rep. Liz Cheney sat Wednesday for a wide-ranging interview with the Sta…
Cheney disagreed with the president.
"It's wrong to question the validity and the importance of NATO and certainly wrong to use words like obsolete," she said.
While she agreed with Trump that some NATO members need to raise their defense spending, Cheney was unambiguous in her support for the organization.
"NATO is probably the most effective military alliance in history," Cheney said. "We're going to defend it."
Cheney worked in the State Department during the George W. Bush administration and shares a belief in an aggressive and engaged U.S. foreign policy with her father, former Vice President Dick Cheney.
Cheney also took issue with Trump's suggestion that Putin and German Chancellor Angela Merkel, a close American ally, had equal credibility.
"I start off trusting both — but let's see how long that lasts," Trump was quoted as saying in the European publications. "It may not last long at all."
Cheney countered: "Angela Merkel is a much better ally of the United States than Vladimir Putin is."
In 2015, Cheney co-authored a book with her father, "Exceptional: Why the World Needs a Powerful America," which attacked what the two saw as the sheepish and destructive foreign policy of President Barack Obama and Secretary of State Hillary Clinton.
In the Star-Tribune interview, Cheney said that one of Obama's signature international efforts, the Iranian nuclear agreement, has been an abject failure.
She said that Obama had ceded influence in the Middle East to Iran, leading to regional instability and worsening the civil war in Syria.
"It's created tremendous upheaval. Hundreds of thousands of innocent people have been slaughtered by the Russians and their allies in Syria," Cheney said. "That's going to be a stain on this presidency."
After the fall of the Soviet Union, the national security establishment in the United States…
Cheney's harshest foreign policy attacks in the book and during her congressional campaign were aimed at Obama and Clinton.
Whether the policy differences between Cheney and Trump will come to a head depends on if the president listens to advisers like Secretary of State nominee Rex Tillerson and newly confirmed Defense Secretary John Mattis — whom Cheney praised in her interview — or relies on aides like his National Security Adviser pick Michael Flynn, who seeks an alliance with Russia based on fighting terrorism, said Rebecca Friedman Lissner, who studies U.S.-Russia policy at the Council on Foreign Relations.
Pavel Baev, a senior fellow at the Brookings Institution, said that Trump is likely to come around to Cheney's views on Russia.
"(I)t makes perfect political sense to come together with the Republican mainstream," Baev said in an email. "There is a Russian saying, 'If you cannot stop a riot, to take a lead in it,' and Trump may take it to the heart."
Baev said it would be easy for Trump to synthesize a tougher line on Russia while still calling for NATO members to increase their military budgets — the aspect of his existing critique that Cheney supports — which Baev called "in perfect sync with the Republican tradition."
Cheney doctrine in new era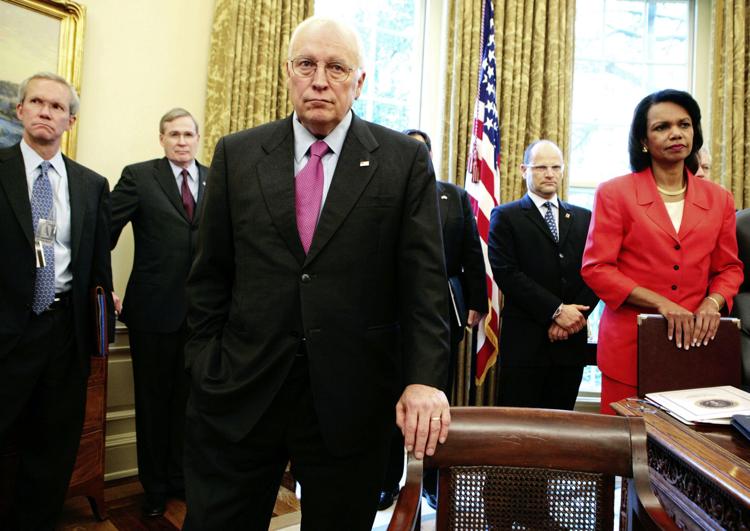 But many differences remain between Cheney and Trump, even if he drops his accommodating attitude toward Russia.
During his time as George W. Bush's vice president, Dick Cheney became the face of a hard-line style of international relations while supporting and defending the invasion of Iraq.
While Trump initially offered lukewarm support for the war, the New York businessman made a point of criticizing the invasion during the campaign and hammered first his Republican primary rivals and then Clinton for their support of it.
Trump has described putting "America first" as his primary foreign policy objective, hinting at a departure from the more interventionist approach favored in mainstream Republican circles for decades.
Through Dick Cheney's long tenure in national politics, from chief of staff to President Gerald Ford in the 1970s to his time as defense secretary under George H.W. Bush and finally as vice president, the Wyomingite embodied that precise strand of foreign policy — one that he shares with his daughter.
You have free articles remaining.
"Cheney's basic view was that there are people that were hostile to the United States' interests and that they had to be dealt with aggressively," said St. Louis University law professor Joel Goldstein, an expert on American vice presidents.
If the Trump administration's stance on Russia remains unclear, Cheney has been warning since the decline of the Soviet Union in the late 1980s that Russia could remain a threat to American security interests.
"I would argue that even in the new world that people want to perceive out there, even after you assume all the positive changes that are being contemplated, you're still going to want to maintain some U.S. presence overseas," then-Defense Secretary Cheney said during a 1990 speech at Natrona County High School.
In the early 2000s, Cheney continued to take a critical view of Russia even while Bush famously told reporters after a 2001 summit with Putin, "I found him very straightforward and trustworthy — I was able to get a sense of his soul."
As vice president during the George W. Bush administration, Dick Cheney played a major role …
"His view of Putin's Russia was far less hopeful and more guarded than those of President Bush," said Leon Aron of the conservative American Enterprise Institute.
Around the same time that Republican presidential candidate Mitt Romney's assertion that Russia was America's greatest geopolitical foe was being mocked by many Democrats and Republicans in 2012, Dick Cheney, with his daughter's help, wrote a memoir that largely predicted the factors leading to Russia's invasion of Ukraine two years later.
Dick Cheney wrote that Russia was "attempting to use military force to unilaterally redraw sovereign boundaries."
Goldstein said this tracked with Dick Cheney's views during the Bush administration. Cheney, he said, was never interested in friendly overtures toward Putin, the former Russian intelligence officer who became president in 1999.
"When he looked at Putin all he saw was KGB, KGB, KGB," Goldstein said. "He never trusted Putin."
Cheneys in lockstep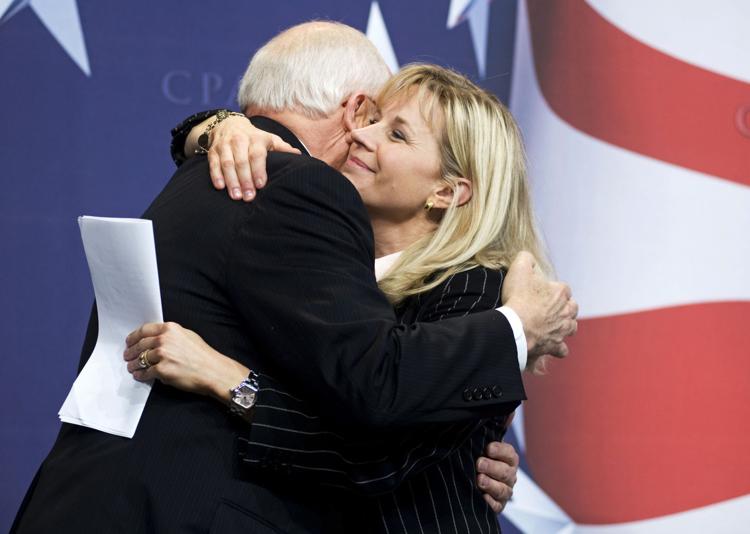 There is little daylight between the two Cheneys, especially on foreign policy.
Liz Cheney was involved in Dick Cheney's decision to join the George W. Bush presidential ticket and worked with him once in office.
"There never was any indication that they had different views of the world or that she was anything other than her father's daughter," Goldstein said. "They have a close personal relationship, and they share similar worldviews."
In the Star-Tribune interview, Liz Cheney echoed her father on Putin.
"Vladimir Putin is not our friend," Cheney said. "He's clearly an adversary."
Before and after being elected, Trump has praised Putin and raised questions about NATO.
But Cheney said doubting NATO could lead to instability in eastern Europe.
"When you get in a situation where they start to question our resolve, they start to question whether we'll really stand up for our NATO allies, that's when the world becomes really dangerous," Cheney said.
"They could then miscalculate," she said. "They could think, 'Oh, America's not going to step up here, so we'll go ahead and roll into eastern Europe.'"
While neither Cheney has shied away from unpopular positions in the past, it is helpful for the newly elected Cheney that while her and her father's unflinching views on intervention in the Middle East may have fallen out of favor, their consistently tough line on Russia is returning to the mainstream.
"It's rapidly becoming a bipartisan issue," Aron said. "The consensus is forming in the Congress, and Ms. Cheney is presenting it obviously well."
While Liz Cheney focused much of her recent campaign on energy and land management, differentiating herself from Trump on foreign policy may be useful in building what she described during the Obama administration as a coalition of traditional conservatives and security-minded Democrats and independents.
But while the validation of Cheney's tough stance on Russia offered by recent events could be a political boon, Lissner said other parts of the Cheney foreign policy remained outside of any emerging consensus on America's role in the world.
Traditional power politics is focused on ensuring the United States remains the sole superpower in the world by keeping countries like Russia and China in check. While the Cheneys advocate for doing both those things in "Exceptional," Lissner said those policies clash with Dick Cheney's role in the Iraq War, which Liz Cheney has steadfastly defended.
"Cheney has been hawkish on Russia for quite a long time," she said. "(But) if you are really worried about competing with Russia, competing with China, you don't do things like invade Iraq."
In that respect, even if Liz Cheney's consistently tough views on Russia have again come into vogue, her loyalty toward her father's foreign policy — including Middle Eastern intervention — could affect the influence she is able to have in a political climate where Americans remain wary of sending troops back to Iraq or into Syria.
Likewise, in "Exceptional," she and her father call for building up the military to make the use of force more of a credible option when U.S. interests are threatened, and they call for keeping American troops in Afghanistan.
Most indications point to Liz Cheney genuinely sharing her father's foreign policy vision. But if political necessity requires her to drop some of the unpopular positions she shares with her father, Goldstein, the vice presidential scholar, said her father wouldn't stand in the way.
"It's not that he's saying to Liz, 'You need to go get into politics to advance my legacy," Goldstein said. "I'm sure he's very proud that this is something that she wants to do and that they have similar views — but (even) if it turned out she was a liberal Democrat, I don't think he would disown her."