Photo Credit: Alamy Stock Photo
Driving is a way of life for most Americans. Data from the U.S. Census Bureau shows that there are more than 120 million vehicles used for commuting, and research conducted by Gallup found that 83 percent of adults drive at least several times per week. Even though driving is one of the most popular modes of transportation, it's not without risk.
Research from the National Highway Traffic Safety Administration (NHTSA) shows that in 2017, driving was responsible for 37,133 fatalities. Adjusted for population, that's 11.4 driving fatalities for every 100,000 people in the U.S.
Driving has long been a leading cause of death among teens—young drivers have less experience and are more likely to engage in risky driving behavior. There has been a slight rise in traffic fatalities over the past five years, but the longer term trend shows that fewer people are dying as a result of car accidents.
Despite safety improvements over the past 25 years, certain times of the day and week are still more dangerous than others for drivers. Car accidents can occur at any time, but data from the NHTSA shows that fatal accidents are more likely to occur on nights and weekends. In 2017, there were 70 percent more fatal accidents between 6-9 PM than between 6-9 AM. Likewise, compared to Monday-Thursday, Friday-Sunday saw 25 percent more fatal crashes per day.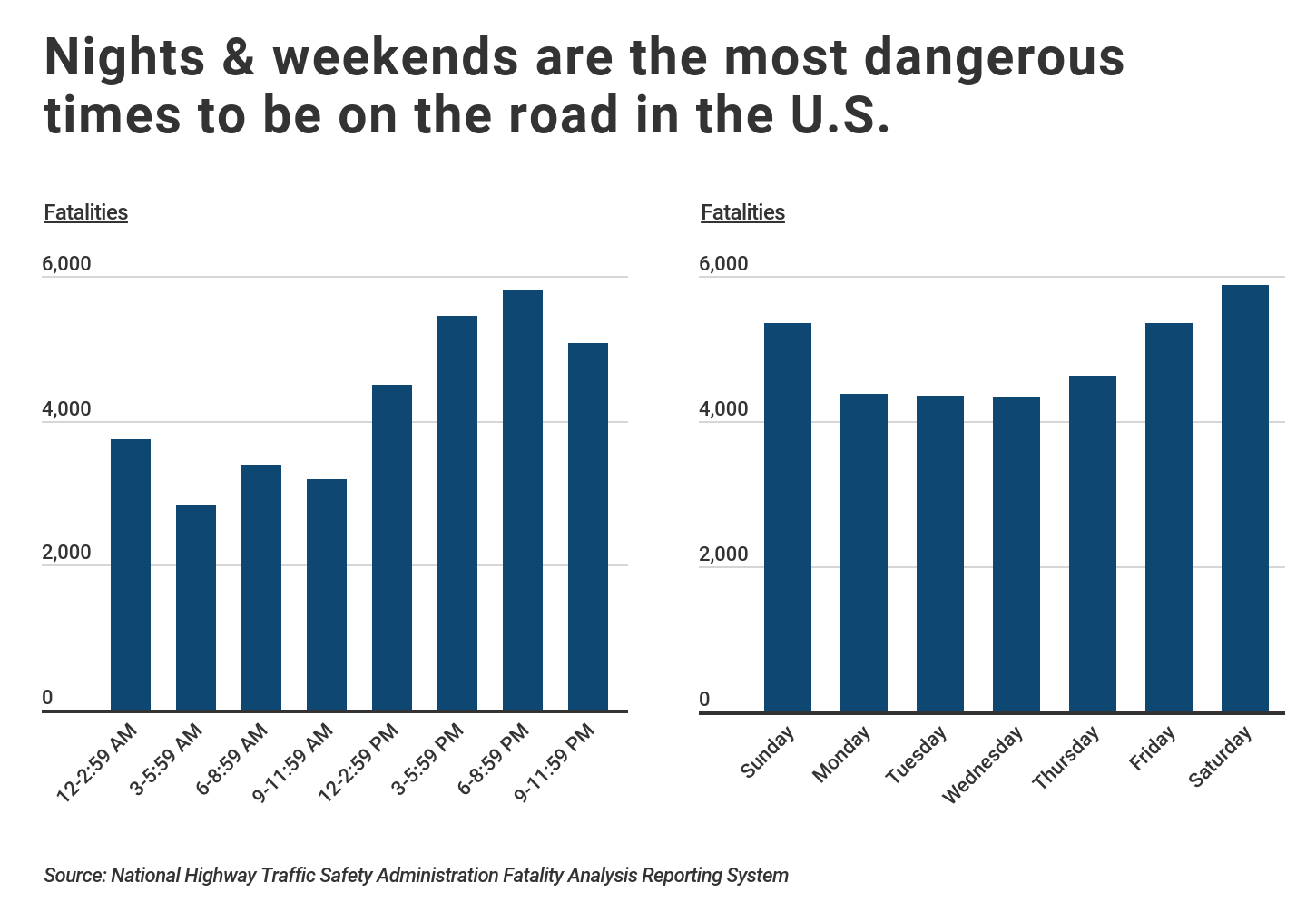 Timing is not the only factor that influences traffic fatalities; location matters too. The likelihood of getting into any car accident is higher in urban areas, but the likelihood of being involved in a fatal accident is higher in rural areas. According to the IIHS, only 19 percent of Americans live in rural areas and 30 percent of the miles traveled by vehicles occur in rural areas, but almost half of traffic fatalities happen in these locations. Within rural areas, crash deaths are also more likely to occur on local and collector roads rather than on interstates.
According to the Federal Highway Administration, rural collector roads and local roads may not be fully paved or have clearly delineated directions of travel, increasing the likelihood of collision. In addition, the speed limit on rural roads is usually higher than on urban roads, and crashes that occur at higher speeds can be more severe. These factors are compounded by limited (or delayed) access to health care services in many rural areas.
Collisions aren't the only danger for drivers. Cars are also subject to theft—a crime that cost Americans about $6 billion in 2017. The good news is that vehicle thefts have also been trending down over the past two decades. In 2017, the number of vehicle thefts nationwide was about a third lower than what it was in 1998 and the rate of vehicle thefts per 100,000 people was nearly halved.
Similar to motor vehicle accidents and fatalities, location is a big determinant in the likelihood of having a car stolen. Most car thefts occur in Western states, such as New Mexico, Nevada, and California. By contrast, states in the Northeast, such as Vermont, Maine, and New York, tend to have lower rates of motor vehicle theft.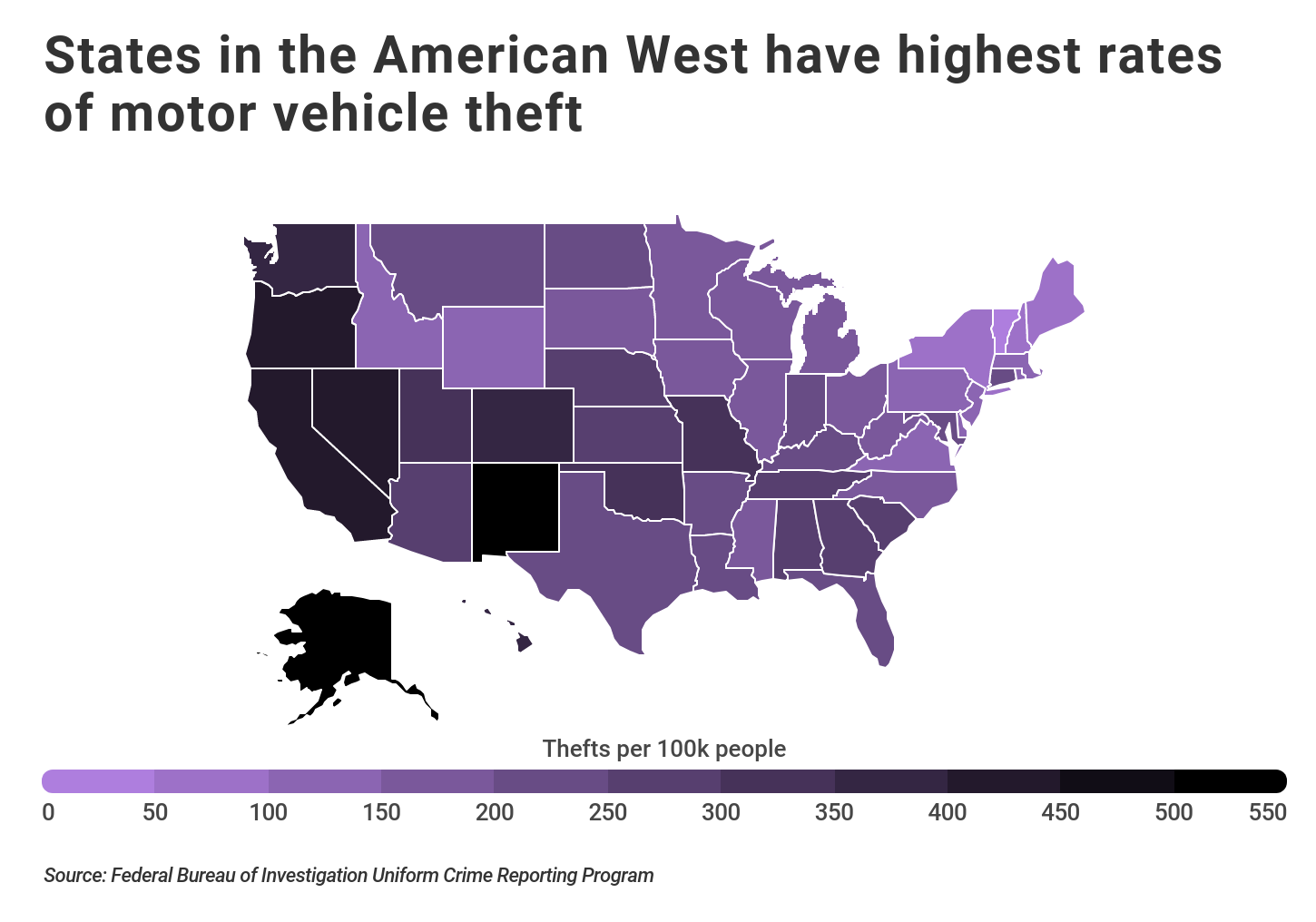 When considering the likelihood of collision, traffic fatalities, motor vehicle thefts, and inclement weather, some cities are more dangerous for drivers than others. To identify the most dangerous cities for drivers, researchers at CarInsuranceCompanies.com used data from the National Highway Traffic Safety Administration Fatality Analysis Reporting System, Allstate's America's Best Drivers Report, the Federal Bureau of Investigation Uniform Crime Reporting Program, and the National Centers for Environmental Information Comparative Climatic Data to create a composite score for each of the largest U.S. cities based on the following factors:
Motor vehicle fatality rate (50%)
Relative collision likelihood (30%)
Motor vehicle theft rate (10%)
Annual days with precipitation (10%)
Only the 183 most populous cities in the U.S. with available data from all of the sources were included. Here's what the study found: