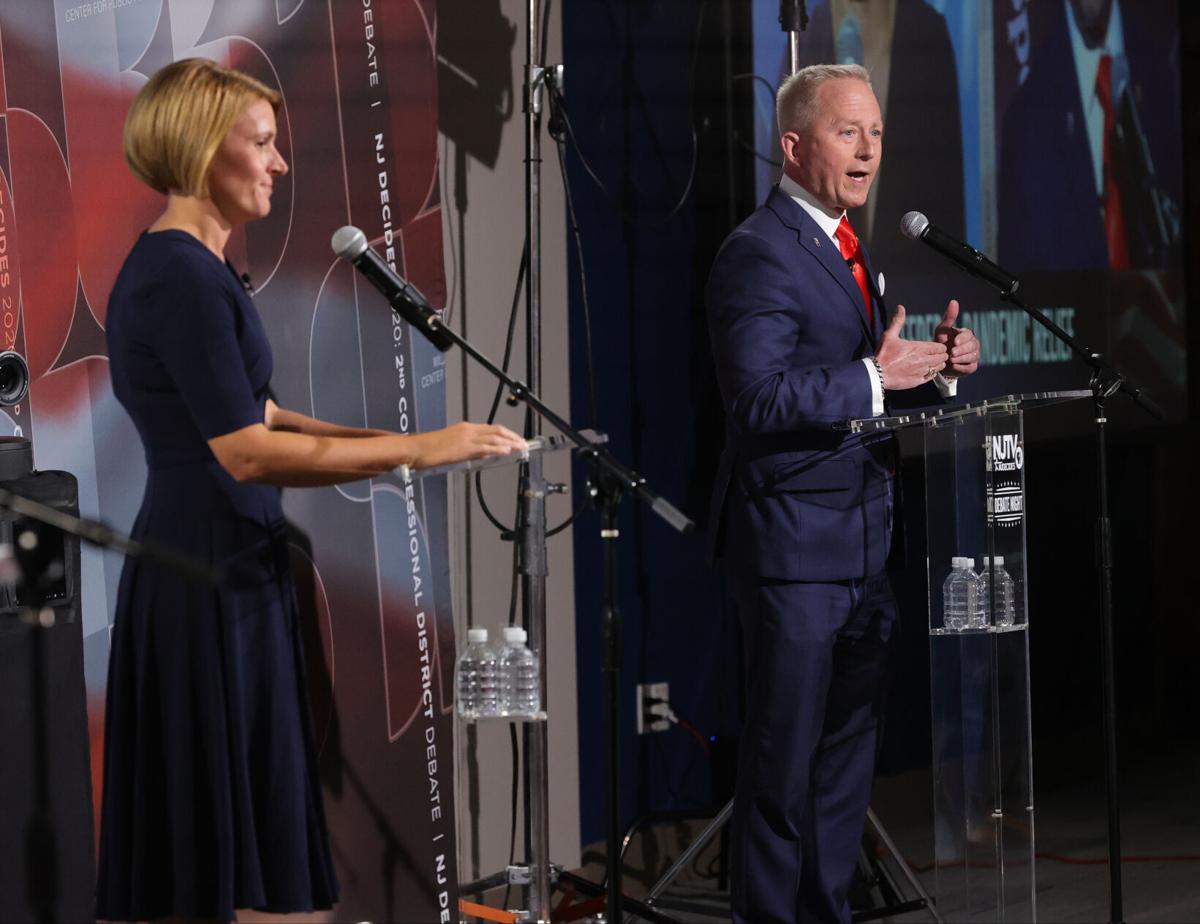 An already historic general election in the midst of a pandemic got more complicated Monday as one Congressional candidate went into quarantine for COVID-19 exposure and officials discovered that incorrect ballots were sent to 554 Hamilton Township voters.
The incorrect ballots, which the Atlantic County Clerk sent Oct. 19 to a subset of voters in Hamilton Township, may force a special election in the District 3 freeholder race if no one wins by a large margin Tuesday.
Election officials were in court for an emergency session Monday before Superior Court Judge Julio Mendez soon after the mistake was discovered.
"This is a horrendous situation," said Mendez, who appeared almost speechless at times when he first heard the full extent of the problem. "It does not reflect well on the Clerk of Atlantic County."
According to testimony, 335 voters in Hamilton received ballots that mistakenly omitted the District 3 freeholder race between Republican Andrew Parker and Democrat Thelma Witherspoon.
Another 219 ballots were sent to township voters that included the District 3 race, but shouldn't have done so.
Assistant County Clerk Michael Sommers testified that the State Voter Registration System, a computer system used by all clerks in the state, generated incorrect ballot forms for those voters. There are 40,655 registered voters in Freeholder District 3, which covers all of Egg Harbor Township and part of Hamilton.
Those affected are voters who registered, moved into the county or reactivated their registrations after the first large number of ballots went out in September.
About 200 of the 554 have already sent back their ballots, which have been processed and removed from the envelopes that would identify them. So there is no way to offer correct ballots to them, officials said.
Mendez decided the only thing he could do was order poll workers to offer correct provisional ballots to anyone affected who shows up at the polls Tuesday, either to drop off their vote-by-mail ballots or to vote provisionally.
He said he understood it was a mistake, but "ultimately the buck has to stop somewhere. That's how I see it, and that's how upset I am."
Sommers said his office had spot checked some addresses in the list from the State Voter Registration System, but not all.
"What we reviewed was accurate," Sommers said, so he assumed the entire list must be accurate. It turned out not to be the case, especially for Hamilton Township.
Mendez said New Jersey case law discourages segregating ballots in any way, so he did not order that the Board of Elections hold aside affected ballots it receives in the future through mail or drop boxes.
"We'll see what happens with the results," Mendez said, adding he is hoping someone wins by a large margin to avoid the need for a special election.
County Clerk Ed McGettigan did not participate in the court proceedings, and has directed all questions regarding elections to Sommers.
In another development, Democrat Amy Kennedy, who is challenging Congressman Jeff Van Drew, R-2nd, announced Monday she had been exposed to someone who tested positive for COVID-19 on Saturday.
It was at an outdoor event, not related to her campaign, Kennedy said.
That means she will not be able to visit polling places to talk to voters on Tuesday, or to attend a Democratic Party celebration event at Northfield Country Club on Tuesday night, said spokesperson Yoli Navas.
"We had a full day planned. We were just doing poll greeting tomorrow for a big portion of the day," Navas said. "Now she'll just do phone banking."
Van Drew said he plans to make a lot of calls Tuesday, as well.
"I sure hope she doesn't get it and will be fine," Van Drew said of Kennedy, who has tested negative so far for COVID. "There's really nothing more to say."
He plans to call supporters to thank them most of the day Tuesday.
"I never actually do campaigning on Election Day itself," Van Drew said. "I call volunteers, people who helped out, made phone calls, contributed, were helpful in neighborhoods, to let people know they are appreciated."
Regarding turnout, Atlantic County reported it has received 113,143 vote-by-mail ballots as of late Monday, which is almost the total number of ballots cast in the last presidential election in 2016.
That's about 60% of the 200,000 ballots sent out in this first, mostly vote-by mail, general election in the state's history.
Of those, 103,078 had been counted in a scanning machine, said Board of Elections Chairperson Lynn Caterson. The results will be released after the polls close Tuesday at 8 p.m.
In Cape May County, County Clerk Rita Fulginiti expects a record turnout this year. As of the end of the day on Friday, Oct. 27, 63% of the approximately 72,000 mail-in ballots sent out to county residents had been returned, she said on Monday, with more expected by the time polls close at 8 p.m. Tuesday.
Voters can drop their completed ballots off at polling places on Election Day, or fill out a provisional ballot. She does not expect a complete count by Tuesday night, but does expect to post partial results some time after 9:30 p.m.
"It will be unofficial, it will be incomplete, but it will be a significant portion of the votes," she said Monday.
(Correspondent Bill Barlow contributed to this report.)
Contact: 609-272-7219
Twitter @MichelleBPost