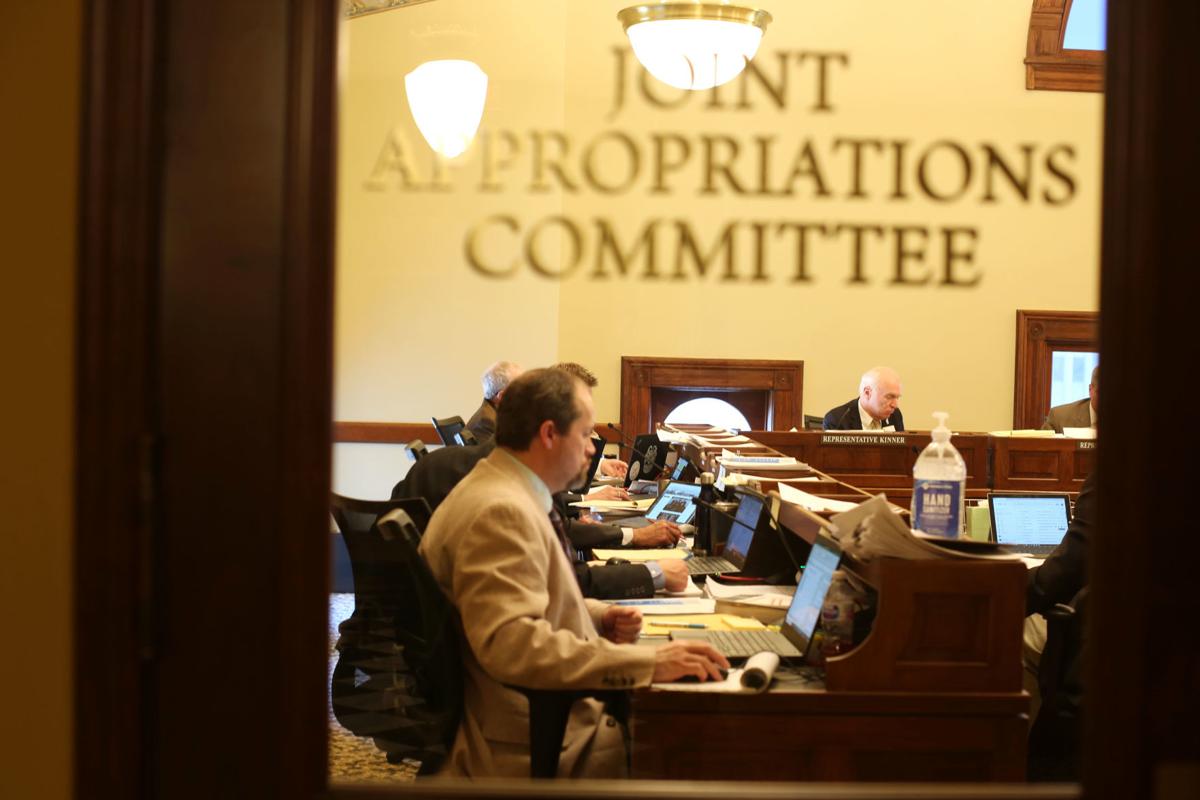 CHEYENNE – As the 2020 legislative session begins to wind down, there's been quite a bit of activity taking place between the members of the Legislature's Joint Appropriations Committee. But you wouldn't know it unless you've been paying close enough attention.
Exempt from the provisions of the open meetings act, the dozen individuals on the committee have often met behind closed doors, working out deals in a tête-à-tête belying the close and collegial process touted by its members at the start of session. As their colleagues debated on the floor, JAC members and their stacks of paper floated from one end of the building to another, whisked away to a side room to be pored over and calculated before the gavel fell that evening.
The two halves of the committee – for all their public harmony to start the process – have looked more like warring factions in the closing weeks, pulling far apart from one another in their own caucuses only to come to rancor and disagreement once reunited. Despite working for months in the open and turning a budget over to members of the Legislature faster than it has in years, the committee once again found itself mired in conflict at the 11th hour: stubbornly refusing to budge – even after months to work out those differences — on points of principle.
"That's the difference between the House and Senate," Senate President Drew Perkins said in an interview Friday. "What the general public might not understand is there is a significant thought process and culture difference between the two houses, and that tension has been there forever. That's just the way it's set up, and you develop these different cultures and thought processes."
The problem is, those points of principle are worth millions of dollars, and are often debated behind closed doors with little indication of what direction they're headed. It's a symptom of the power the committee holds over the Legislature – the power of the purse – where all the money flows from, and where most bills with dollars attached eventually get heard.
"It's hard to follow, I will agree with that," said Rep. Andy Schwartz, D-Jackson, a member of the House Appropriations Committee. "But I don't know how you can make negotiations like that transparent. I just don't."
"That appears to be the tradition," he added.
For all its importance, the committee and its work are subject to little accountability. And this year, some say that power has become more apparent than ever.
Touted by lawmakers to be the "most transparent" committee in the Capitol (the JAC's meetings are the only ones consistently livestreamed), the JAC has proven to be the most frustrating to follow. Many of their meetings seem to be scheduled almost instantaneously and, to find out about them, you usually have to find someone to tell you. Even the legislation they work is a challenge to follow. On several occasions this year, the committee has rewritten major pieces of legislation that have been drafted out of sight, giving lobbyists, members of the public and even fellow legislators who might be following those bills, little time to review or scrutinize them.
While the committee is well within its right to modify legislation referred to it, long-term observers of the Legislature say the JAC seems to be exercising its power to do so more than it ever has.
"I've been here a long time, and it's hard for me to say whether it's to a greater or lesser degree," said Richard Garrett, a longtime lobbyist for the Nature Conservancy. "But it's very prevalent this session. It's confusing and concerning. If it's confusing me – not that I'm the sharpest knife in the drawer – it has to be much harder for people who don't involve themselves in this process. It's not good."
Some argue that it has extended to the JAC's standing committee work, where the committee seems to have taken broad liberties with the legislation assigned to it by leadership. Two key examples include the gaming commission bill – which was worked heavily in the interim before undergoing significant revisions in the House Appropriations Committee – and Senate File 138, a bill to facilitate a potential, 1 million acre-plus land deal that has already undergone numerous rewrites under the Appropriations Committee's watch.
That's not to say the decisions are sinister, said Rep. Sue Wilson, R-Cheyenne, whose bill on school nurses received heavy scrutiny from the Appropriations Committee on Thursday morning. In an interview, she recalled one instance a number of years ago in the Labor Committee, where lawmakers looked at one bill having to do with irrigation and another having to do with taxidermy – primarily because no other committee had the time to work with it.
"Sometimes it's done to work bills, sometimes it's done to kill bills, sometimes it's to make sure they pass," she added, noting the treatment of death penalty repeal legislation in recent years. "I don't think the number of strange assignments to committees is any different now than it's been in the past. Sometimes it's part of the process, sometimes it's intent, and I think that happens every year."
Some still argue that the JAC does business just a little bit different.
"They can do anything they want," said Garrett. "They own the game, the rules and the ball."
2020 Legislative SessionIt was a big week for mental health legislation in the House of Representatives, with two bills making their way into the chamber to address a critical lack of access to mental health care in Wyoming. However, each suffered a different fate. While a bill allowing first responders to receive treatment through worker's compensation survived first reading, another – expanding mental health care delivery to telemedicine
– failed to even make the vote for introduction, dying in the speaker's desk.


There was also some drama on the floor of the Senate after Sen. Cheri Steinmetz, R-Lingle, sent a letter objecting to three of Gov. Mark Gordon's appointees to various boards and commissions, arguing they didn't represent "Wyoming values." They were eventually confirmed
in floor debate.


Several major changes to Wyoming's tax policy advanced this past week as well, including a bill to impose monthly ad valorem taxes to hold industry accountable (it narrowly skated by on a 10-9 vote Friday), a lodging tax and an optional 7th penny tax, which survived a heated debate in the Senate.Wyoming Politics
a Wyoming GOP party official, has announced his intention to run for the U.S. Senate. He previously ran against Mike Enzi in the 2014 Republican Primary, where he collected 9 percent of the vote.


for its caucus on April 4. They also have a new vendor, which has previously been deployed in states like Colorado.


Foster Friess, a GOP megadonor who once ran to be Wyoming's governor, is not running for Mike Enzi's U.S. Senate seat.Eye On Washington
to discuss the U.S.-Israeli relationship and what she described as a rising level of anti-Semitism from her colleagues on the left. The congresswoman also had an opportunity to speak with officials in Wyoming about the work being done at the federal level to prepare for coronavirus, voting to authorize millions in funding to combat the pandemic.


to protect small refinery exemptions on the heels of a January ruling by the Tenth Circuit Court of Appeals that invalidated hardship relief for three small refineries under what she called a narrow interpretation of the Clean Air Act.


She later followed this up by joining 129 of her House Republican colleagues in sending a letter
to the chairman of the Council on Environmental Quality supporting the council's efforts to modernize the National Environmental Policy Act (NEPA).


John Barrasso & Mike Enzi
both released statements applauding the repeal of that Tenth Circuit Court of Appeals ruling on Friday afternoon.


also released a pair of amendments to the American Energy Innovation Act intended to assist Wyoming's energy industry, including one to ensure that Wyoming's rare earth industry is included in a report the Department of Energy (DOE) sends to Congress and another, which would require DOE to study the importance of rare earth minerals to national security.


Have any tips or suggestions to make this newsletter better? Let me know! Call me at 307-266-0634, email me at nick.reynoldolds@trib.com">s@trib.com or follow me on Twitter, @IAmNickReynolds
Be the first to know
Get local news delivered to your inbox!