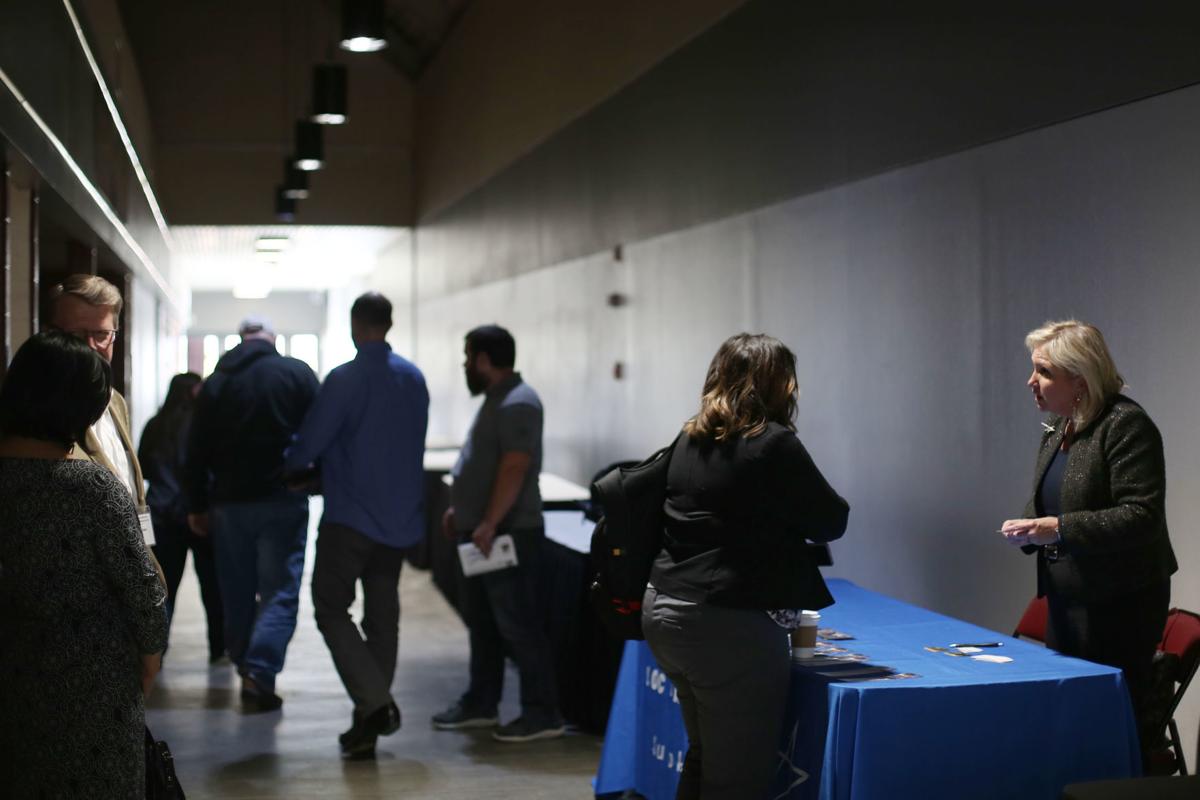 The Glenn L. Martin Company, known today as Lockheed Martin, built the first-ever Viking sounding rocket in 1949 for the U.S. Naval Research Laboratory, racing against a Cold War-era deadline and grasping at the promise of outer space. They would build 11 more before the program finally shut down in 1954.
It was the beginning of a decadeslong relationship that in 2017 alone netted the company more than $35 billion worth of government contracts. The moral? The business of building great big things for the federal government is a lucrative one.
Almost $273 billion, or 43 percent, of the U.S. Department of Defense budget is spent on contractors and suppliers annually. For NASA, it's 80 percent or $14 billion.
But the proportion of these funds that make it to Wyoming companies is small — in some cases, smaller than anywhere else in the nation. A first-of-its-kind two-day aerospace and defense conference, held this week at the Casper Events Center and hosted by the economic development entities Forward Casper and Forward Sheridan, sought to change that narrative.
The conference brought together Wyoming businesses with politicians, military personnel and representatives from major government contractors like Lockheed Martin and Northrop Grumman with the goal of propping up Wyoming as the next big hub for the government's aerospace and defense needs.
The idea was so compelling that Sen. John Barasso, Rep. Liz Cheney and Gov. Mark Gordon all made appearances to show their support for the idea.
"Wyoming's been a well-kept secret and maybe a little too well-kept," Cheney said Monday morning, opening the day's events.
She talked about the need to diversify the state's economy and find new ways to invest in Wyoming's future. But she also discussed new threats, the need for innovation in the defense industry and how Wyoming could be on the front lines of those innovations.
"We face a more complicated global threat environment than we have at any time since World War II," Cheney said, referencing growing tensions with Iran and North Korea, and competition with China and Russia. "As the Russians and the Chinese are modernizing and as both of them are reaching into space, but particularly the Chinese, we face growing challenges."
The federal government's view of space is changing, which could be lucrative for private businesses. Lt. Col. Brandon Herbeck, who was at the conference representing the U.S. Air Force's Space Command, said while in the past the U.S. has "enjoyed unimpeded freedom in space," growing global tensions and technological innovations have turned space into a "war-fighting domain."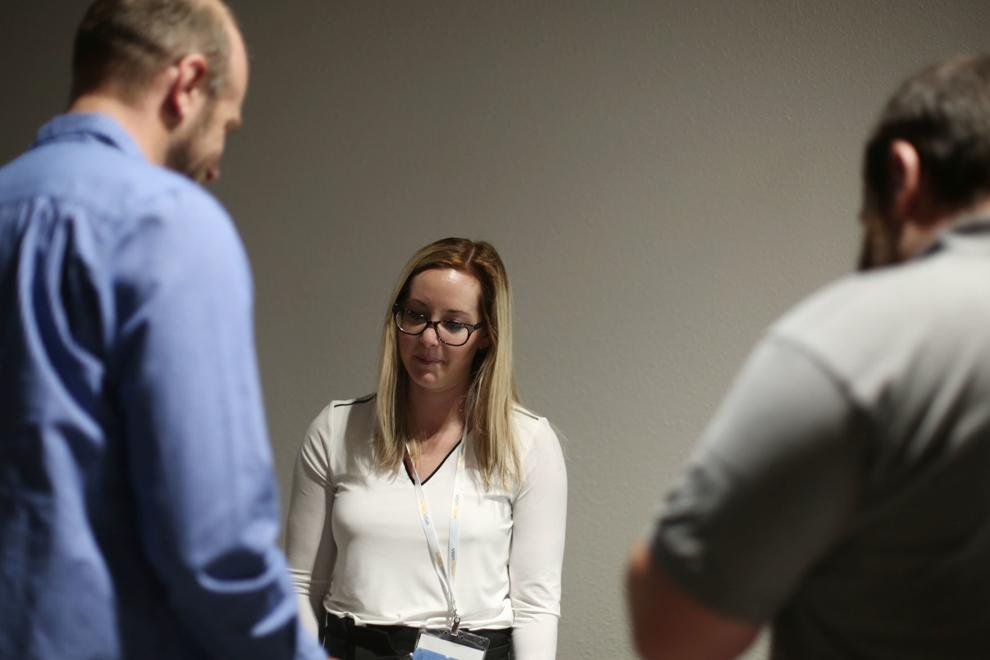 He said given this new level of global threats, Space Command is "going to partner with allied, coalition and commercial partners like never before."
Arthur Maples, the director of strategic partnerships for NASA's space technology directorate, said something similar about partnership opportunities. Almost $3 billion worth of NASA contracts go directly to small businesses every year.
Gordon made encouraging statements, too. His remarks revolved around the impact education in the state could have for the industry.
"This part of the country is going to be ground zero for all of these new industries," he said. "We're going to provide a whole ecosystem of educational opportunities, so if you're coming out of high school, and you want to go into career and technical or you want to go out and work in the industry, we'll make that happen for you."
Could it work?
But while the possibility and institutional support is clearly there, whether this new-to-Wyoming industry could actually be the answer to the state's boom and bust economic woes, and whether it could actually sustain small businesses across the state, remains to be seen.
"The government market is more complicated than the commercial side of the house," explained Andi Lewis, a procurement specialist with the Wyoming Small Business Development Center.
Lewis works with Wyoming businesses who already contract with the federal government and tries to help businesses interested in getting their foot in the door. When asked if the economic promise of bringing this industry into Wyoming was a realistic one, she said yes, she thought it was, but that it's not going to be for everybody.
The government expects a few things from companies it works with. Joe Wright, CEO of Sheridan-based Kennon Products, has been contracting with the federal government since 2006. He said there's a lot of opportunities in government contracting, but there are definitely elements that make it difficult.
"They say something is important today, but it can be two years before it comes to fruition," Wright said.
All of those factors can be intimidating to businesses just starting out.
His business needed to adopt stronger cyber security measures, for example. And often the agency awarding the contract will require a business have certain certifications before awarding a contract. Government contracting also requires patience. It can take 18-24 months for a federal agency to award a contract.
"Those barriers to entry are scary and expensive," said Jeff Garrelts of Sheridan-based Craftco Metals Services.
Garrelts was at the conference to learn. He said he didn't know anything about government contracting but was curious about it. Some of what he heard was promising, some of it made him a little wary.
Lewis suggests for businesses just getting going in the field to start smaller. Work for a municipality or a state agency first. For a company to be ready to work with the federal government, she said, they should be in business for at least two years and have a proven commercial track record. Companies can also subcontract with larger entities that already have a track record in the industry.
Lockheed Martin, for example, awarded $4.6 billion worth of subcontracts in 2018 to small businesses across the U.S.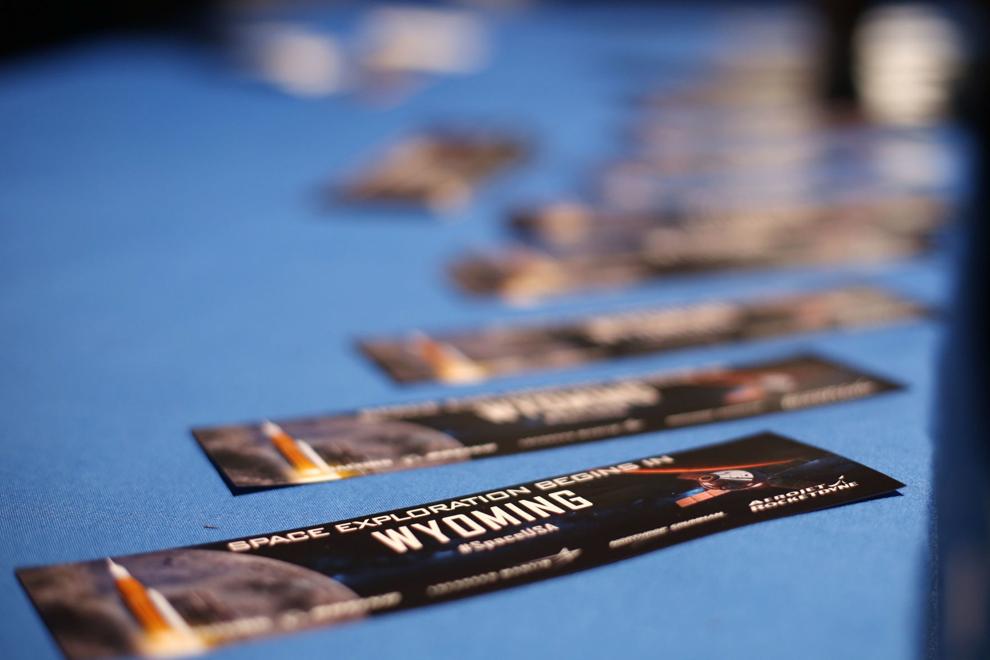 "We can't do what we do without working with small businesses," Michelle Butske, a supplier relations manager with Lockheed Martin, said.
She added it's a great time to be a small business looking to get into aerospace, particularly for oil and gas companies hoping to diversify, because those companies are already familiar with a heavily-regulated industry.
When speaking on the contracting opportunities NASA offers, Mapes reinforced this.
"The subcontracting opportunity is huge, that really is the best way, often, to get your foot in the door," he said.
Colorado success
For questions about whether the industry can really do for Wyoming what the conference speakers said it could, Maj. Gen. Jay Lindell says to look to Colorado.
Colorado has a position in its economic development office titled "Aerospace and Defense Champion." Lindell holds the position currently. He came to the conference with one overarching message:
"Economic development is regional, it's not just confined to state borders," he said.
His point was that the economic success Colorado has seen in aerospace and defense could be a really good sign for Wyoming. And indeed, our southern neighbor is making far and away more money on government contracting than Wyoming is.
In the 2019 fiscal year, Wyoming companies won about $2 million in direct contracts from NASA, less than any other state in the U.S., and less than $500,000 in NASA subcontracts were awarded in the state.
On the defense side, the U.S. Department of Defense awarded $228 million in direct contracts to Wyoming businesses and just under $79 million was awarded in subcontracts.
In comparison, Colorado, which is close to leading the country in NASA contracts, has received more direct NASA contracts in 2019 — worth $1.4 billion — than every state but California, Alabama and Maryland. And for subcontracts, Colorado won more than $196 million.
On the defense front, Colorado soars above Wyoming, too. Colorado companies were awarded more than $4.6 billion in direct government contracts and more than $1 billion in subcontracts.
These numbers speak for themselves, Lindell said. And if it's happening in Colorado, it could happen in Wyoming, he told attendees.
"If it's good for Wyoming, it's good for Colorado and vice versa," he said.