It's over 70 years old: the kind of house with washed out gray shingles, a checkerboard-tiled kitchen floor and mismatched cabinets.
It was recently sold to a new owner — a fate usually synonymous with demolition in Jackson.
But that new owner just so happened to be the Jackson Hole Historical Society and Museum.
Though the organization has plans to build a new museum on the property, it was keen on preserving the red house in some way, shape or form.
So they asked Esther Judge-Lennox to move it somewhere else.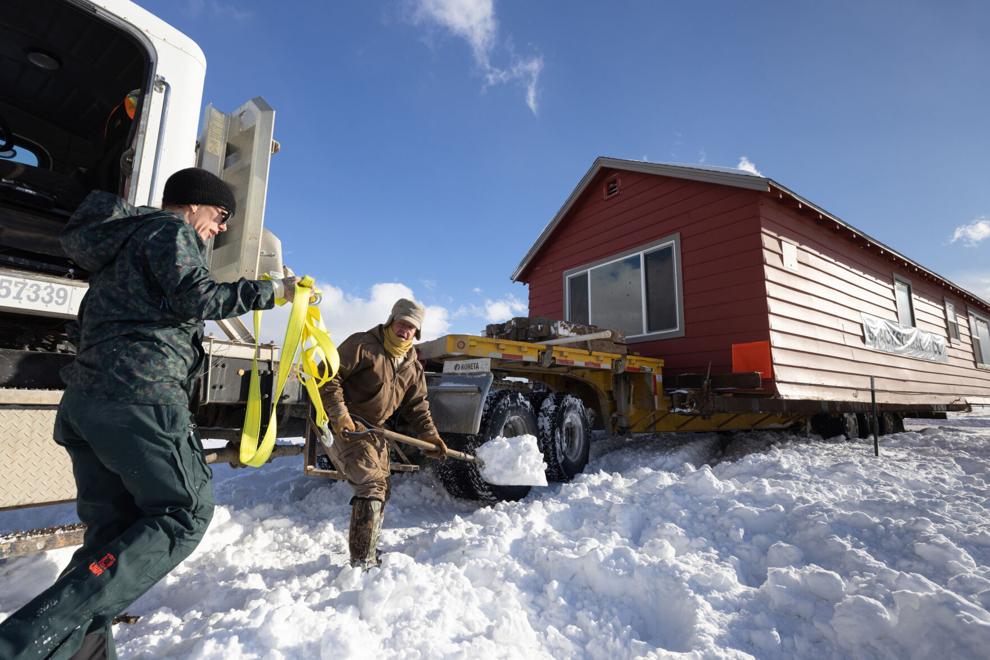 Downtown Jackson is surrounded by old subdivisions — the kind that were once the mainstay of the valley's workforce. They're treasured by locals as part of the town's heritage.
But Jackson, of course, is a booming resort destination. The nation's wealthy are flocking there in spades for its natural beauty, world-class recreation and mountain town charm.
In 2022, the average price for a single family home was over $5 million, according to a recent report by the Viehman Group, a real estate firm. Just three years prior, it was $2.6 million.
Little by little, Jackson's older residences are being swapped out for modern, often flashier homes. The developers are interested in the land. To them, the existing houses are just something to be thrown out.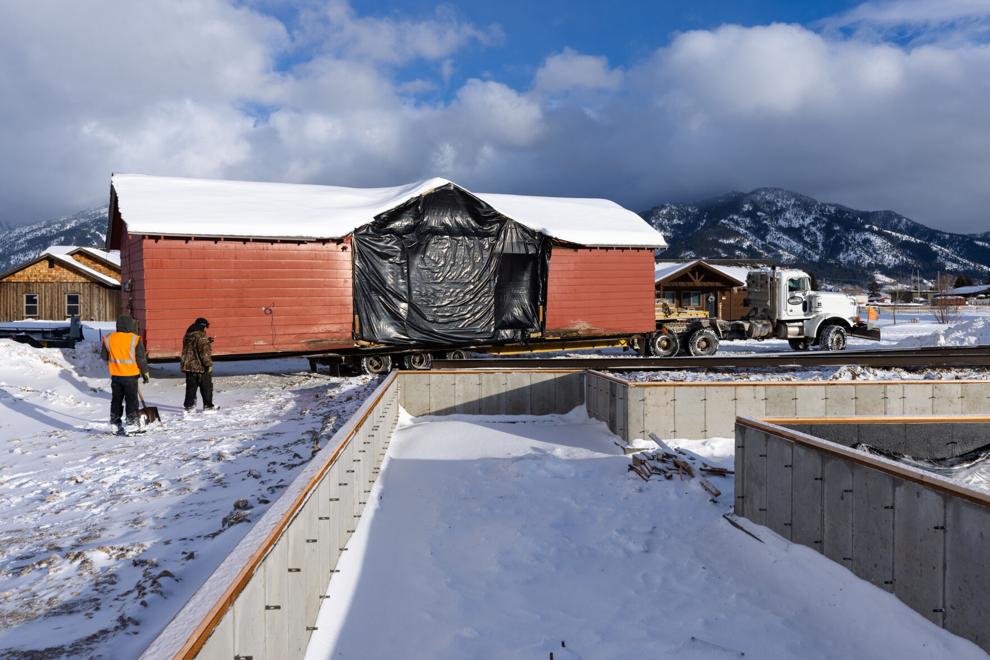 They're usually razed and hauled off to a dump somewhere, because it's quick, straightforward and, well, the way things have always been done. In 2021, Teton County reported that 28% of waste processed by its trash transfer station came from construction debris.
Judge-Lennox wants Jackson to know there's another way.
Her nonprofit, Shacks on Racks, has relocated 21 houses since its founding in 2016. Eight of those happened in 2022.
It involves a lot of planning, collaboration and improvisation. It's not quick, and it's not straightforward.
But housing in Jackson never is.
In a town where workers regularly live in tents, campers and converted buses — or bite the bullet and live in a $3,000-a-month apartment — jumping through hoops to relocate a house hardly seems extreme.
A big part of Shacks on Racks' mission is to make homeownership more accessible to Jackson workers. Homes relocated by Shacks on Racks have gone to owners of a local excavation business, a gardener and florist and an animal refuge, to name a few.
"As housing in general gets more and more expensive," said Kari Moulton, a structural engineer who works with Shacks on Racks, "any option becomes a viable option."
***
The red house touched down on its new foundation in Etna — about 50 miles south of Jackson — on a blizzarding, bitterly cold afternoon in late December.
Its journey started long before that.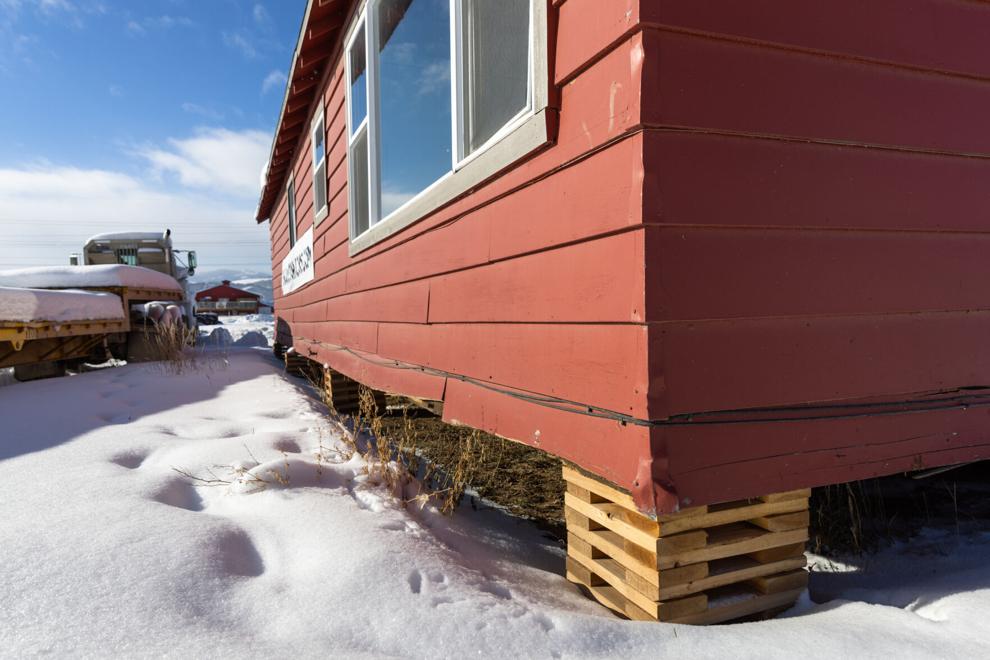 Sometimes, Shacks on Racks is contacted directly by someone interested in relocating a home. But the nonprofit doesn't just wait around for people to come to them. It monitors applications for demolition permits submitted to Jackson's Planning and Building Department.
When Shacks catches wind of a pending permit, it tries to connect with the applicant — be it a contractor, architect or the property owners themselves.
Time is of the essence, because once a demolition permit is approved, the house could be bulldozed in a matter of days.
If the property owner is swayed, the next step is finding someone to take the house.
Shacks on Racks has a waiting list for interested landowners, but finding a match can be difficult — you can't just move a house wherever you want.
One obstacle is making sure that, wherever the house is going, it can meet the local housing codes.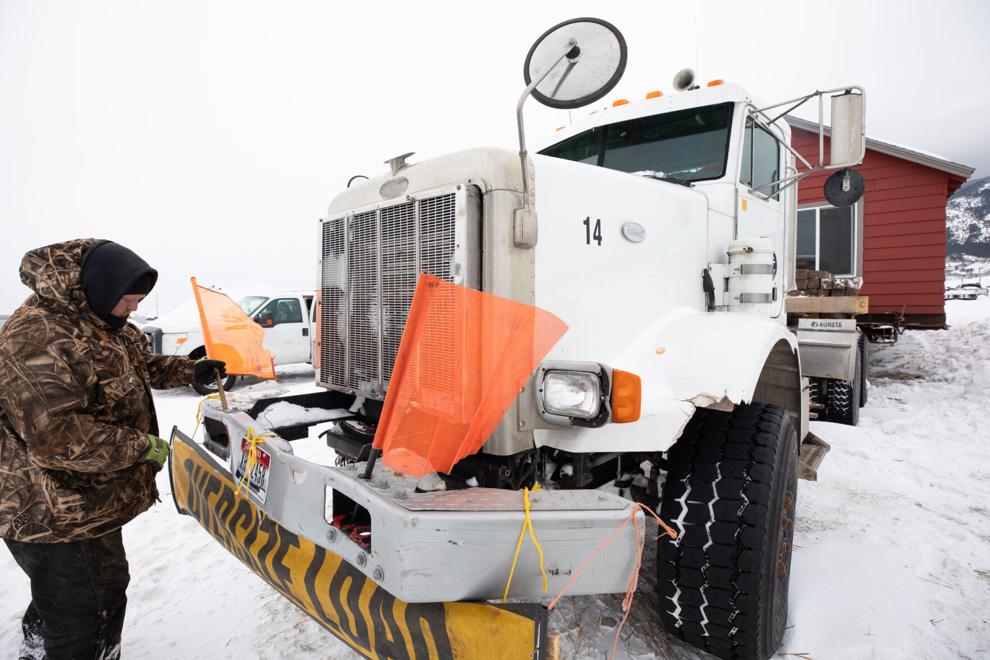 That's partly why homes relocated by Shacks on Racks often go south to Lincoln County or over the pass to Idaho, as opposed to staying in Jackson, where the regulations are stricter.
Judge-Lennox and her husband, Philip, ended up taking the red house. They had an empty lot they'd wanted to put a home on for a while, Judge-Lennox said.
To actually relocate a house, Shacks on Racks must secure two permits, Judge-Lennox said: one from Jackson, and one from the Wyoming Department of Transportation.
Vern Woolstenhulme — who owns Teton Transport in Victor, Idaho — is Shacks' go-to mover.
"They don't have House Moving 101 in college," he said. "I just kind of figured it out."
He learned the trade from his dad. Back in the day, they used logs and mechanical jacks to get the job done.
Woolstenhulme's setup is more sophisticated now: He inserts steel beams underneath the house, like train tracks, and uses a remote system to lift it off the ground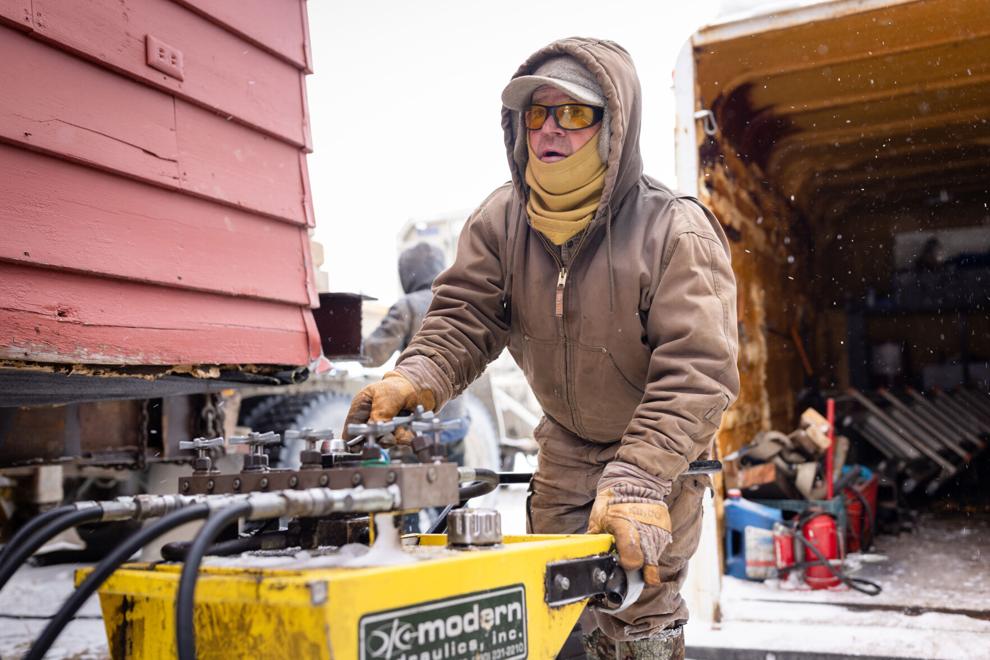 Once it's up in the air, he can back his semi-trailer underneath it.
Sometimes he and his team have to break the house into multiple parts — it can't be wider than the street, or tall enough to hit power lines or stop lights, after all.
In August, the 32-ton red house was split in half, plucked from its roots in downtown Jackson and began its long journey down to Etna. Judge-Lennox had to wait until December to actually put it on her property because, among other things, its new foundation hadn't been poured yet.
***
Relocated homes are usually free, but little else is.
"You chew up a lot of materials savings in labor costs," Moulton said.
The base fee to move a house is generally between $30 and $60 a square foot, according to Shacks on Racks' website. And then there's additional expenses required to get it up to code and permitted. Those costs are the responsibility of the new homeowner.
And they don't always know what they're walking into, Moulton said. The homes generally don't suffer any structural damage from the move, but depending on how old the house is, there could be plenty of other repairs needed.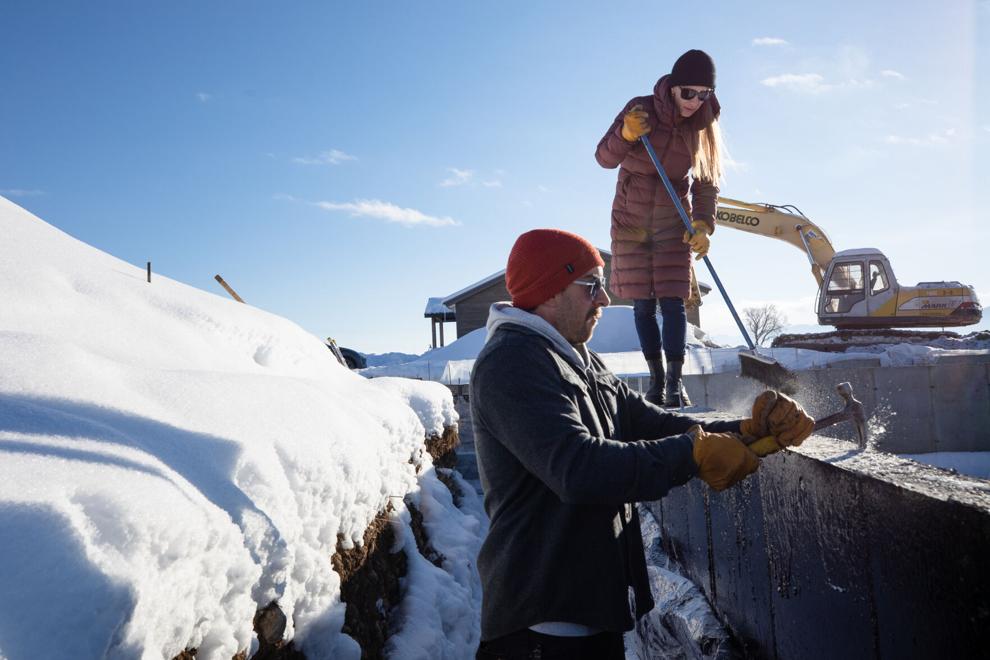 "Most of the time, we can't tear it apart and understand all of the nuances until we're already committed to doing it," Moulton said.
The red house was $38,000 to relocate, Judge-Lennox said, but she's still not sure how much renovating it will cost.
So far, that's included putting in the foundation, replacing rotted sill plates and taking out some walls to open up the floor plan, to name a few.
In 1998, media tycoon Ted Turner had his Montana mansion dug out of the ground and hauled away on the back of a truck to the University of Montana Western in Dillon, where it's still standing today.
A young Judge-Lennox, who grew up in the area, watched as it inched down the interstate.
About 18 years later, Judge-Lennox and her husband saved a Jackson home from demolition.
They were having their own struggles with housing at the time, and were able to rent out the newly relocated home to generate a stable source of income.
That turned out to be Shacks on Racks' first move.
Since then, the demand for housing in the West has skyrocketed — along with prices. The situation in Jackson has played out similarly in communities in Montana, Idaho and Colorado, for example.
Given the West's housing crisis, Judge-Lennox doesn't see why so many perfectly good homes should go to waste. But as far as she knows, Shacks on Racks is the only nonprofit of its kind in the country. She has, however, heard from people in Montana who want her help saving homes.
Her hope is for other communities to replicate Shacks' model. Judge-Lennox has her hands full already: according to her, Shacks on Racks has more than 25 potential projects on its radar this year, she said.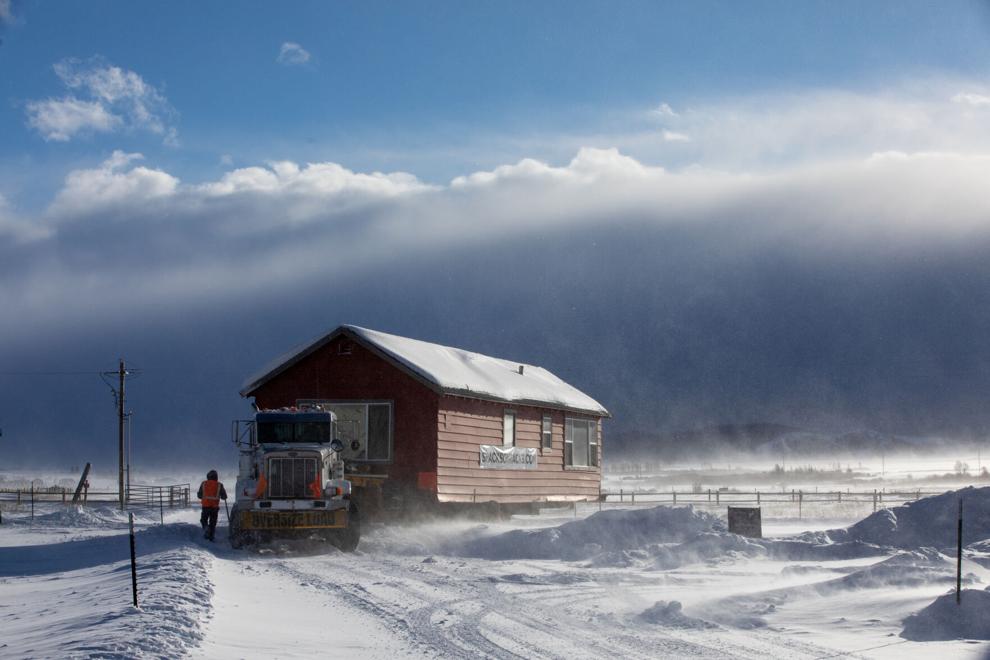 Most homes in Jackson still end up bulldozed. But for the 21 they've saved, the organization estimates it's spared landfills more than 1.2 million pounds of waste.
"It's just an immense amount of waste that if we just moved more buildings could really be taken down quite a bit," said Ryan Dorgan, a former newspaper photographer who now works as Shacks on Racks' one employee.
***
When the red house is ready, Judge-Lennox hopes to rent it out to someone from Shelter JH, a member-based housing advocacy group in Jackson.
It's something she's wanted to do for a while — a way to provide housing to people even if home ownership is out of reach for them.
"We can't expect a community member who needs the house right now to buy a piece of land and wait four years for the right house," she said.
There's still quite a bit of touching up to do. They'll be refinishing the oak floors and bringing the black-and-white tiles in the kitchen to their former glory, among other things.
It won't be the red house for longer, either. To comply with the local homeowners association's rules, it'll be repainted navy blue.
"I appreciate that we're doing it in a neighborhood with an HOA, because so many people think that they can't," she said. "And the first step is asking your HOA and following their guidelines."
When everything is said and done, she also wants to publish a full breakdown of what the relocation cost.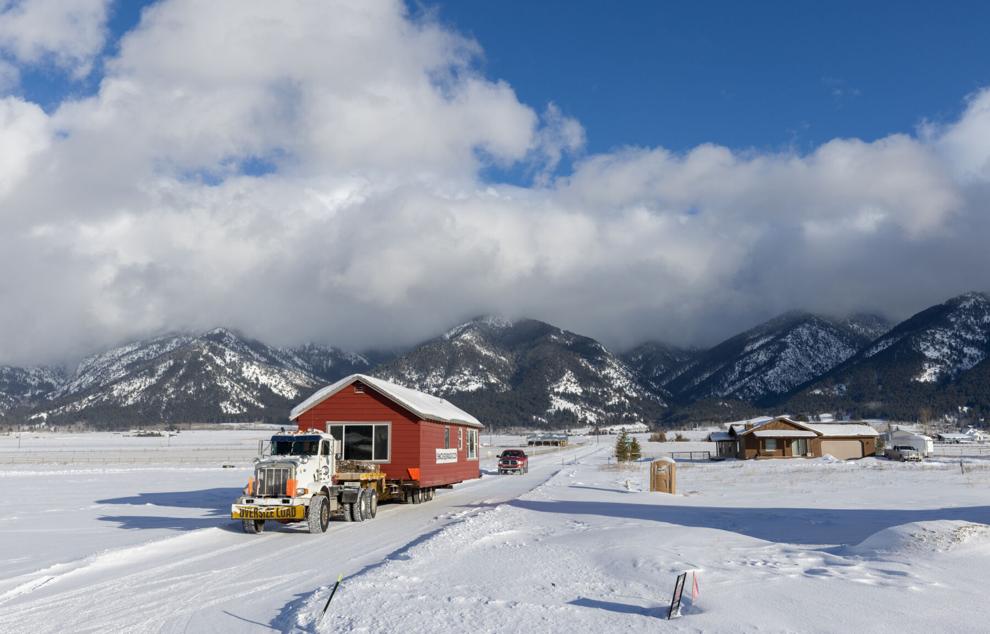 "The red house is gonna give as good of an example as we can of what current market costs are," she said, "and what it really costs, start to finish, to relocate a house that was built in the '50s."
And to send people a message, she said, that this is possible.
"Now you do it," she said.