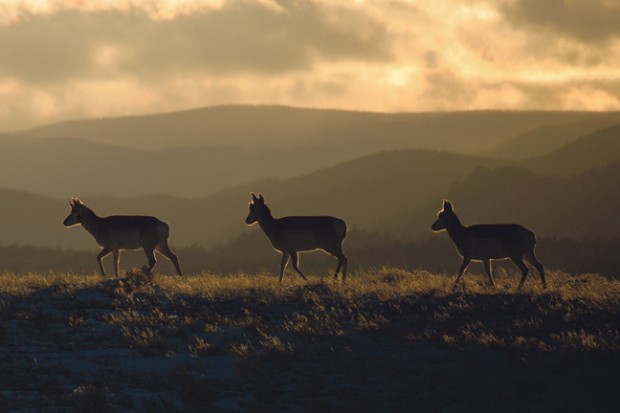 Pronghorn line the highways, and herds of them are notorious for darting in and out of traffic on back roads. They can decimate large swaths of alfalfa and other crops.
But to a fresh set of eyes, they're really pretty cool animals. This week's Open Spaces section should help explain why.
Love them or not, just don't call them antelope.
"From a scientific standpoint, it's a pretty important issue," said Reg Rothwell, the supervisor of biological services for the Wyoming Game and Fish Department.
Pronghorn are not related to antelope species that live in Africa.
The animals have been called antelope since the early 1800s because they look like their African namesakes. But some of those early trappers also called them goats. Antelope may have been the misnomer of choice because it sounds more exotic.
If the name is an attempt to lure people to Wyoming, it's working. Thousands of out-of-staters will come here this year to hunt them.
But like the American robin (actually a kind of thrush) and sage grouse (technically, sage hen), antelope is a common name that, while not scientifically accurate, has become pretty well ingrained.
Hunters can still expect to apply for antelope tags every fall.
Game and Fish has been trying to switch over to calling them pronghorn for years, Rothwell said. But because state law refers to them as antelope, all of the department's legal documents have to call them antelope.
Until state laws are reworded, Game and Fish is stuck calling them antelope.
"We're having a tough time finding legislators who think it's a high-priority issue," Rothwell said.
Nomenclature aside, they are still a fascinating animal. They're the only animal of their kind in the world, and half of their total population is found in Wyoming.
They're also one of the only large animals that have lived here since the last ice age.
"In that way, they're kind of like the Wyoming people -- they're survivors," said Ed Juno with the Rawlins Pronghorn Pride Initiative.
For most people who grew up in Wyoming, pronghorn are just part of the scenery. But in Rawlins, folks are working to give the animals a place to shine.
Rawlins Pronghorn Pride Days started four years ago as a way to raise money to pay for a National Pronghorn Interpretive Center in Rawlins.
Every July, Main Street in Rawlins is lined with painted sculptures of pronghorn. The sculptures are later sold at auction, and the proceeds go into a fund to pay for construction of the center. As of now, they've raised about $200,000 of the $3 million to 4 million they expect the center to cost.
When built, the interpretive center will house a collection of game warden historical artifacts and the National Pronghorn Research Library.
Like the Open Spaces section this week, it will be home to everything anyone could want to know about antelope.