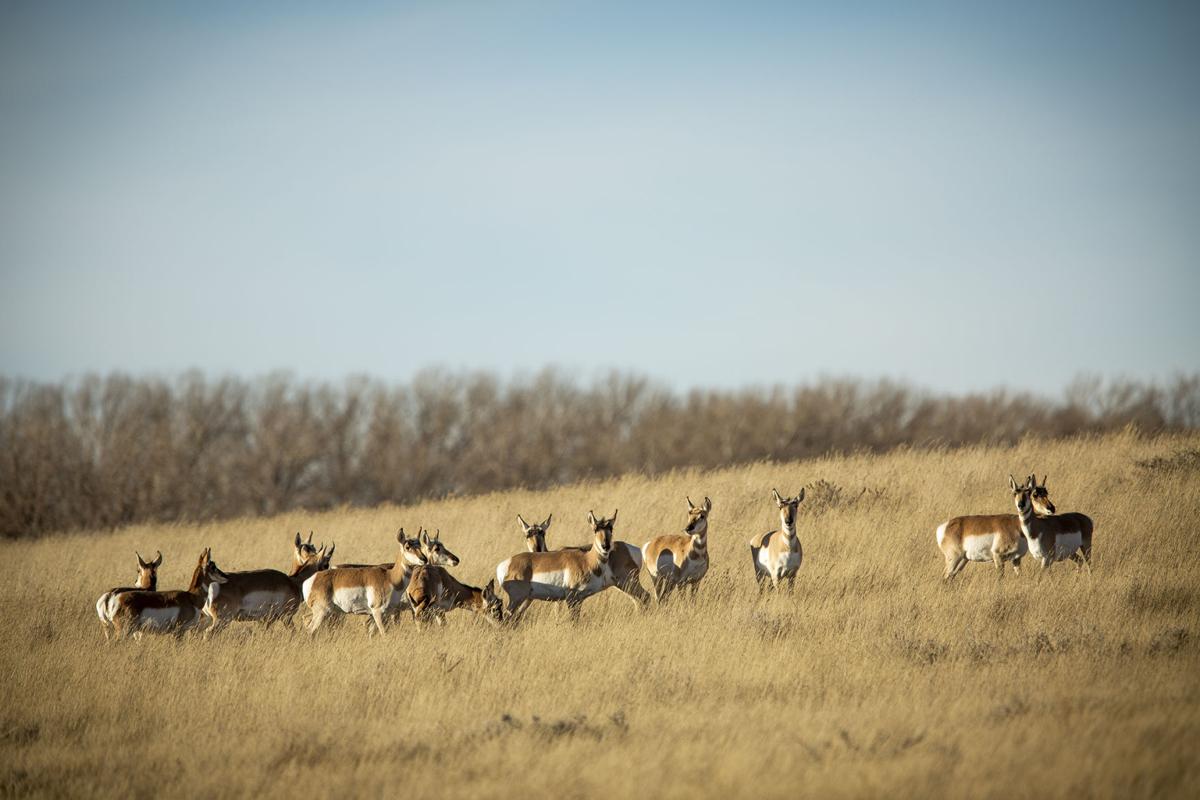 This year, for the first time in its 80-year history, the Lander One Shot Antelope Hunt included female competitors.
State Superintendent of Public Instruction Jillian Balow and State Auditor Kristi Racines were among the first women to participate at the high-powered event, which began Wednesday.
Five other women also participated.
"Women are a huge part of the hunting industry... we truly want to support and invite women who are involved in hunting and shooting," One Shot Past Shooters Club Executive Director Vickie Hutchinson said in March. "It's important, and it's long overdue."
But while including women in the hunt addresses one longstanding criticism of the hunt, Indigenous peoples have also criticized the event for its inaccurate depiction and appropriation of Native American culture.
Hunters form groups of three to compete in the event, which allows each participant just one bullet to bring down an antelope. Balow's team this year included Rep. Ember Oakley, R-Riverton, and Megan Degenfelder, chair of the Wyoming Women's Foundation advisory board — the hunt's first all-female, all-Wyoming group. Another trio in this year's competition is also composed entirely of women.
"It is novel to think about 'breaking through the glass ceiling' by being the first women to compete in the One Shot," Balow said in a release from the Department of Education on Wednesday. "But, I assure you that is not why we are participating... we appreciate the comradery of the hunt and the stories that follow, we grow from the self-reliance of self-confidence that comes from an ethical harvest, and we are committed to conservation of wildlife and outdoor resources."
The hunt benefits the Water for Wildlife Foundation, a conservation organization that provides water in habitats suffering from drought.
Some of the hunt's traditions have drawn criticism from Indigenous people in Wyoming. In past years (the hunt was cancelled in 2020 during the pandemic), winners wore war bonnets to celebrate while losers donned "native" women's clothing.
There has also been a mock tribal ceremony in which hunters receive "Indian names" and are made "blood brothers" of the Eastern Shoshone. A tribal spokesperson said derogatory words, such as "squaw" have also reportedly been used in ceremonies.
This year, Wednesday's release says, that became a "brothers and sisters ceremony" where hunters' bullets are blessed.
While the release states the "Indian Ceremony" this year has been coordinated with Eastern Shoshone members, tribe spokesperson Alejandra Robinson said Thursday that there is no formal relationship between the Eastern Shoshone and the hunt.
Robinson said that she wasn't aware of any attempts by event organizers to reach out or collaborate with members of tribal leadership on revising the event's practices. When asked how Eastern Shoshone Business Council Members feel about the "Indian Ceremony" and other rituals at the hunt, Robinson said that many members view the practices at the event as separate from the tribe itself. While some council members agree the traditions look like appropriations of native culture, the consensus on the council tends to view them as performances rather than attempted replicas of Shoshone ceremonies, she explained.
In March, the Past Shooters' Club's Hutchinson said that with the inclusion of women this year, the tradition of making losers dress up as native women would likely not be happening. Hutchinson could not be reached for comment.
"The business council and the tribe itself don't participate in this," Robinson said. "They don't fund it, they don't sponsor it, they don't host or take any part of it, and I don't believe they ever have."
Robinson added that to her knowledge, leaders from the Eastern Shoshone Business Council have never participated in the hunt or its accompanying events.
The families that do participate, Robinson said, are often well-respected members of the tribe who choose to take part on their own terms. Other members may perform dances or blessings during the three-day event, including for the opening, closing or tribal ceremonies. Wyoming Public Radio reported last year that native performers are compensated for their work.
One Shoshone-Bannock tribal member also told the radio station that she views the ceremonies, even if they are only performances, as "degrading" and indicative of a "crazy mindset of superiority" among the hunt's mostly white participants.
Robinson, who also manages the tribe's archives, said that the only item borrowed directly from the tribe that's used during the hunt is a war bonnet, traditionally bestowed upon the winner. An Eastern Shoshone member who has participated in the hunt's ceremonies for several years signs the bonnet out and returns it after the event, Robinson said. The member could not be reached this week.
"Historically, the war bonnet would go to someone very important, who just completed a big war or something," Robinson said, "so putting it on someone is very important. But there it is found to be more of a performance."
Since 2013, female hunters in the state have participated in their own Wyoming Women's Antelope Hunt, put on by the Wyoming Women's Foundation. This year's event is set for Oct. 7-10 in Ucross.
While the women's hunt mostly draws Wyoming hunters, the One Shot has played host to dozens of recognizable names — Dick Cheney, Roy Rogers, Chuck Yeager, Donald Trump Jr., Peter Fonda and the governors of 31 states among them.
Last summer, Sen. John Hickenlooper, D-Colorado, drew criticism during his campaign when photos surfaced that show him wearing native garb at the hunt in 2012 and 2018, while he was governor of Colorado.
Follow city and crime reporter Ellen Gerst on Twitter at @ellengerst.