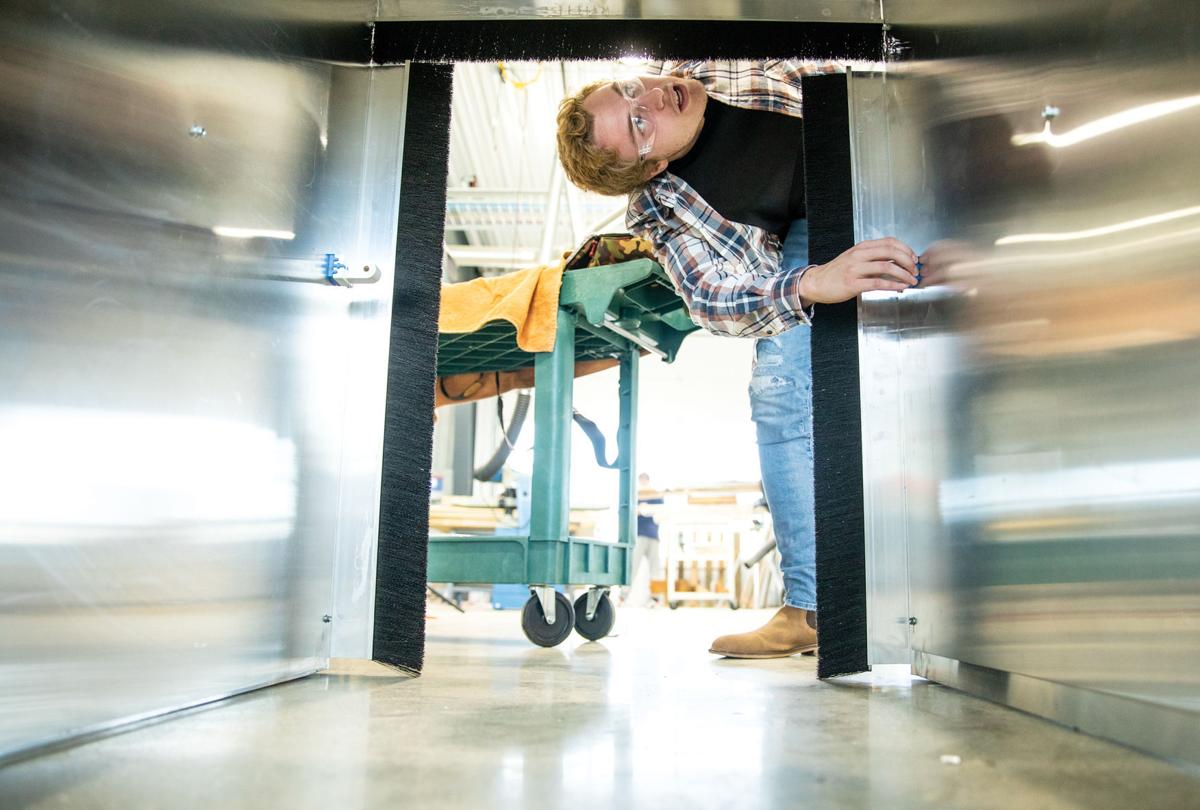 GILLETTE — Shey Rearick and Jayden Parsons know what they want to do with their lives.
But it's a good start for two young, entrepreneur-minded 20-somethings trying to navigate a path in life when the world around them is being shaped by a pandemic and subsequent economic uncertainty.
"When this business opportunity came up, it was something that I couldn't pass up, and something just told me that I should pursue it and continue it," Rearick said. "It's been great and it's something that I love doing."
The business is Cart Wash, a joint venture between Rearick, 21, and Parsons, 20, to create and market a shopping cart sanitation unit.
It turns out, most shopping carts, even when they look clean, are dirty.
The two can cite numerous studies and recount the numbers to quantify and explain just how much bacteria and germs exist on the handles and body of shopping carts that countless people nonchalantly push while shopping each day.
To put it simply, most carts could use a cleaning, and they're building a device that can do just that.
"Once all those shopping carts have been used, they're dirty again," Parsons said. "With our product sitting wherever they (customers) have it, it can be used every single day. Multiple times a day for that matter."
The product is designed as something like a large aluminum box, just big enough to roll a shopping cart inside while still housing UVC lights. Once the cart enters the unit, the cleaning process begins.
UVC lights — a specific, more eco-friendly wavelength of UV light — glow on the cart, eliminating bacteria and effectively sanitizing the cart in a matter of seconds for customer use.
This summer, Rearick quit his job as a seasonal wildland firefighter and Parsons left the position he held for almost three years at Universal Athletic to focus their energies on Cart Wash full time.
"We just thought that it was a good potential market we could try to acquire and we just took a leap at it," Rearick said. "We knew that we could create something better and more efficient than what was already out there."
Rearick and Parsons have known each other for a while. The pair orbited the same social circles growing up and became close when they played soccer together in high school.
From there, both stayed local after high school and attended and played soccer for Gillette College. Then the idea for Cart Wash arose.
It was during a college event called Startup Weekend last fall. The event's concept is simple: work as a group, come up with an idea and pitch it to a panel that decides which team had the best business plan.
They came up with the idea and won the competition last November, a time when many people had not even heard of the coronavirus and before hand sanitizers, Lysol wipes and cleaning supplies began selling out all over the country.
In other words, it was an ideal time to bring a new sanitation product to the market.
"We do wish we would have started a month or two after we had that competition, Startup Weekend, and we could have been even more ahead of the pandemic, but we couldn't have predicted that it was going to be as large as it was," Rearick said.
They both agreed that timing has worked in their favor in a number of ways, so far.
Besides planning a business in one of the limited industries that has been bolstered by the pandemic, they also found luck in the design and engineering of the product.
The idea for their shopping cart sanitizing unit is simple, but its design and construction is complex. While they had a grasp of the UVC technology, computerizing it was outside of both of their wheelhouses.
"We couldn't find people to do some of the technology we needed to do," Rearick said.
Then, someone moved into a suite right down the hall from them in the same local business park they have an office in who specializes in the computer technology they needed help with.
In an instance of blind luck that seems to be needed to push many ideas from concept to reality, they found the help they needed and advanced past a critical speed bump.
"Once we did realize that (the seriousness of the pandemic), we definitely started pushing ourselves to get this thing going as fast as we could because we just saw a huge potential market for it and given the time and everything with COVID going around, it couldn't have been a better time to do it."
There is something symbiotic about the idea of taking a shopping cart-based technology to market.
Before they can be used in actual markets — grocery stores, clothing stores, shopping malls, etc. — they have to first market to potential customers.
"Once we get this prototype done, we're pushing the marketing stage and we're going to really go out there to get people to know what we do and get people to want to purchase our product," Rearick said.
Despite the challenges they have already faced running a business together and the future ones that are sure to occur along the way, they said working together has never been an issue.
"We have a really good understanding of this business and we have the same ideas essentially," Parsons said. "We're both flexible with one another's opinions."
Their division of labor is mostly equal. Rearick handles more of the engineering and design side of things while Parsons spearheads more of the graphic design, they said.
"All meetings we go to, we go to together," Rearick said. "All potential customers we meet with, we do together."
"Phone calls," Parsons said, tacking onto the end of Rearick's sentence. "We'll put on speaker so we're both involved in it. … We balance really well."
Whether or not they realize it, they also finish each other's thoughts from time to time, an in-the-moment demonstration of the synchronicity they share as business partners and friends.
"We both have the same general idea of where we want to see this business in five years, so with that in mind it helps us be able to focus in on what we want to get done," Rearick said. "It's great working with each other."
Finding a career path can be difficult. Forging one, even more so. Doing either amid a global pandemic only adds to the challenge.
Rearick and Parsons are unfazed. They are continuing with the ethos of doing what feels right. Right now, they know where their collective interests lie and they recognize the opportunity they have to take their business from idea to reality.
"To pursue something you want to do is the best thing you can do, rather than trying to pursue something that's not going to be super interesting to you," Rearick said.
There is no knowing how far Rearick and Parsons will take Cart Wash. But in their shared pursuit, they will see just how far the journey can take them.
Be the first to know
Get local news delivered to your inbox!