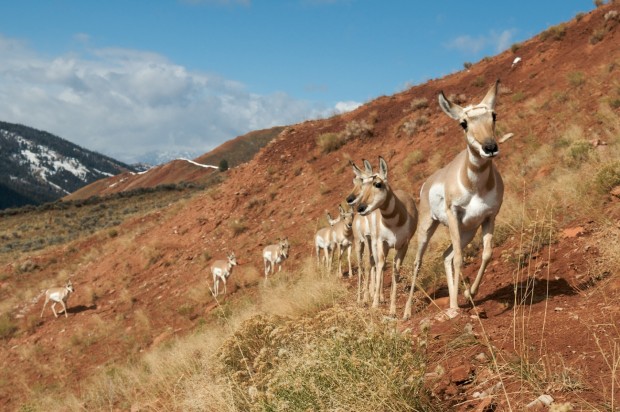 CODY -- Each year, hundreds of antelope spend summer in Grand Teton National Park, then follow a migration route of 125 miles or more through the Gros Ventre Mountains to spend winter in the Red Desert.
Archaeological evidence suggests that the animals have followed the same trails for more than 6,000 years, and radio tracking collars show that some antelope travel as far as 170 miles one way during the twice-yearly trek.
But increasing development -- including new homes, fences and energy projects -- has squeezed parts of that route into narrow bottlenecks, threatening the 400 or fewer animals that make the trip.
A pair of researchers have spent two years studying how antelope use the ancient route, and are sharing stories from their work with audiences across Wyoming. They will speak next week in Cody, and in Sheridan the following week.
While new radio and satellite technologies are making it easier than ever to track animals, writer Emilene Ostlind and photographer Joe Riis adopted a deliberately low-tech approach to learning more about the route used by the antelope.
"I spent a lot of time just trying to find out exactly where the migration corridor goes, and the challenges the antelope face. I did that by backpacking in the corridor during the migration periods," said Ostlind, 28, an environmental writer studying at the University of Wyoming.
Along with Riis, 25, Ostlind spent long periods in the spring and fall during the past two years hiking the remote paths, watching and learning how the antelope follow what is the second-longest land migration route in the Western Hemisphere. Only the arctic caribou travels farther.
"It took us a while to kind of figure out how to make it work," Ostlind said.
"At first, I thought I would see more antelope during the process, but I ended up more just following hoof prints, and navigating the corridor the way an antelope would," she said.
After learning the trails, it was easier for Ostlind and Riis to find good spots to wait for the animals to pass through. They travel in groups as small as six or as large as 50. The fall trip lasts three or four days, while the spring passage can take up to a month, as the antelope wait out spring storms or pick their way through lingering snow.
Riis set up dozens of motion-activated cameras to automatically capture images of the antelope moving along the trails.
"He would often set the cameras right on the ground, or just a few inches above. That perspective shows the migration in a really unique and intimate perspective, and it's different from any photos I've seen of antelope," Ostlind said.
"It seemed bizarre at first that these animals that like the wide open plains would think about heading up toward a mountain pass. But after I hiked it through a couple of times, it became more obvious and natural to me," Ostlind said.
Because snow in the Tetons is so deep, it makes foraging and running too difficult for antelope. Most that try to spend winter there starve or fall prey to coyotes, she said.
That means that if antelope are to remain in the park in the summer, they must make the increasingly difficult trip from the Red Desert, crawling under fences, dodging cars and dashing through rural backyards.
There are three bottlenecks in the route that most seriously challenge the antelope's passage, squeezing their travel corridor in some places to a route only a few hundred yards wide, Ostlind said.
The first is in the Red Hills in the Bridger-Teton National Forest, an area that has been given specific protections under the forest's most recent management plan.
The second is a narrow passage across private land near a subdivision in the foothills of the Gros Ventre Mountains. A conservation easement on the Carney Ranch announced last month should help ensure a future route through that area, Ostlind said.
The third bottleneck is at Trapper's Point, west of Pinedale, where the antelope must cross Highway 191. Conservationists are working to raise funds for a turf-covered bridge over the highway to avoid the risk of vehicle accidents, she said.
Ostlind said her trips along the corridor taught her that people and antelope can coexist, and that making small changes can yield big results in helping to make the trip easier for the animals.
For instance, because antelope have evolved to run, they are poor jumpers, and prefer to crawl under fences rather than leap over them. Slightly raising the bottom wire on barbed-wire fences, and avoiding using woven wire and mesh fences in key passages, can help them migrate much more easily, she said.
Both Ostlind and Riis have worked for National Geographic magazine, and are using photographs and written accounts from their work to tell the story of what they call the "Pronghorn Passage."
Riis' photos will be shown in various exhibitions across the country, and Ostlind is writing a book about the migration.
"We've gathered enough information to tell the story, but we are planning to go back to the migration corridor this spring," Ostlind said. "There are always new discoveries to be made, and both of us have gotten hooked on this migration."
Writer Emilene Ostlind and photographer Joe Riis will discuss their "Pronghorn Passage" project at noon April 8 at the Buffalo Bill Historical Center, 720 Sheridan Ave. in Cody. They will also speak at 7 p.m. April 12 in the C-Tel Auditorium at Sheridan College, 3059 Coffeen Ave. in Sheridan.