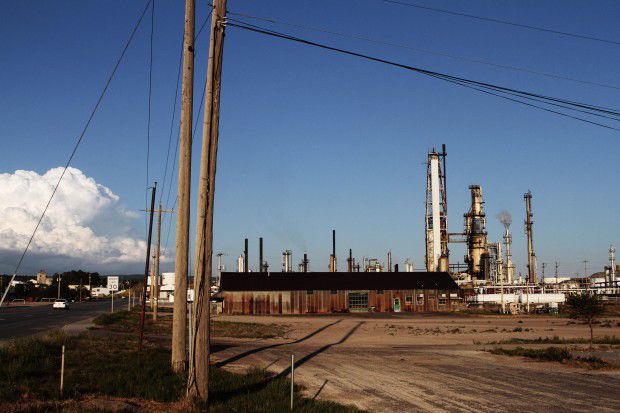 The oil refinery in Newcastle, which sits at the center of town and in the middle of a contentious debate about community health concerns, has new ownership that wants to boost the refinery's production.
Black Elk Refining LLC of Houston bought the Wyoming Refining Co. refinery from its previous owner, Denver-based Hermes Consolidated Inc. The name will remain Wyoming Refining Co.
Black Elk is a newly formed company, a joint venture between energy investment firm Chambers Energy Capital and EOR Energy Services Inc., an oil technology engineering firm. Both companies are also based in Houston.
The Newcastle plant is Black Elk's first refinery purchase, but a company official expects more to come in the region.
"We've been doing and building and starting refineries and gas plants for a few years, but this is our first refinery," said James Runyan, the new president and chief technical officer of Wyoming Refining Co. "We have a strategic vision of acquiring some more in the Rocky Mountain region, and we are moving toward that goal."
Runyan wouldn't disclose the refinery's purchase price.
Wyoming Refining Co. has gone through a series of owners since production started in the 1930s, including a series of independent owners and Tesoro Petroleum. Hermes Consolidated purchased the refinery in 1977.
Black Elk won't shake up the refinery's personnel or change its physical size, but it does intend to boost output, Runyan said. Black Elk engineers are already on-site working on ways to increase production.
Runyan expects the refinery will add between 2,000 to 4,000 barrels per day, a significant increase for the relatively small refinery.
Wyoming Refining Co. ranks 124th on the list of 142 U.S. refineries in terms of output, and has a production capacity of 14,000 barrels per day. Its current output is about 12,500 barrels per day, according to a Wyoming Department of Environmental Quality report from July.
An Exxon Mobil Corp. refinery in Texas is No. 1, with about 561,000 barrels per day.
The Newcastle refinery currently produces butane, propane, diesel, jet fuel, fuel oil and gasoline.
Runyan wants to buy more crude oil from Wyoming instead of North Dakota — a move he says just "makes more sense."
"I figure if we're going to play in Wyoming, we might as well buy in Wyoming," he said.
Black Elk's purchase plops it in the middle of small-town politics. The 46-acre refinery on Newcastle's Main Street has been the center of sometimes angry discussions in the community about its effects on residents' health, driven by a small but vocal group of people.
One of those people, Terry Elliot, used to live near the refinery but has since moved outside of the city to avoid the refinery. He blames the refinery for causing harm to his and others' health, including neurological and other medical problems.
More questions about the new owners should be asked, he said.
"People who are involved in this have asked, 'Who in the hell is Black Elk?'" He said. "And nobody seems to know."
Runyan said those at the refinery will keep working on its relationship with the community.
"We hope to improve the community relations between the city of Newcastle and the refinery itself," he said. "They are good now, and will continue to be."
The Newcastle refinery has a history of spills, soil contamination and leaks. In 2005, a pipeline leak spilled more than 200 barrels of oil at a pumping station on a pipeline to Rapid City, S.D.
In 2008, the company reached a settlement with 47 current and former Newcastle area residents over pollution from the refinery.
In 2002, a spill blanketed residential areas with 20-plus tons of a catalyst used in the refining process. State regulators assessed a $20,000 penalty on the company, and an air quality task force was formed to monitor volatile organic compounds and other emissions.
Earlier this year, the U.S. Department of Health and Human Services' Agency for Toxic Substances and Disease Registry released a report about the 2002 spill. It found that breathing the catalyst — vanadium pentoxide — might have caused some short-term respiratory suffering for those outside during the spill, but no irreversible harm.
In a 2009 settlement with the U.S. Environmental Protection Agency, Wyoming Refining Co. agreed to pay a $150,000 penalty to settle alleged violations related to "past performance" and spend about $14 million in pollution control upgrades.
The upgrades included equipment that would reduce emissions of nitrogen oxide and sulfur dioxide, as well as ozone-causing volatile organic compounds, particulate matter and other pollutants.
Runyan said those improvements have been made, and the company has more planned.
"The refinery at this point, as a whole, is in good a shape, if not better as others in Wyoming," he said. "Most of those concerns have been addressed and those problems corrected.
"Our plans are to be a good environmental steward," he added. Wyoming Refining Co. officials "have started down that road themselves, and we will continue to do so."