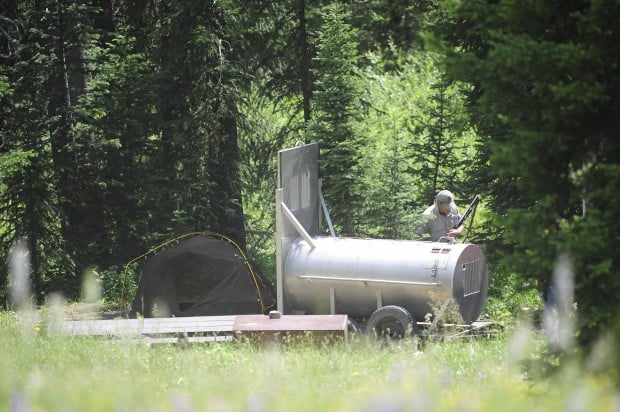 COOKE CITY, Mont. -- At least one bear rampaged through a heavily occupied campground near Yellowstone National Park in the middle of the night Wednesday, killing one person and injuring two others during a terrifying attack that forced people to hide in their cars as an animal tore through tents.
Authorities said three separate attacks left a male dead and a woman and another male injured at the Soda Butte campground. The woman suffered severe lacerations and crushed bones from bites on her arms, and the surviving male was bitten on his calf.
Wildlife officials did not release the names or ages of the victims.
It is unclear if they were attacked by a black bear or a grizzly or if more than one bear was involved.
Bear hair samples were collected from the scene and were being analyzed at a lab in Wyoming to determine the animal's sex and species.
The two injured victims initially were transported to the Super 8 Motel in Cooke City, where they were treated by the Cooke City Hasty Team -- local emergency responders. One victim was taken by ambulance to Cody. The second victim rode in a private vehicle to Cody.
Officials of Montana Fish, Wildlife and Parks and the Park County sheriff's office and wardens from Yellowstone National Park and the Gallatin National Forest were working to trap the bear or bears at the campground, which was evacuated and closed to campers. Other nearby campgrounds, Chief Joseph and Colter, also were closed to campers.
Five culvert traps were set, including two in the immediate vicinity of the dead camper's tent.
"Our hope is that it is in the area and will return this evening, and then we'll have some answers as to why," said Sam Sheppard, warden captain for Fish, Wildlife and Park's Bozeman, Mont., office.
Campers Paige and Don Wilhelm, of Fort Worth, Texas, were camped in site No. 12 when a woman at the next site, No. 11, was attacked.
They said they were awakened about 1:30 a.m. by a scream.
"I heard somebody yell, 'Stop, no,'" said Paige Wilhelm.
Then they heard a bear come by their tent, making a huffing sound.
They hustled their sons, ages 12 and 9, into their minivan and drove to the woman's campsite, where they could see her lying in her sleeping bag, her arm bloodied.
Unsure if the animal was still in the area, they were afraid to get out and go to the woman. They drove through the campground, honking their horn, looking for help and hoping to scare the bear away, Wilhelm said.
They came across another victim, a teenage boy, who'd been bitten in the leg and managed to scare off the animal by punching it in the head.
They finally found some people to help. A woman who is in training to be a nurse splinted the injured woman's arm.
The person who was killed was in campsite No. 22, about a quarter-mile away from sites Nos. 11 and 12. The campground has 27 sites for tents and recreational vehicles.
Park County dispatchers took a 911 call early Wednesday from a male reporting that a bear had bitten his ankle and was tearing up tents, Fish, Wildlife and Parks spokesman Ron Aasheim said. Dispatchers received two more calls, including one from a man who said a bear bit the leg of his daughter's boyfriend.
At 3:50 a.m., park officials went through the campground to advise campers to get into their cars. A half-hour later, the dead male was discovered at a campsite. Authorities evacuated the campground, sending campers to nearby motels.
Later Wednesday morning, Fish, Wildlife and Parks observers tried to pick up a bear collar signal from the air but were unsuccessful.
All three campsites where campers were attacked appeared very clean and there did not appear to be any food storage issues or anything else that might attract bears, Sheppard said.
"They were doing things right," he said. "It was random. I have no idea why this bear picked these three tents out of all the tents there."
The fatally injured camper was camping alone in an orange-and-yellow tent, Sheppard said.
"The odds of the bear coming back to the campground are pretty good, I think," Sheppard said.
Sheppard said if they trap a bear involved in the incident, it will be killed.
The campground is run by the U.S. Forest Service. Forest officials are considering a wider closure, depending on Fish, Wildlife and Park's recommendation.
A Cooke City women's group, the Mountain Belles, helped displaced campers find new lodging.
In July 2008, an Oregon motorcyclist was bitten on the hand in the same campground.
His tent was crushed and the bear returned later that morning, crushing another tent.
The Gallatin National Forest closed the Soda Butte and Chief Joseph campgrounds, and five days later, Montana Fish, Wildlife and Parks trapped a young adult female grizzly at the site of the incident. That bear was sent to a research center at Washington State University in Pullman.
Be the first to know
Get local news delivered to your inbox!