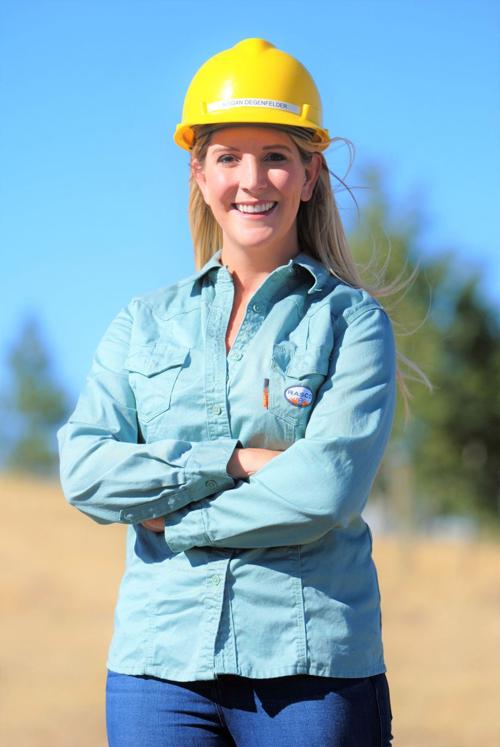 Megan Degenfelder embraces challenge. Whether tackling a work-related issue, overcoming an obstacle in her life or climbing a mountain for recreation, she pursues each with perseverance, a positive attitude and a desire to improve the lives of others. Much of this was instilled early in her life.
"From a very young age, my father made it very clear that I could do anything my brothers could do," she said. "He taught me to always find 'the equalizers' – in hunting or golf or in preparation for a board meeting. He taught me to persevere and that knowledge is power. But you have to have integrity above all else."
Degenfelder serves as manager for government and regulatory affairs for MorningStar Partners/Southland Royalty Company, an oil and gas production company based in Texas, a role she's held for nearly two years. Stationed in Cheyenne, she works with the company's Wyoming and New Mexico projects. She has also worked in the coal industry and with the Wyoming Department of Education.
Degenfelder learned another important lesson from her father that applies not only to work situations, but to life in general.
"He taught me to know my worth and to always negotiate my salary."
Although there are challenges for women in the energy field, Degenfelder believes there are many positive aspects to working in this predominantly male industry.
"I've had so many male mentors in the energy industry, and I've been pleasantly surprised with the men that have been willing to take me under their wing," she said. "They are excited about women entering this industry; we are so underrepresented. I have to say that outweighs the challenges.
"For every woman, even in 2020, there are challenges," she added. "The energy industry is such a great option for women because of the high-paying jobs and opportunities there. I've always been really proud to work for an industry that provides high-paying jobs and tax revenue to the state that really supports our entire state."
Degenfelder has faced and pushed through challenges in life. At age 21, she was diagnosed with thyroid cancer. However, she did not let that hold her back. This former Casperite and University of Wyoming graduate moved to China to obtain her master's degree in economics. She traveled through Asia and parts of Africa, where she said she discovered her life's purpose.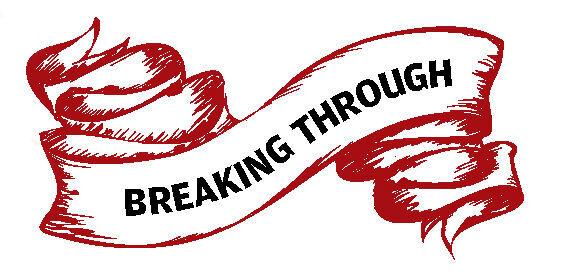 "I developed a passion for energy. What really keeps me up at night is that almost one billion people in this world are without access to electricity; that's nearly one billion people without the most basic standard of living," she said. "As I traveled through rural Asia to the most remote tribal regions of Ethiopia, I witnessed first-hand the impacts of that unreliable access to electricity. Returning to Wyoming to promote production of this affordable, reliable energy resource kind of became my life passion. Despite being an extremely male-dominated industry, I never questioned this passion."
She applies another passion – encouraging and empowering women – in other areas of her life. She coaches a women's rugby team during the summer, and she offers shooting clinics to women through her involvement with Cheyenne's Trap and Skeet Club. She also chairs the Wyoming Women's Foundation and serves on the Wyoming Women's Antelope Hunt committee, an adventure for women and a fundraiser for the organization, whose mission is to
"I'm also very passionate about getting women involved in those activities we have to enjoy in the state," she said.
Through the organization's grant program, a summer computer science program for girls was funded this year. Similarly, while working as policy officer with the state's Department of Education, she oversaw adding computer science to the list of educational offerings for students in public schools around the state.
"Now every student in the state of Wyoming must have access to computer science education in their school," Degenfelder said.
"It's really exciting to see those build and give more access for girls and women to be introduced to those equalizers. My dad always taught me 'knowledge is power.' How do you achieve that knowledge when you're extremely limited on resources? There's so many great programs that I'm so proud that we (the Women's Foundation) fund."
For Degenfelder, equalizers are areas "where you can clearly be on a level playing field with men," whether that's the company board room, through education, or enjoying Wyoming's outdoors.
In August, Degenfelder climbed Grand Teton for the first time. She went with a group of friends, one who had been a guide in previous years.
"We did it in one day. That was a little ambitious, (but) it was very cool."
She believes women need to embrace challenges and take risks.
"I think that's what young women and girls should know – if it seems risky and might be scary, but you have more allies than you may realize," Degenfelder said. "It's so important that we just jump in head-first. For me, that's been key: to take advantage of every single opportunity out there. Some might be fruitful and some might not, but at least you've explored that opportunity. You might be pleasantly surprised what you find."
Scaling mountains for fun and in life, taking risks and embracing opportunities – that's a large part of who Degenfelder is.
"I've taken advantage of every risky, exciting opportunity and have built a career around improving the livelihoods of people across the globe," she said. "But I also recognize that not everyone is fortunate enough to grow up with such opportunities or mentorship, and so it's very important to me to work to provide those opportunities to future generations. I'm really passionate about providing more opportunities for women to find those equalizers."
"I'm so proud to be a Wyoming woman," she added. "We've come so very far, but we still have a lot of work to do."
Be the first to know
Get local news delivered to your inbox!